In June I will be off to Paris to represent Radar Contemporary at The New Image Festival :
Leaders de l'industrie XR, nos Decision Makers 2022 seront à l'écoute des projets présentés lors de #NewImages2022.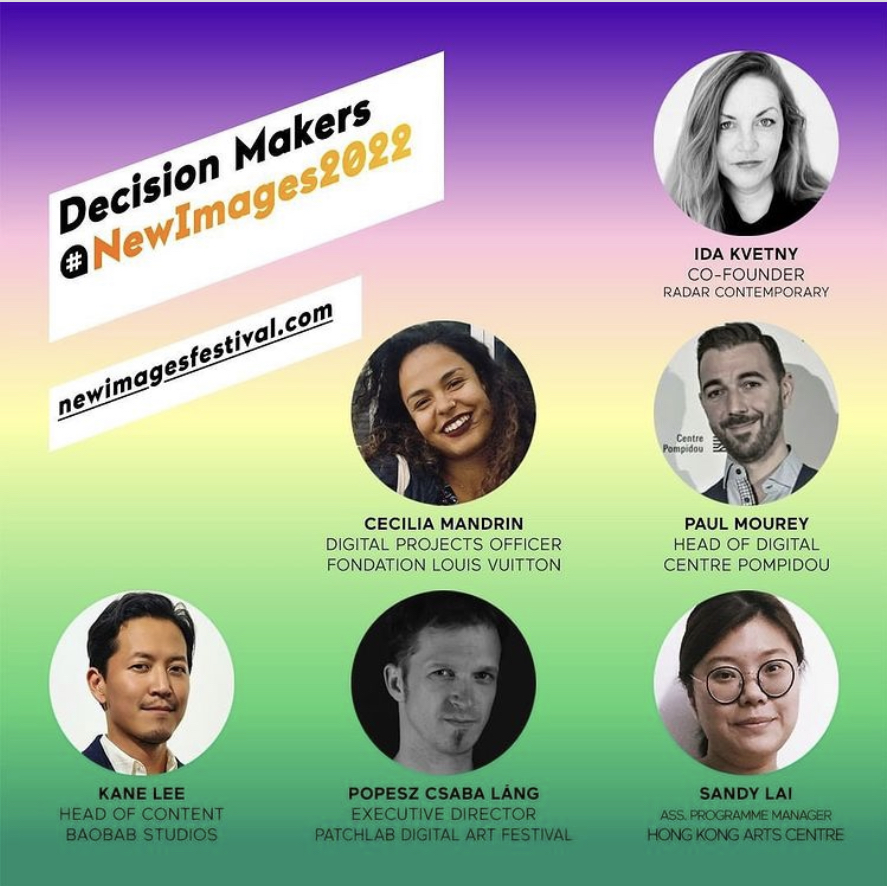 This May I have participated in the recording of the next season of the danish tv program "Kunstner kolonien" that will premier on channel DR2 in July. Stay tuned! De seks kunstnere, som seerne kan møde i denne sæson af Kunstnerkolonien er Lillibeth Cuenca Rasmussen, Eske Kath, Ida Kvetny, Bjørn Magnussen, Gun Gordillo og Adam Christensen. Foto: Henrik Sørensen/Eddy Media #faaborg #fyn #kunstnerkolonien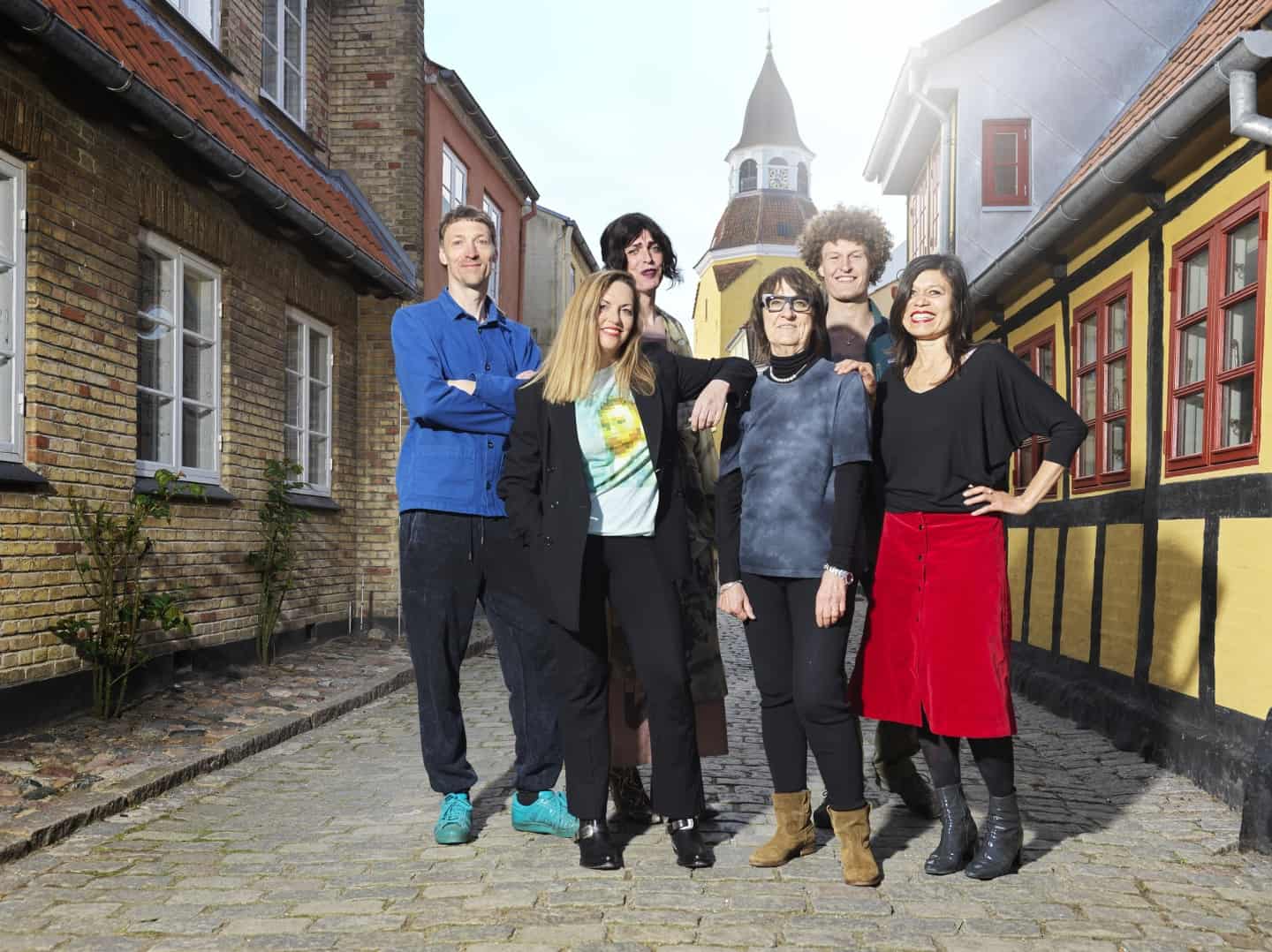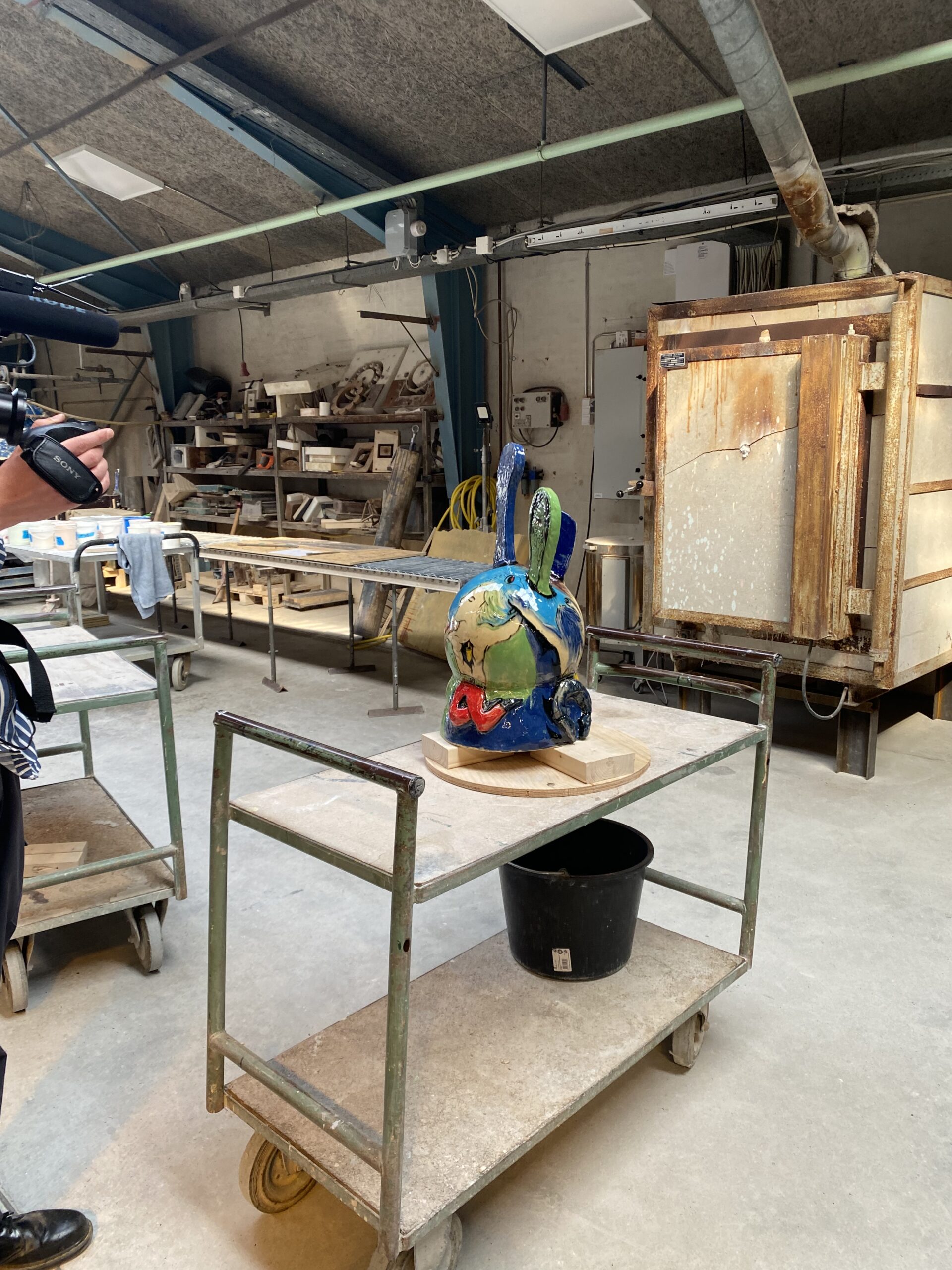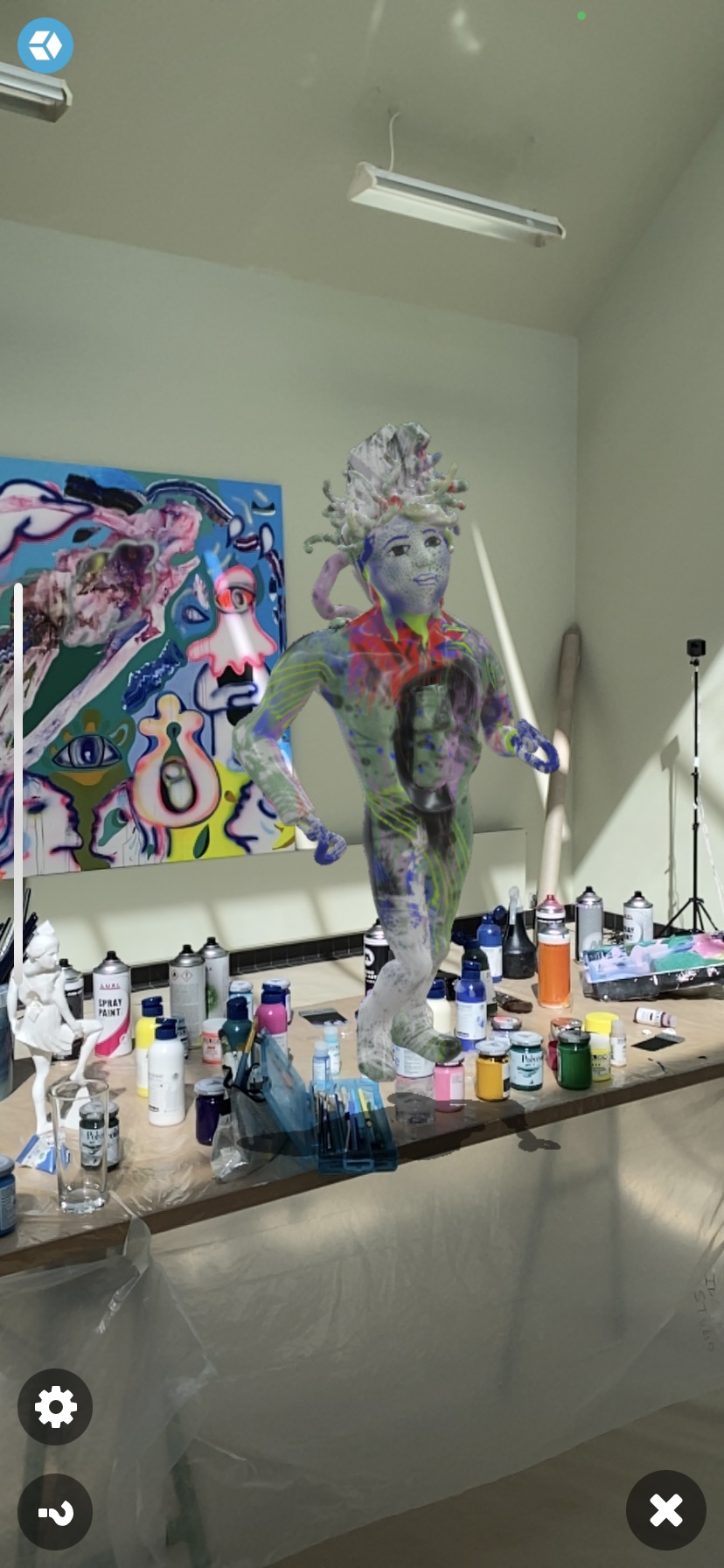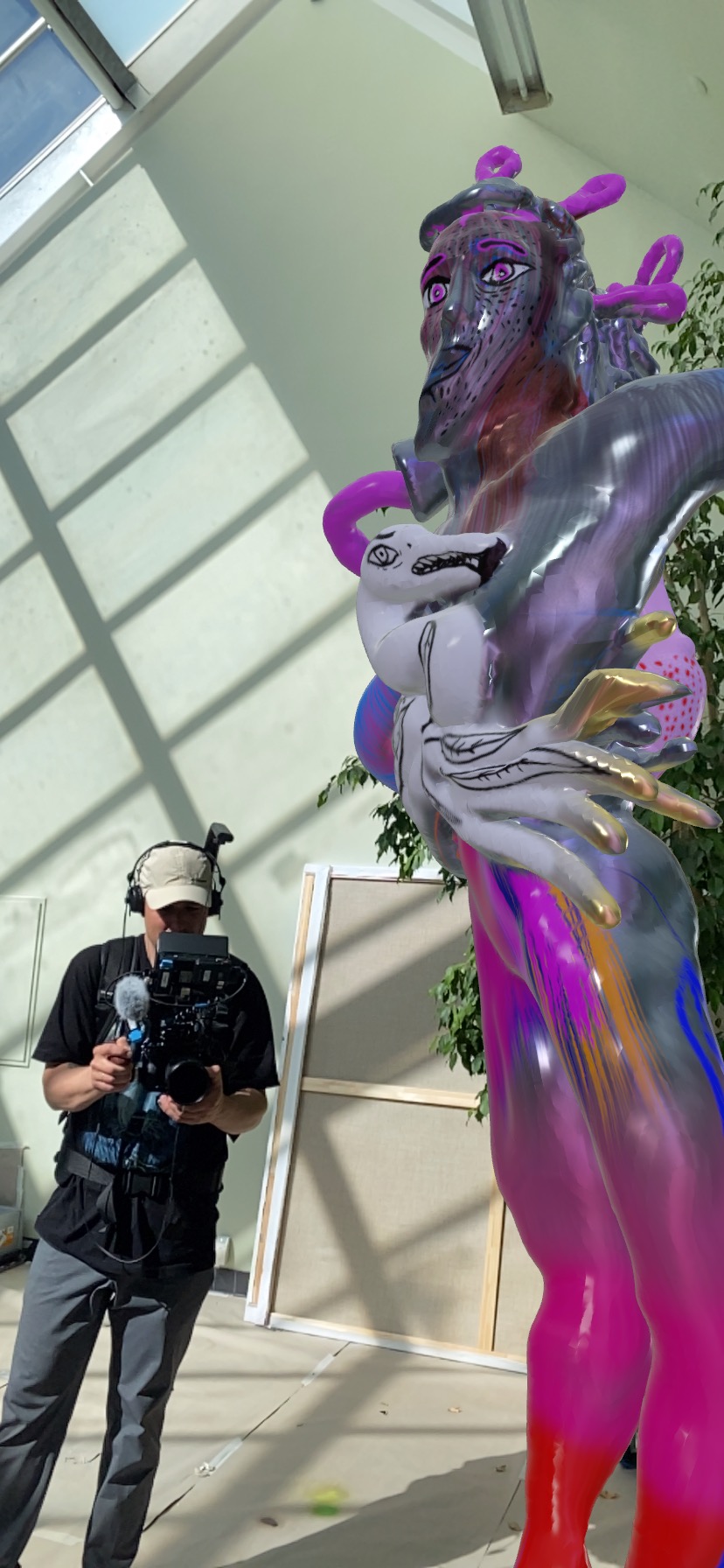 In March I will be talking about art and algorithms at Statens Museum for Kunst in Copenhagen.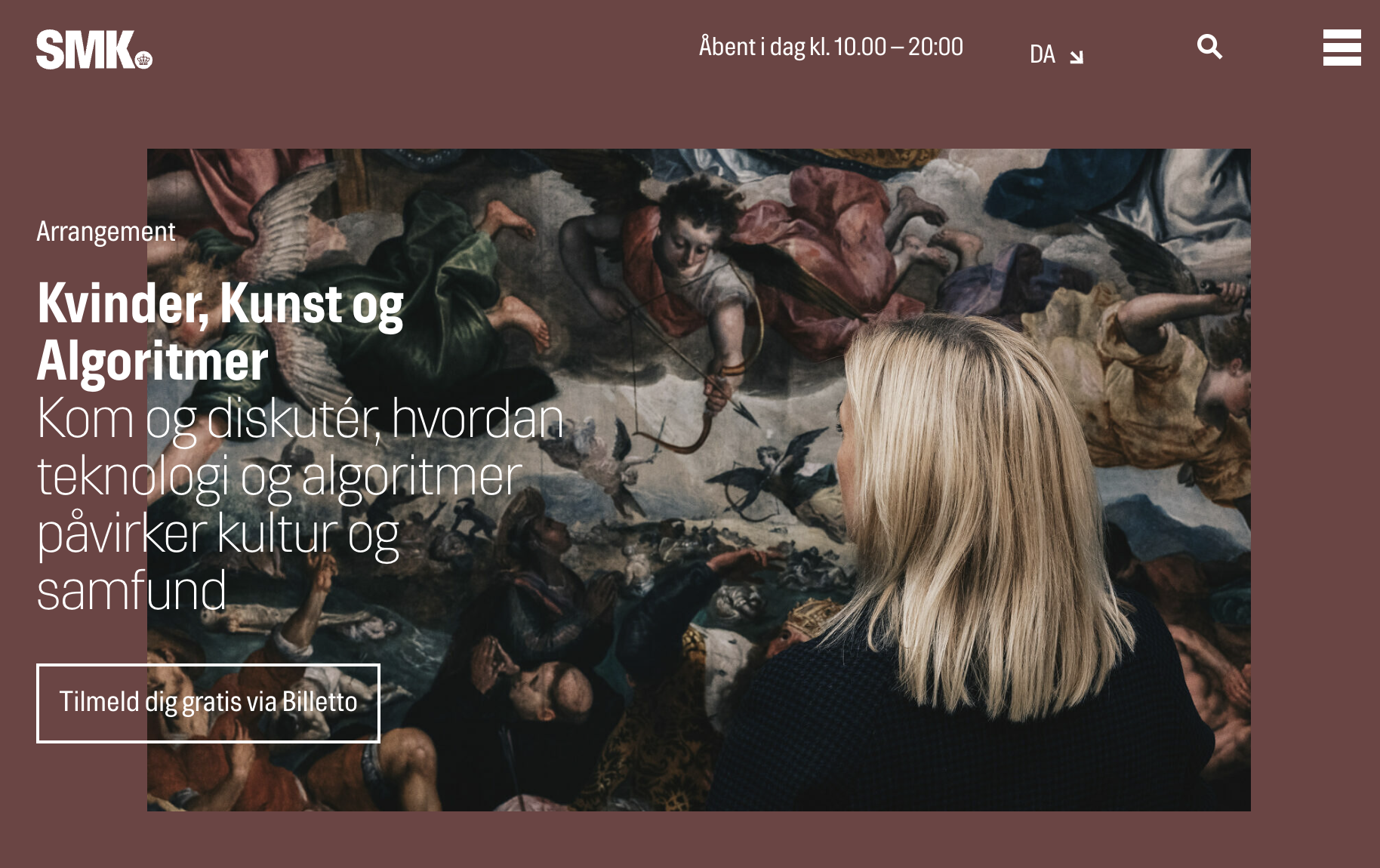 Kom og diskutér hvordan teknologi og algoritmer påvirker kultur og samfund
Algoritmerne myldrer ind i vores hverdag, vores arbejdsliv og privatliv. Teknologierne har kæmpe potentialer til, at vi kan udrette spændende og kreative ting med dem og udvikle vores samfund og samhørighed. Men de har også en bagside, som fortjener opmærksomhed. Statistisk set halter kvinderne bagefter på digitale kompetencer. Det vil vi gerne gøre noget ved.
Som et af verdens mest digitaliserede lande er vi i stigende grad afhængige af teknologi. Men hvordan sikrer vi en digital udvikling som er både demokratisk og humanistisk? Hvordan retter vi op på den kønsmæssige skævvridning, som er et faktum, når det kommer til både udvikling og brug af teknologi i dag?
I forbindelse med Kvindernes Internationale Kampdag inviterer vi til arrangementet Kvinder, Kunst og Algoritmer, hvor vi ser nærmere på teknologiens og algoritmernes anvendelsesmuligheder som kreative redskaber og nye veje til kulturelle oplevelser. Vi piller mystikken, bekymringen og afmagten ud af teknologidebatten og giver den et kvindeligt og kunstnerisk perspektiv.
Vi undersøger, hvordan kunst kan udfordre vores forståelse af teknologi, og spørger hvordan vi fremmer en mangfoldig teknologiudvikling, som rummer forskellige køn, erfaringer, perspektiver og tilgange.
Vi præsenterer et line-up af kunstnere, som gennem en æstetisk praksis udforsker teknologiens potentialer, og gennem brug af it og algoritmer skaber nye typer af værker.
Vi inviterer til debat med kvindelige kunstnere, forskere og teknologer om visioner for at bruge digitalisering og teknologi kreativt, kritisk og opbyggeligt.
Statens Museum for Kunst, Algoritmer, Data & Demokrati-projektet og Ingeniørforeningen IDA er gået sammen om en eftermiddag, hvor vi sætter en anderledes dagsorden, der inkluderer kvinder og kunst i fortællingen om vores teknologiske fremtid.
Mød Pernille Bjørn, Louise Alenius, Ida Kvetny, Nanna Debois Buhl (via video), Ditte Ejlerskov, Nanna Bonde Thylstrup og Gry Hasselbach. Eftermiddagen modereres af Lisbeth Knudsen.
Being part of this group show in Lissabon in March: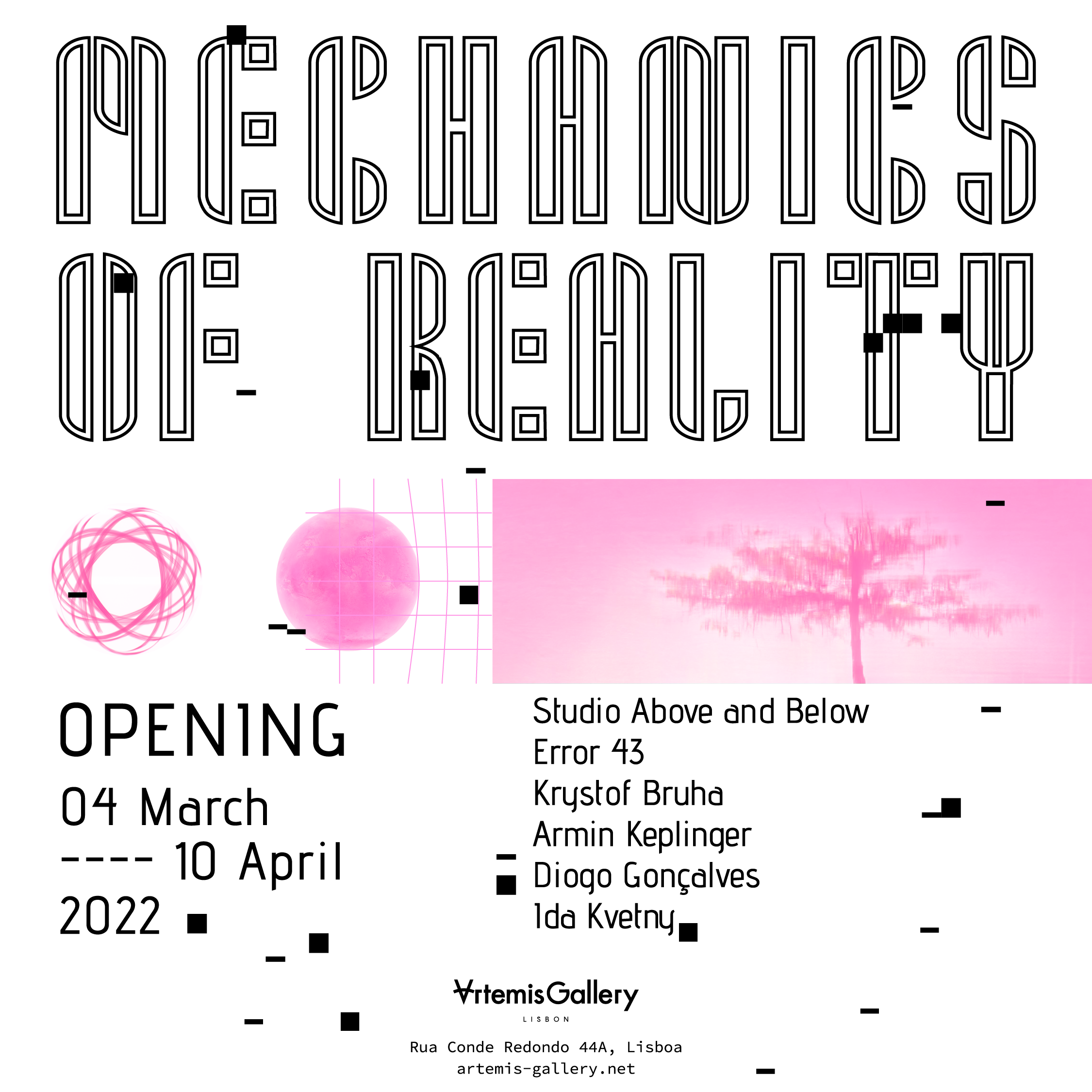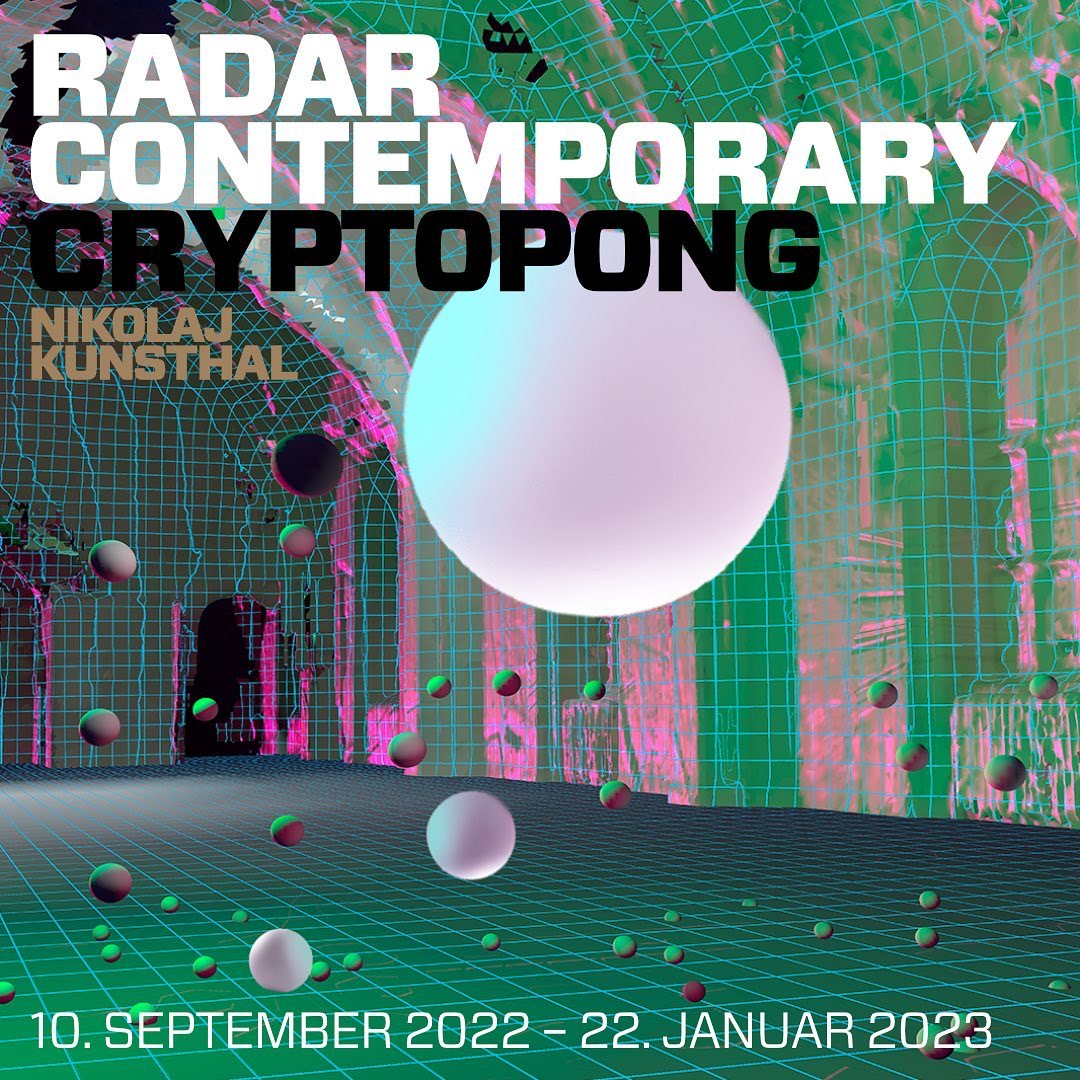 CryptoPong – Radar Contemporary
CryptoPong er en gruppeudstilling der præsenterer danske og internationale kunstnere, der har det tilfælles, at de på forskellig vis pionerer inden for feltet XR kunst. Udstillingen er kurateret af Radar Contemporary
Nikolaj Kunsthal viser som én af de første kunsthaller i Europa en udstilling, der belyser fænomenet NFT kunst.
CryptoPong er en gruppeudstilling med et stærkt hold af danske og internationale
kunstnere, der har det tilfælles, at de på forskellig vis pionerer inden for feltet XR kunst (VR, AR, 3D & NFT).
Ud fra deres praksis udforsker kunstnerne NFT-fænomenet 'non-fungible token' (NFT). NFT har det seneste år være hypet og diskuteret i kunstverdenen. NFT'er giver uomtvisteligt digitale kunstnere en mulighed for at verificere digitale værker på en ny og banebrydende måde via den omdiskuterede blockchain-teknologi. I kølvandet på hypen er en ny æstetik forbundet med NFT'er skyllet ind over de internationale kunstscener og er svær at ignorere.
Det er denne nye retning i kunsthistorien og denne brydningstid, Radar Contemporary ønsker at belyse og undersøge ud fra et kunstnerisk perspektiv.
Udstillingen har fokus på den diversitet, der er i spil på crypto-kunstscenen. Ambitionen er at vise NFT-kunstnere, som i længere tid har arbejdet seriøst med nye teknologier i deres praksis og som i en naturlig forlængelse heraf har ønsket at eksperimentere og afprøve de nye muligheder indenfor NFT-universet.
Installatorisk vises kunstneres værker på digitale skærme, og i sammenhæng med dette vises en større stedsspecifik, interaktiv installation, som fusionerer den fysiske og digitale verden og inviterer publikum til fælles interaktion og spil. Værket er blevet til på baggrund
af, at det i 2022 er 50-året for et af de første computerspil, Pong, som på flere måder symboliserer starten på den digitale tidsalder.
De tidlige spils højpixelerede æstetik minder om de nutidige, populære NFT'er og de nu kultiske CryptoPunks, som er i særlig høj kurs netop nu – heraf udstillingsnavnet CryptoPong.
Udstillingens formål er, at belyse en ny retning i samtidskunsten og vise de nye NFT værkers mangfoldighed og æstetik som har skabt en ny bevægelse i kunstverdenen.
Hvor: Øvre Galleri
Hvornår: 10/9 2022 – 22/1 2023
My NFT on the poster for the WTF is an NFT in Manchester this November.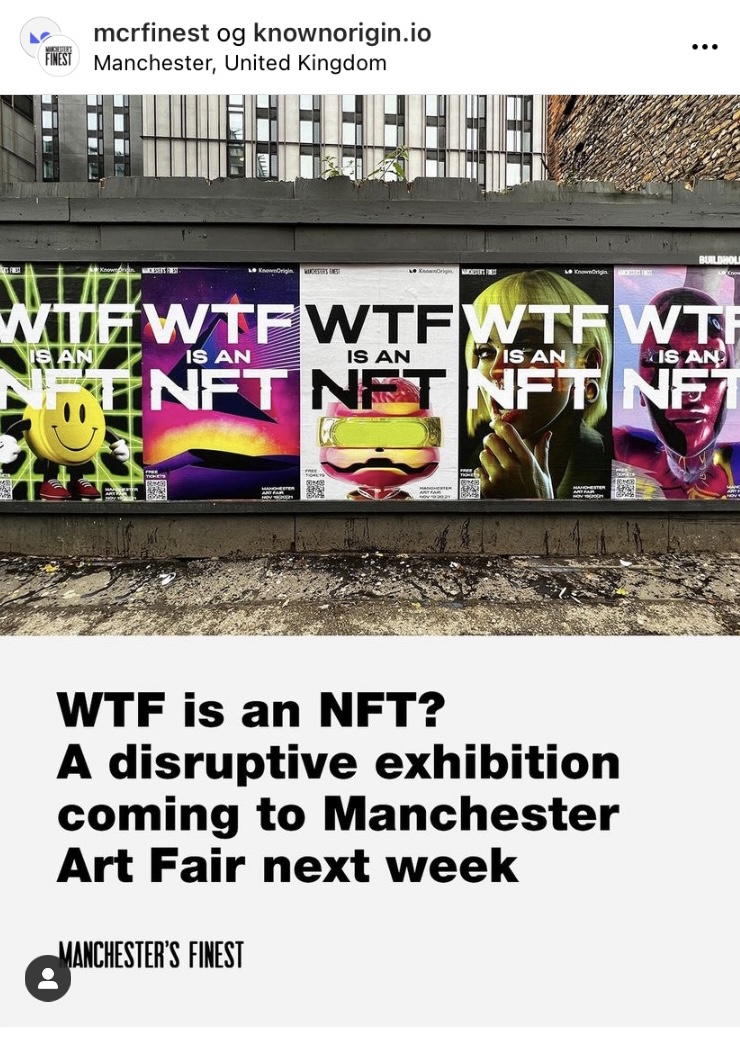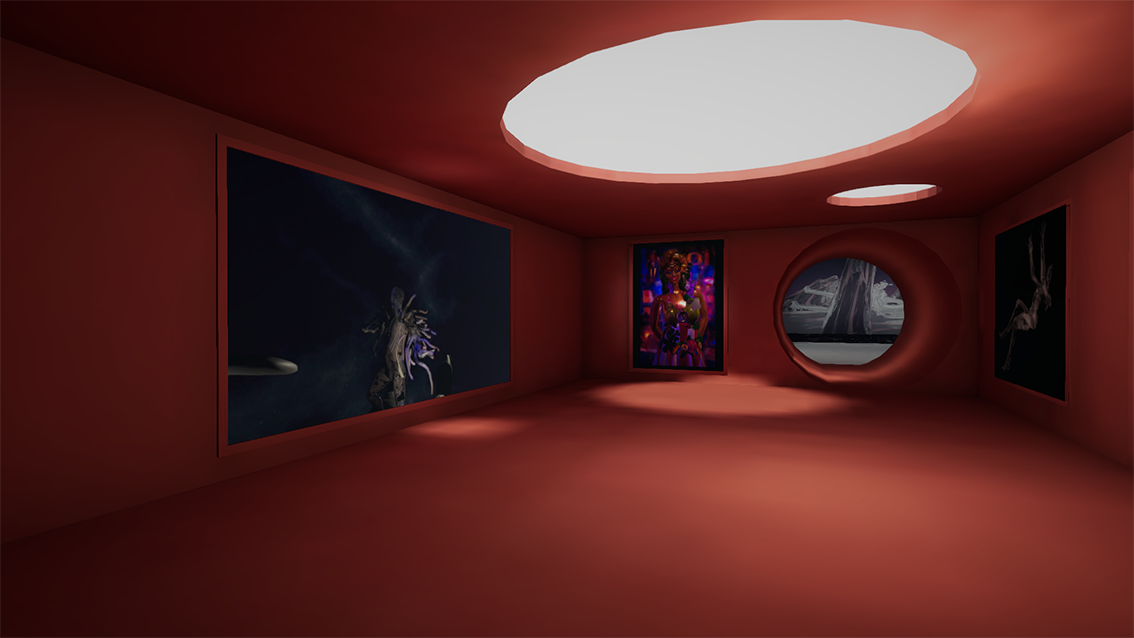 George Vitale is pleased to present Marfa Room, an NFT exhibition by six artists opening on September 23, 2021 at danae.io and on display until tokens run out. Every time a new technology of representation enters the scene, those that wield it, believe they are building a new kind of heavenly utopia. This time it is Non-Fungible Tokens. Filling the conversation with chimerical rhetoric and pourparlers on openness, freedom and democratization, an otherwise astonished observer is left to wonder if history is repeating itself as a farce. One wonders whether the art market will repeat its greatest failures or finally transcend them. In the teeth of all this, Marfa Room brings together works by aaajiao, Can Büyükberber, Carla Gannis, Sophie Kahn, Ida Kvetny, and Dagmar Schürrer.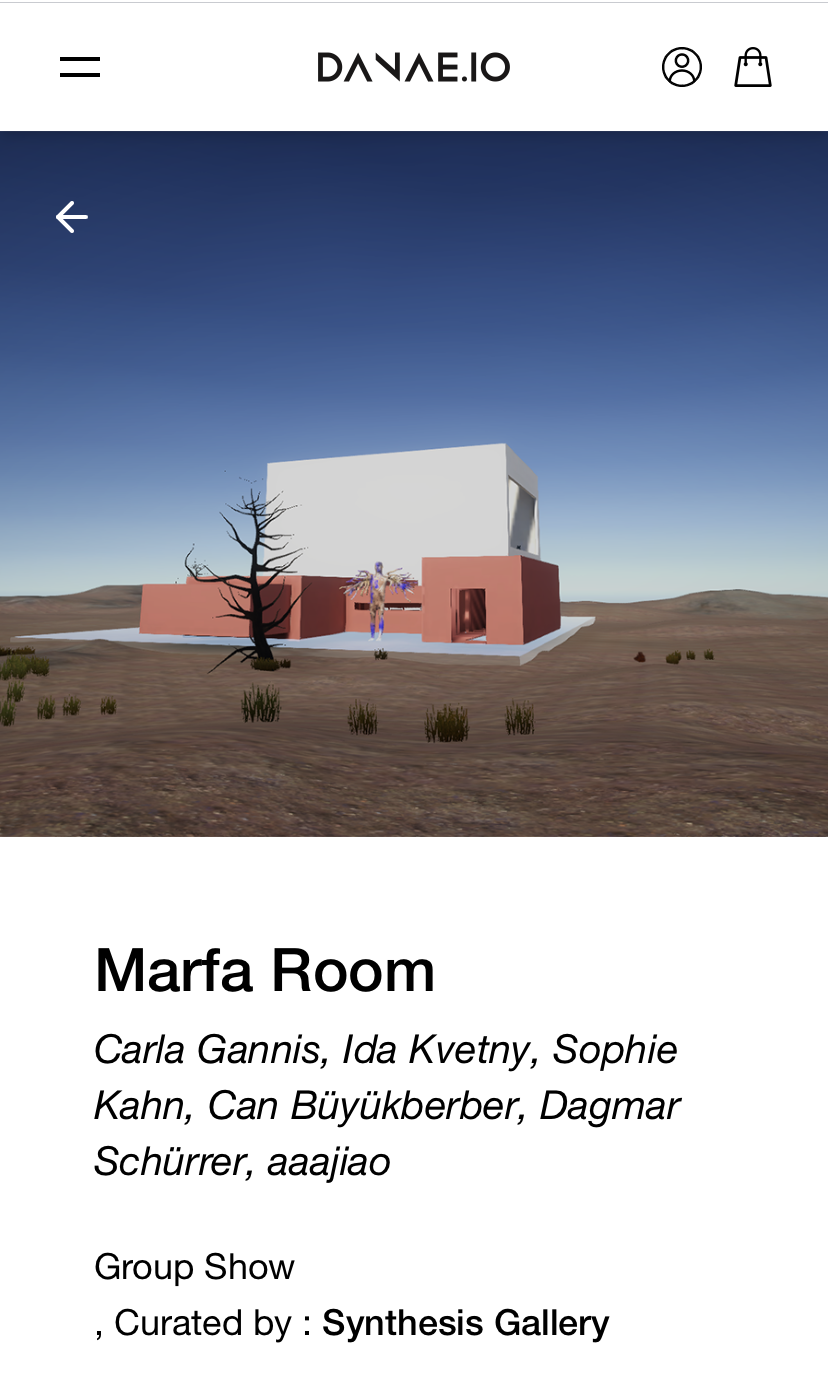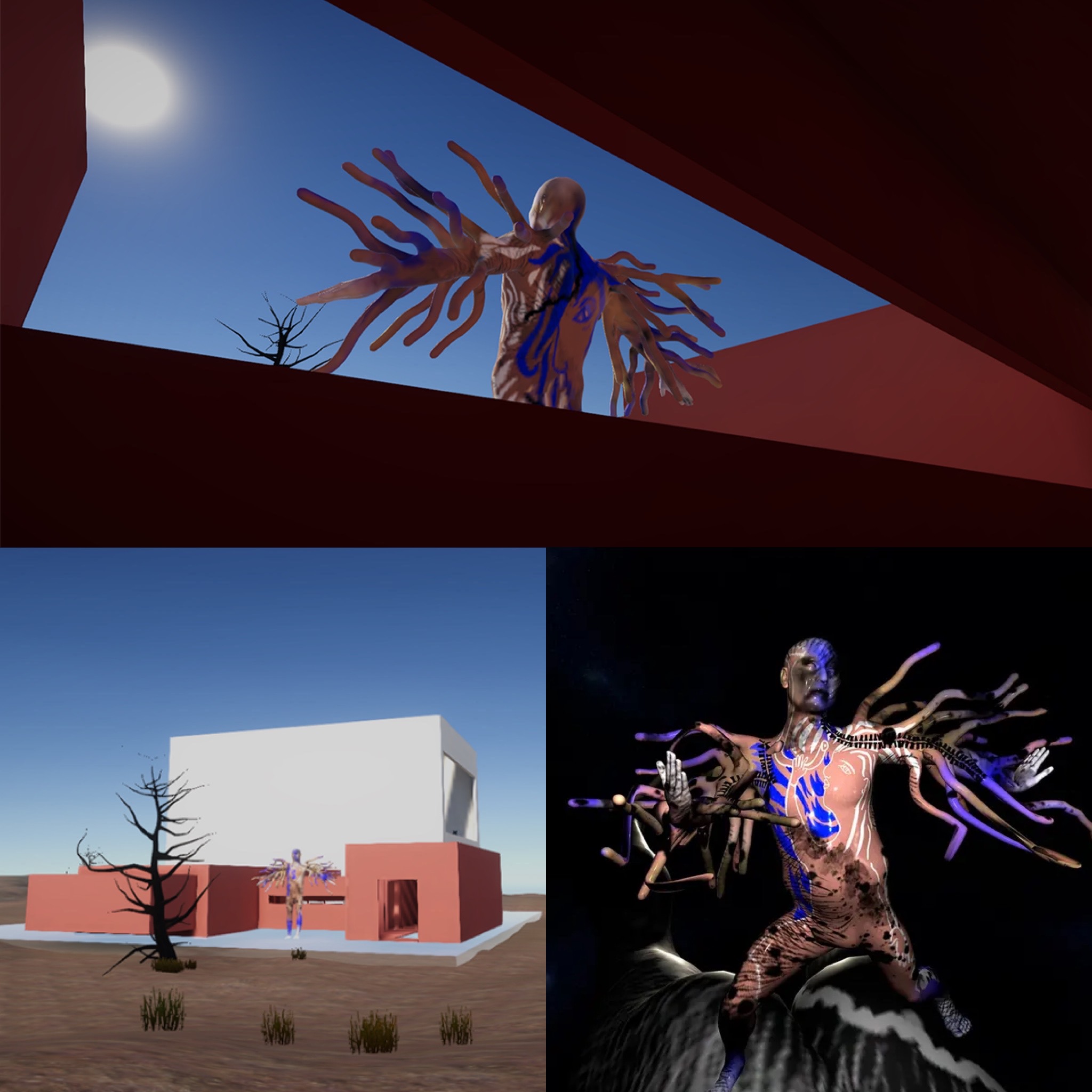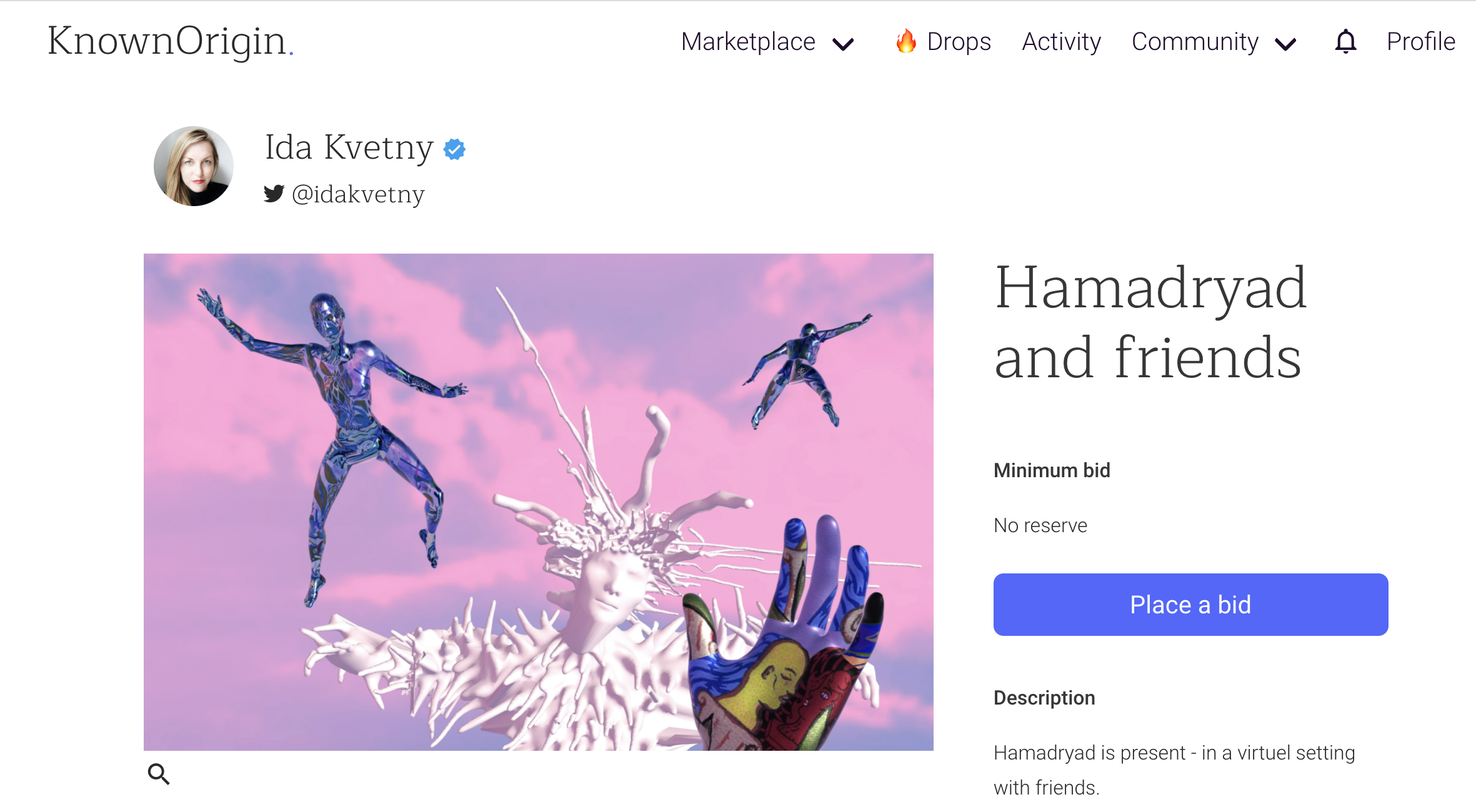 Tech Art Tuesday Artist talk and Panel, Vejle: DK
Crypto-art, NFTs and digital blockchain technology – what is the fuss really about? Spring has shown that both digital artwork and simple files can be sold for staggering amounts. Via advanced technology, the purchase and sale of otherwise copyable digital files is opened up. Combined with the Internet's jungle of creative forms of expression and online cultural phenomena, it heralds new times.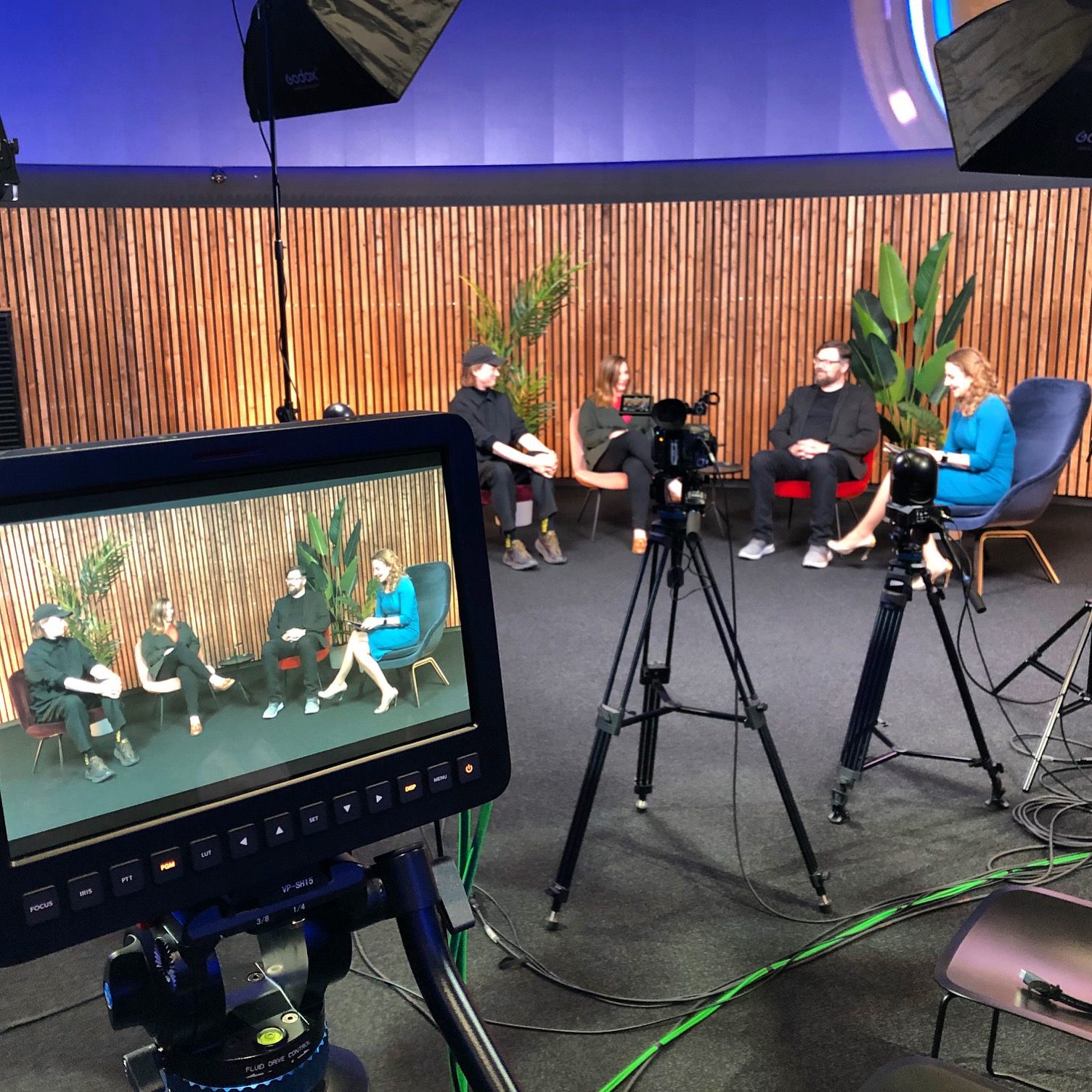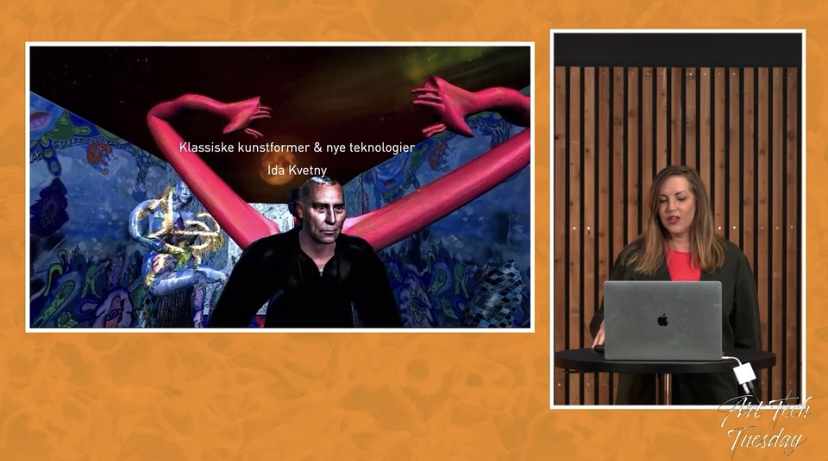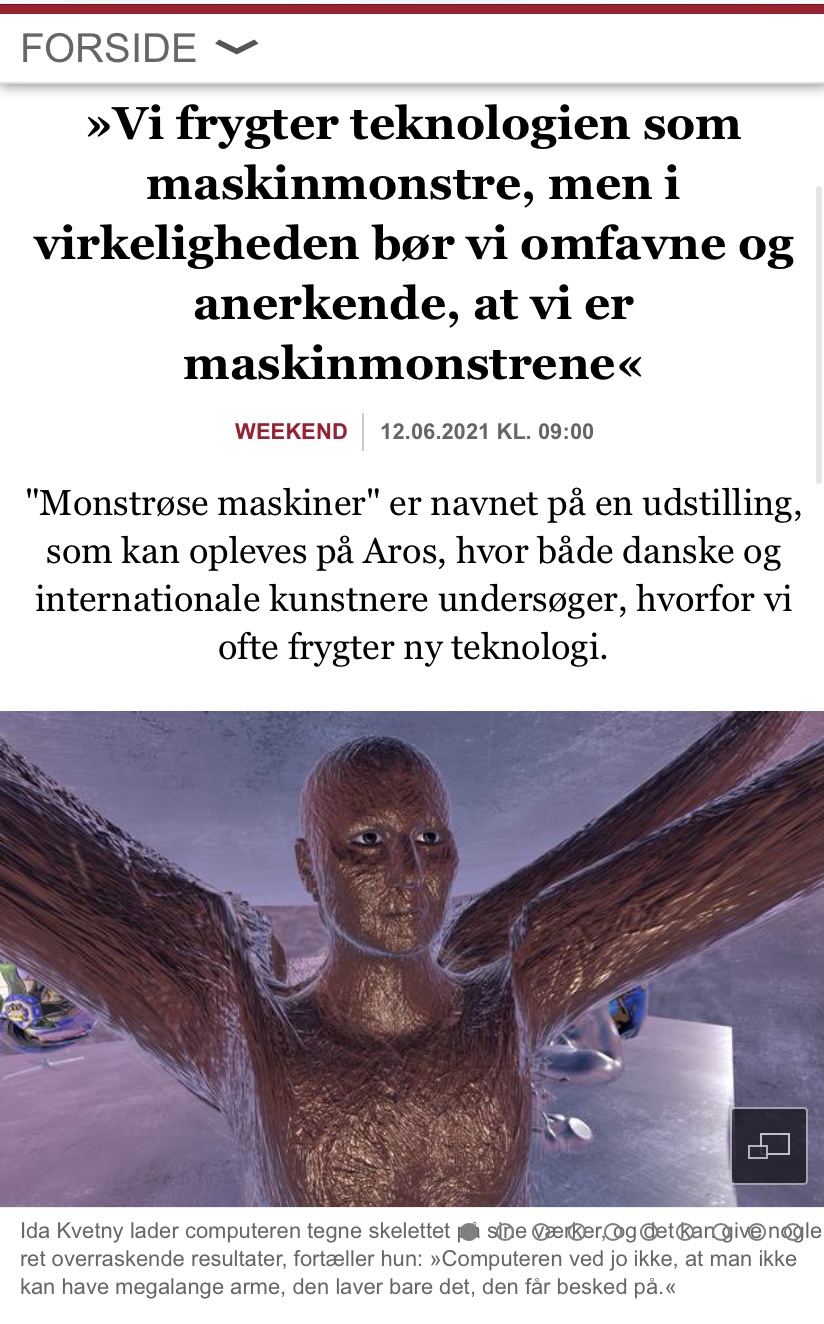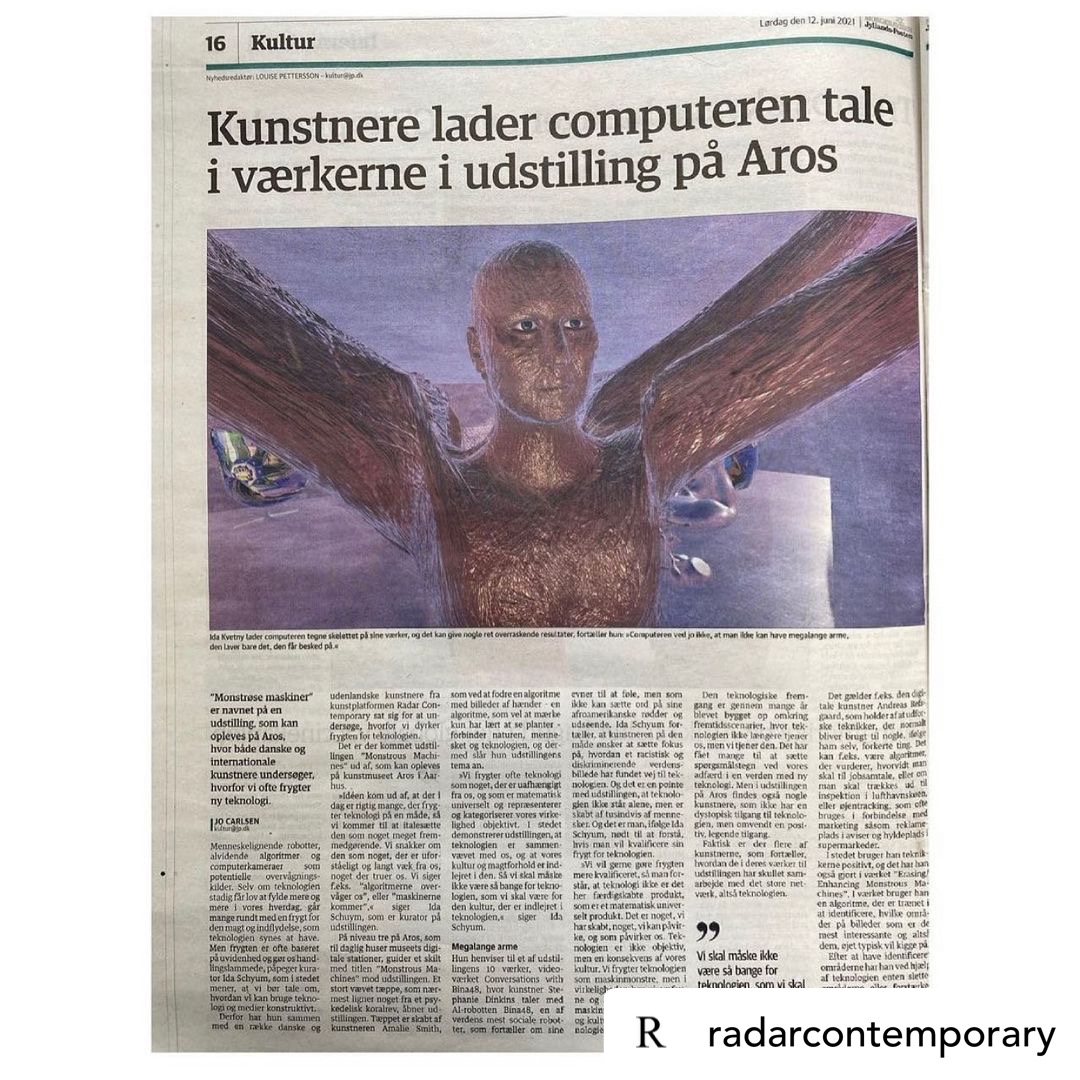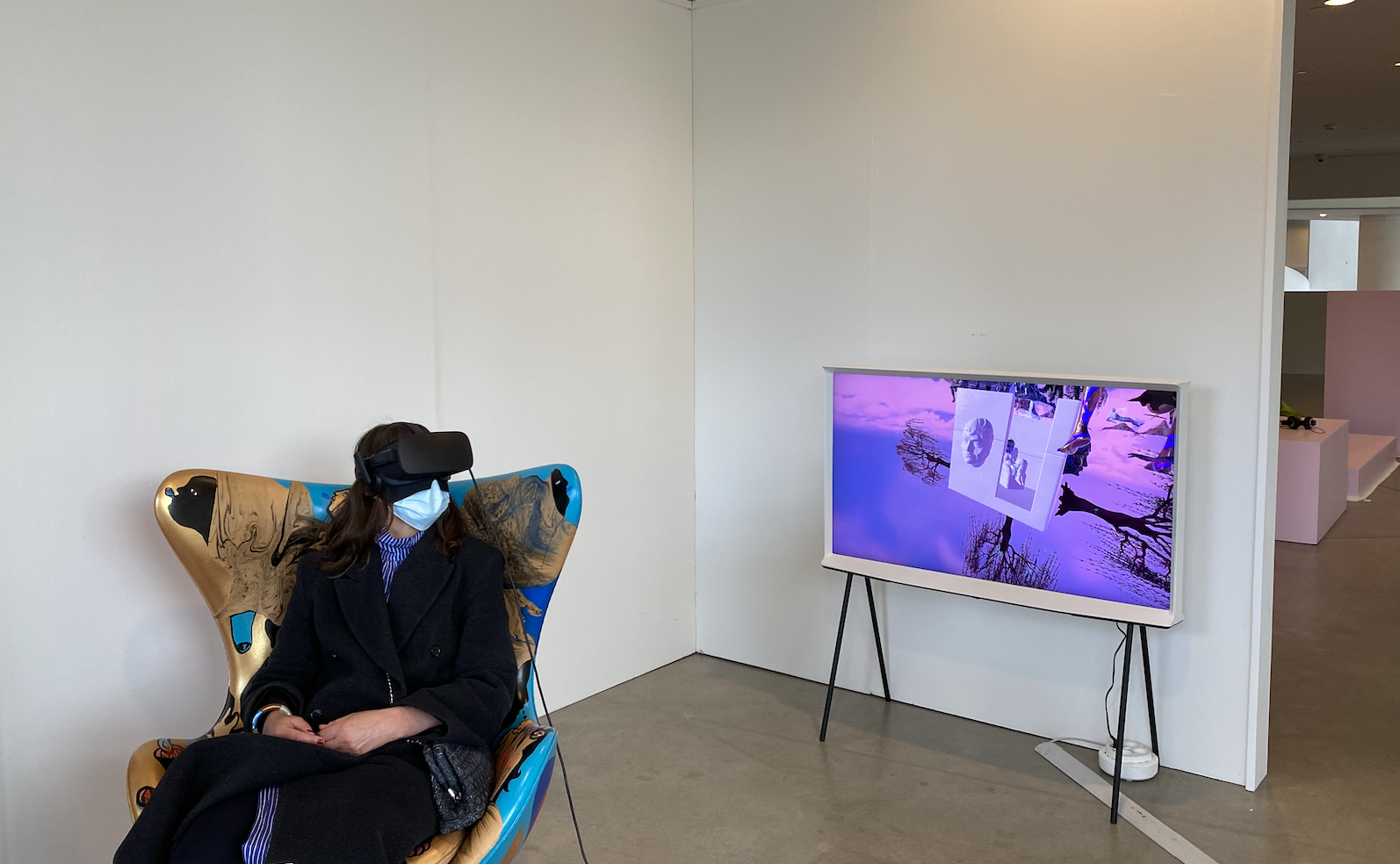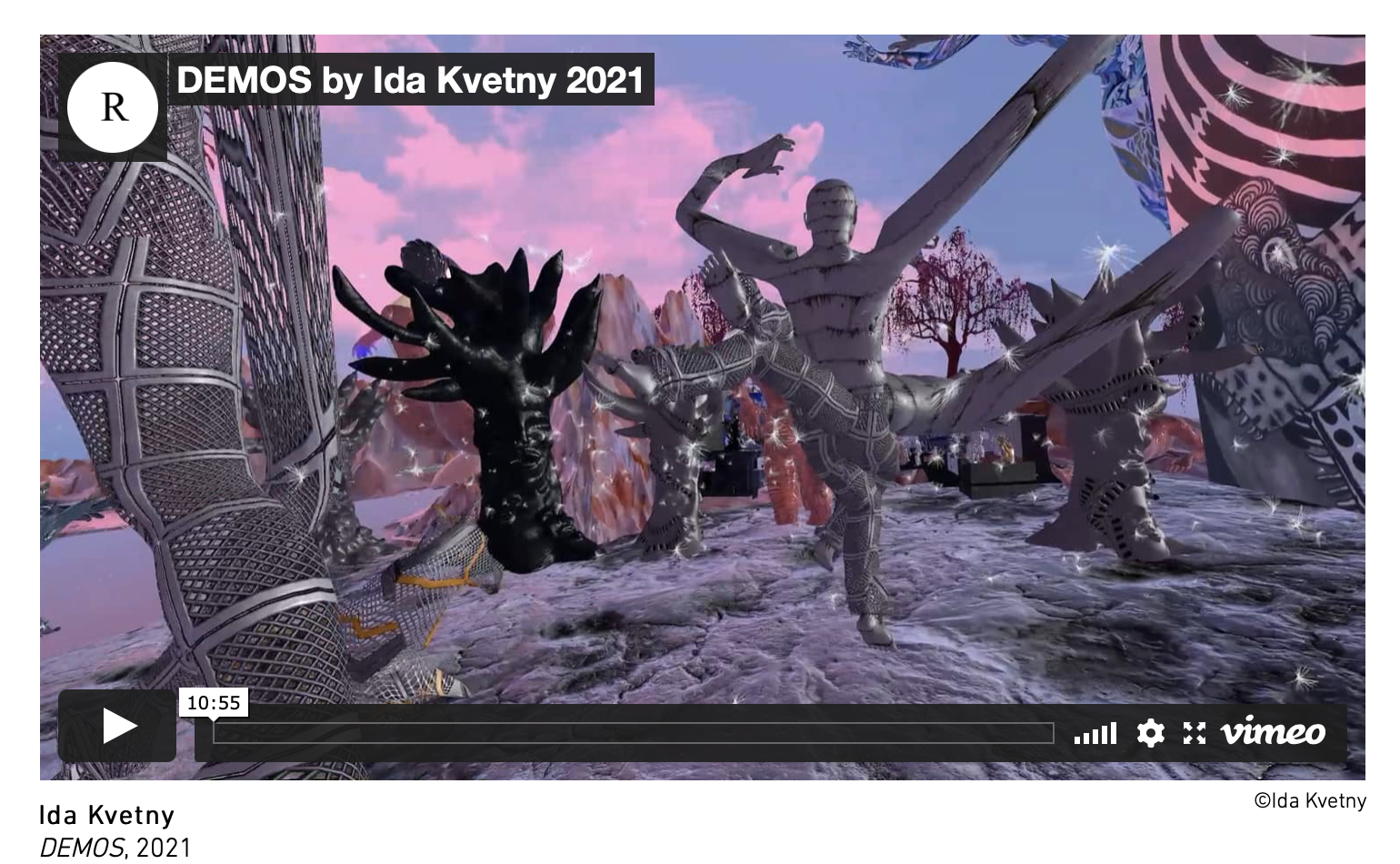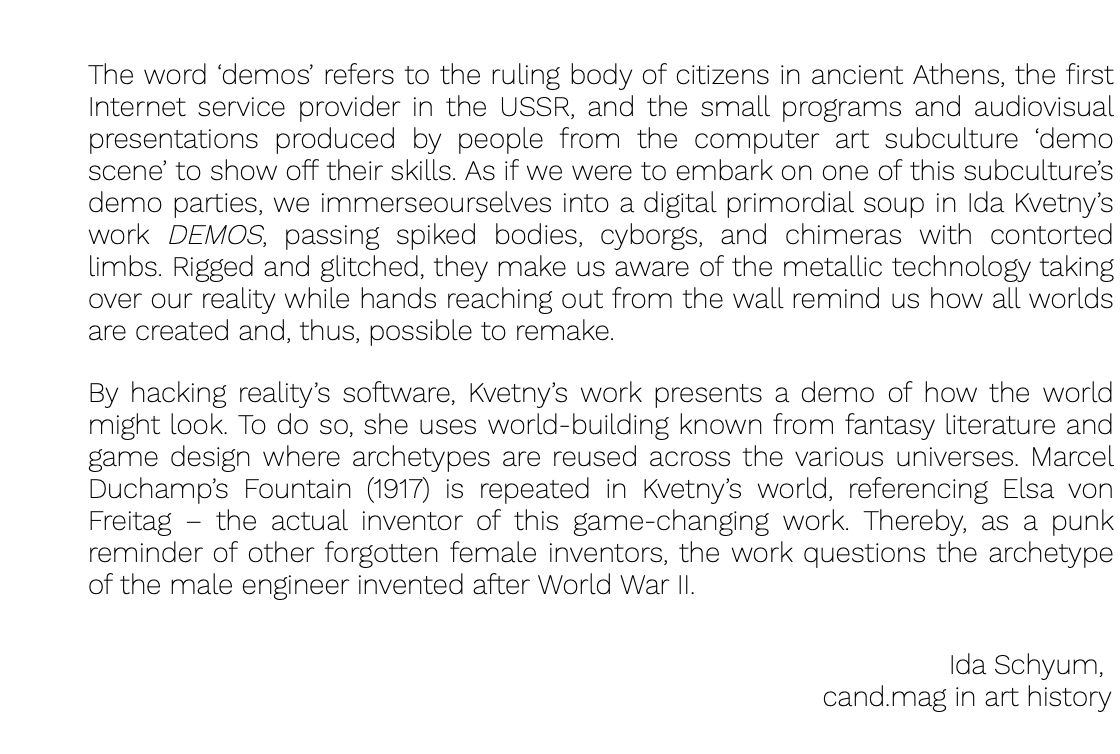 Film about the exhibition by curator Ida Schyum and at 12.23 in the film about my work :
Art review

In the Danish newspaper Politiken – culture section
of the exhibition in Nikolaj Kunsthal were I show my XR work The 27th Bathroom. The show will be on display until 31 June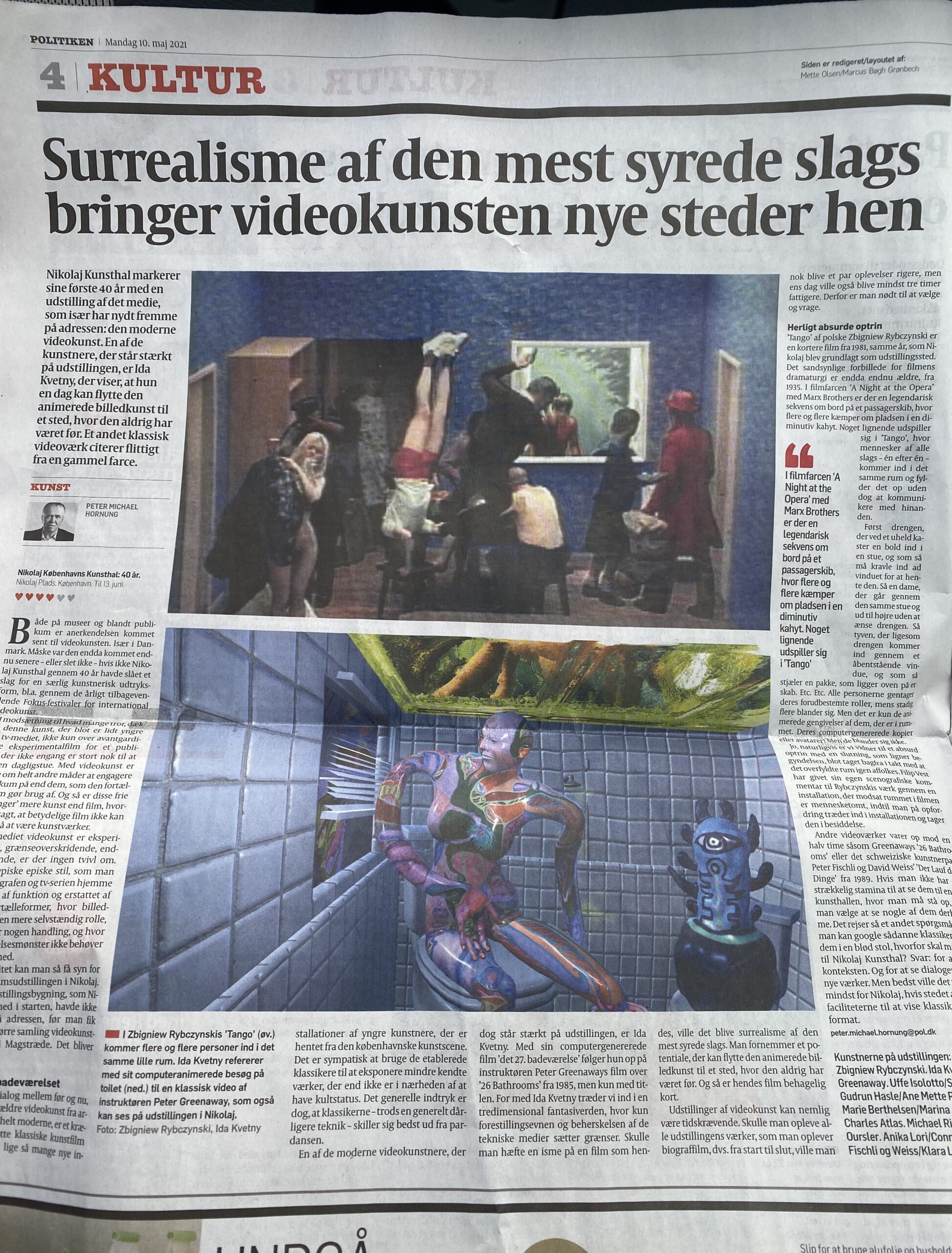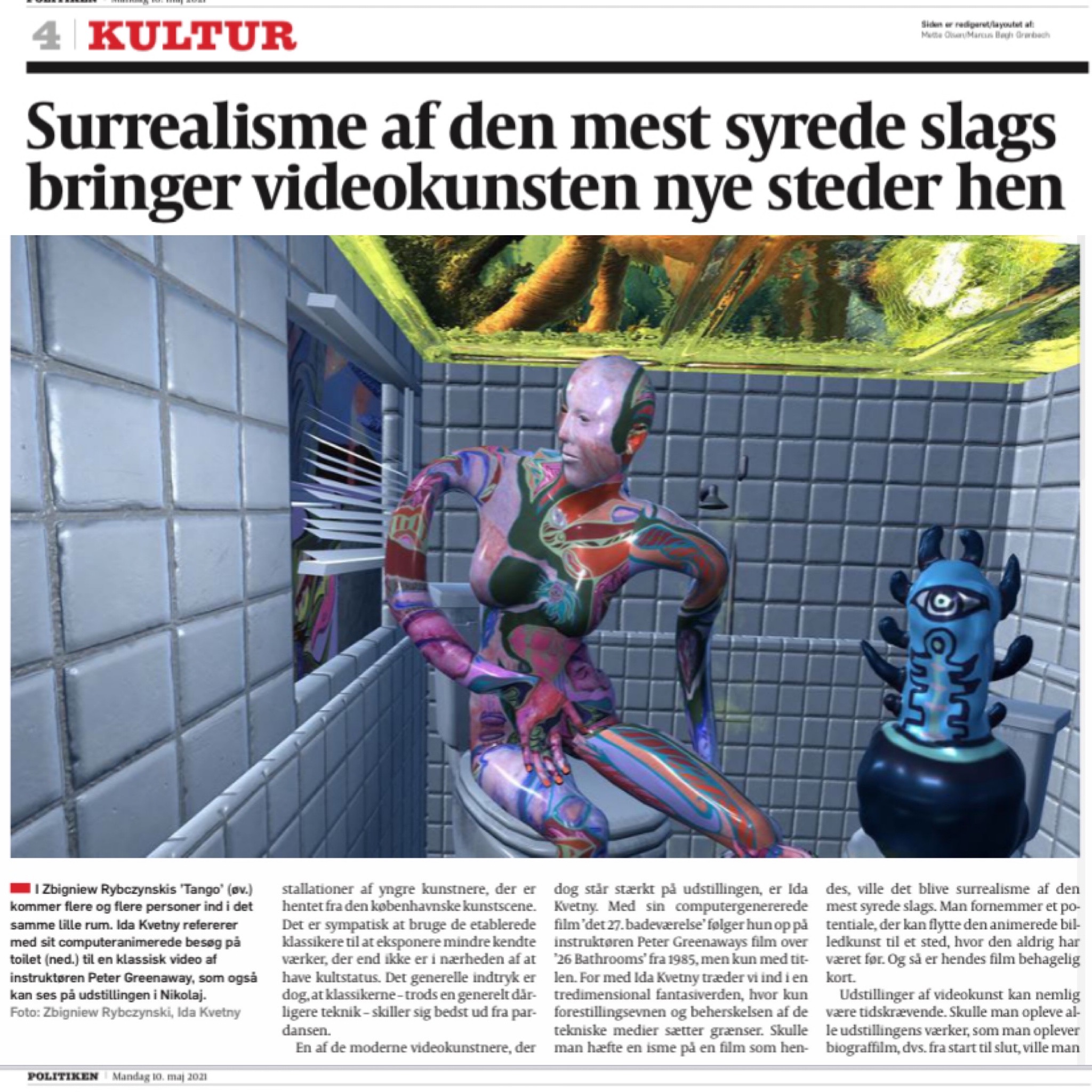 The day finally arrived were our ambitious project of 3 exhibitions culminated in this fab book

by
@jessejacoblindkvist__work
The book is documenting an important era in time between the analog and digital landscapes. Showing Danish and international artists working in an extended field of art and technology. ~classical art forms and new technology~ The book also contains important art writing by art historian @idaschyum and Dr. Omar Kholeif
This project is artist run and we are thankful for all the good energy and openness we have meet during this journey !
From the participating artists, art institutions, museums and funds.
Specially thanks to my partner in crime @dianavelasco.artist and co-pilot @idaschyum to make this spaceship rocket fuel into new galaxies!
May 7 we have the opening of the last part of our Extensions series vol lll hope to see you all online at www.radarcontemporary.com and irl in Århus! @arospublic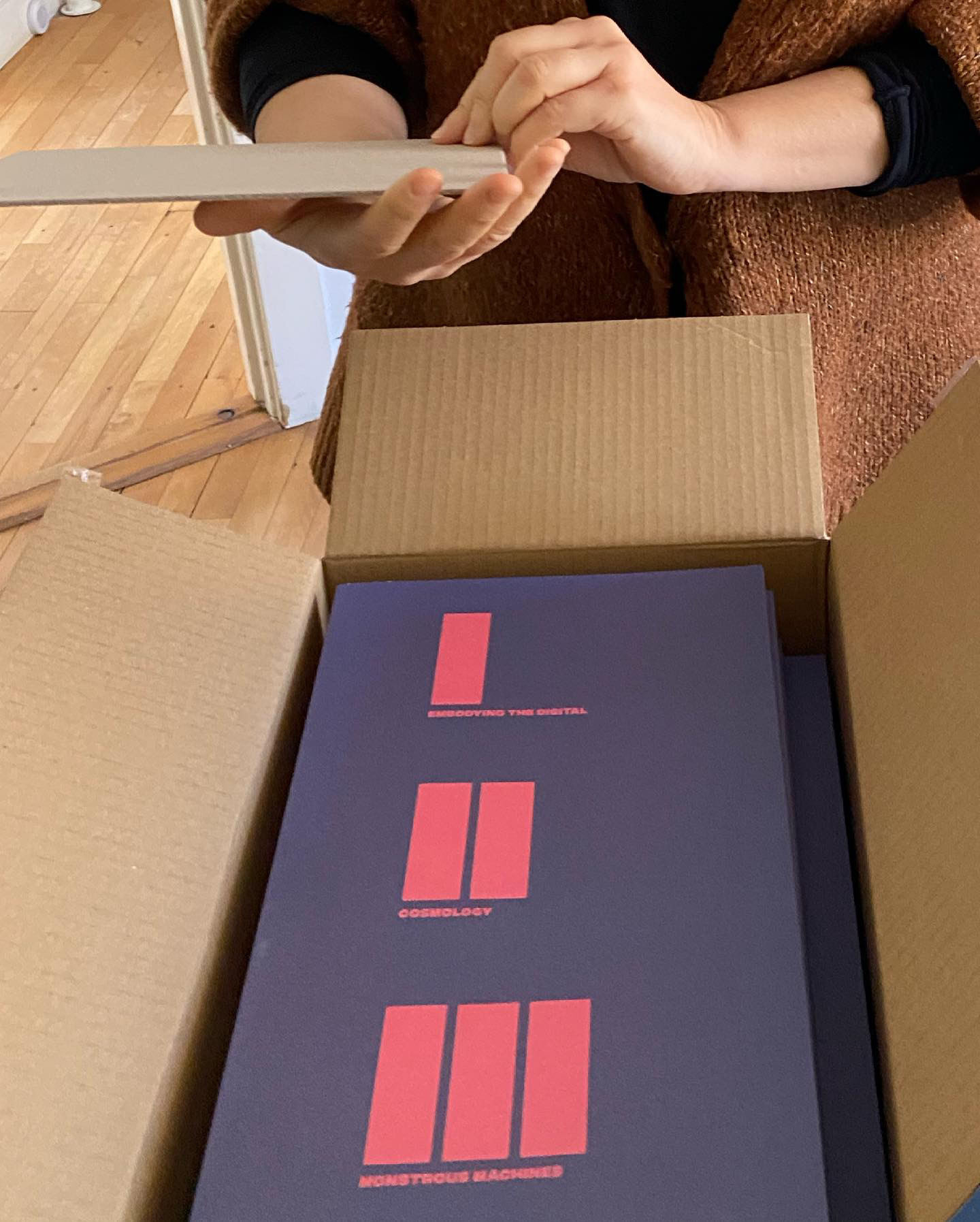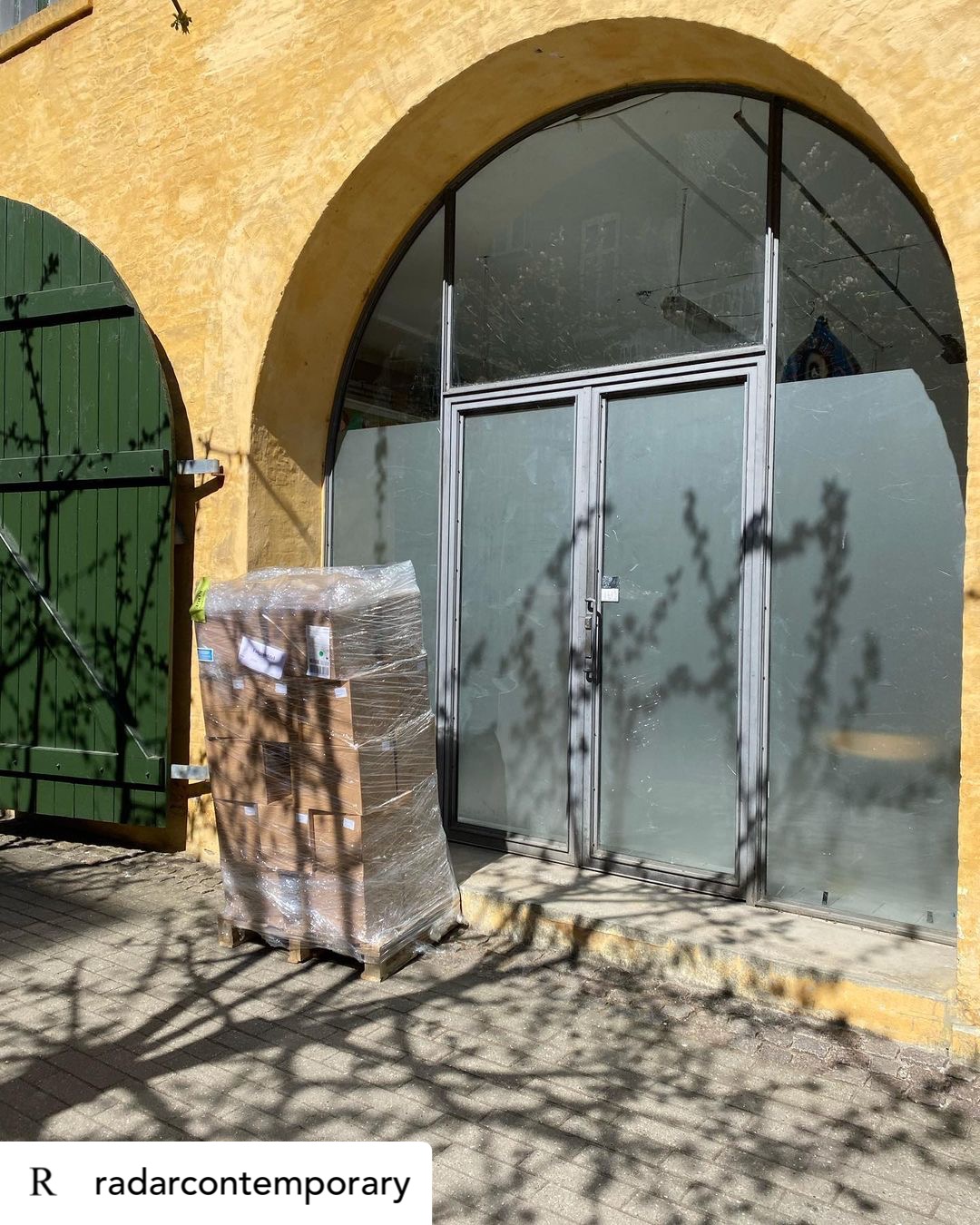 Talking about crypto art, NFT's and the possibility for VR as a new art form in Danish newspapers Politiken, Jyllandsposten, Børsen: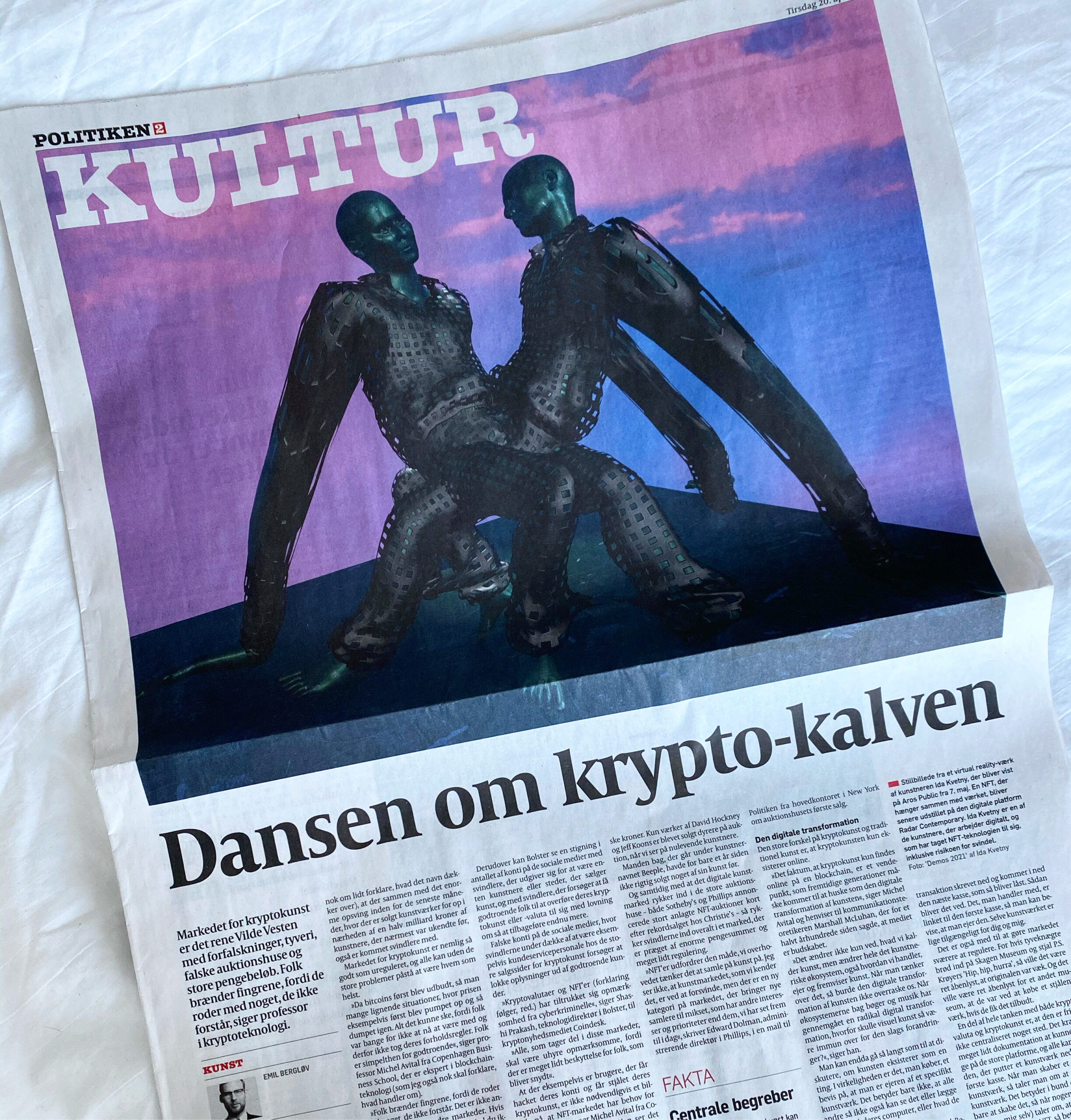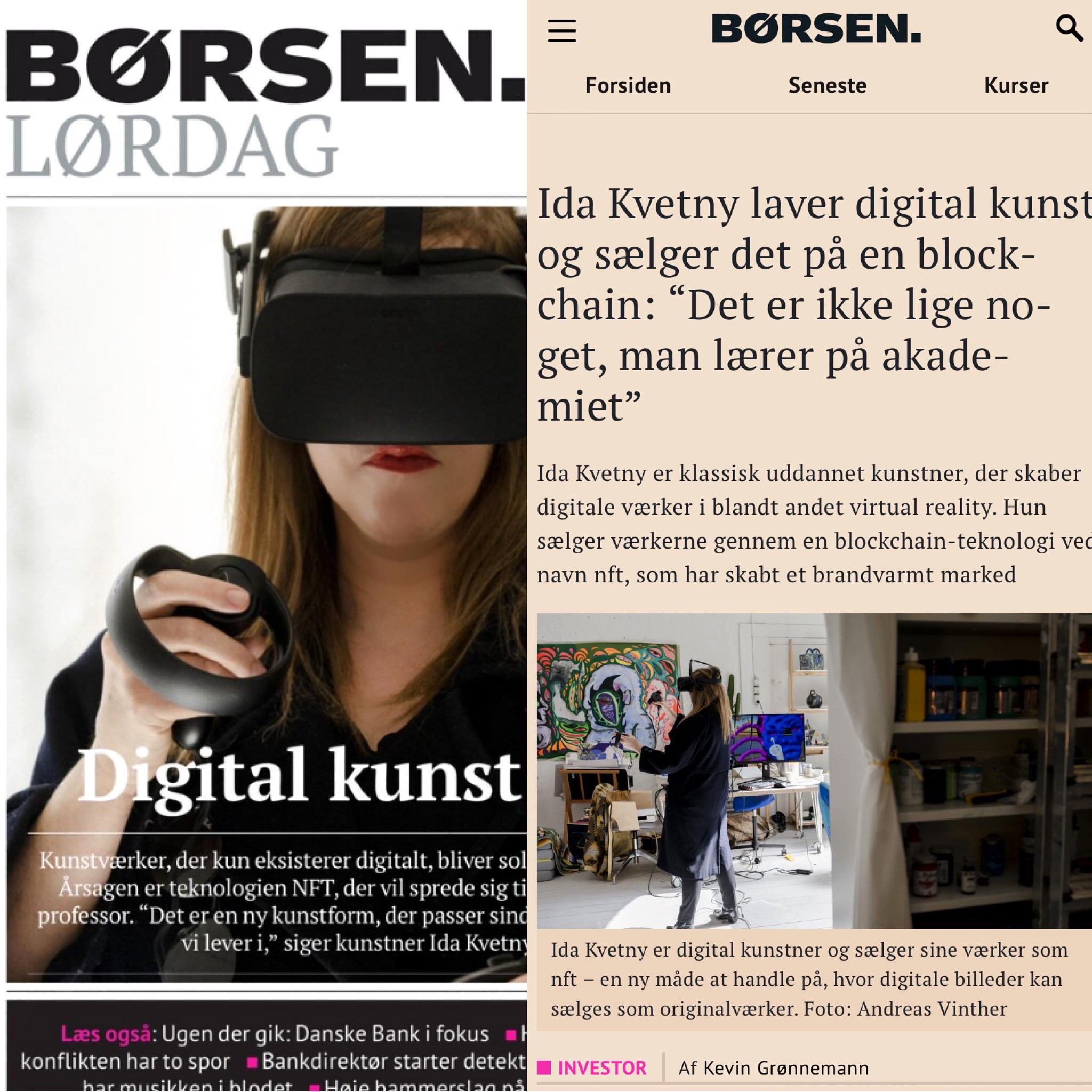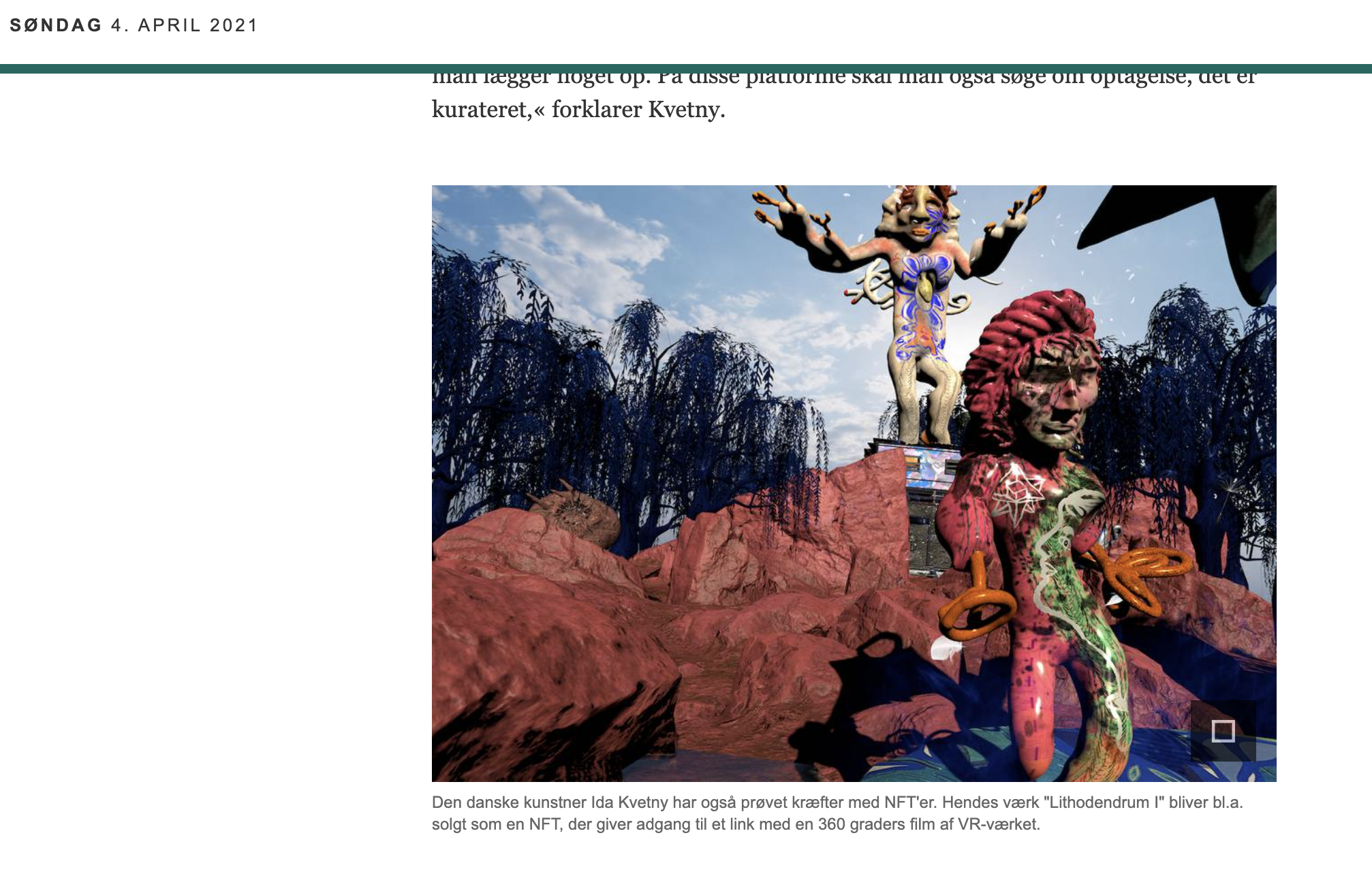 New crypto artwork (NFT) up at Opensea
I just mintet a new NFT work at Opensea. A still from my VR work Lithodendrum, it includes an unlockable content (a private link to a full length 360 degree film of the work).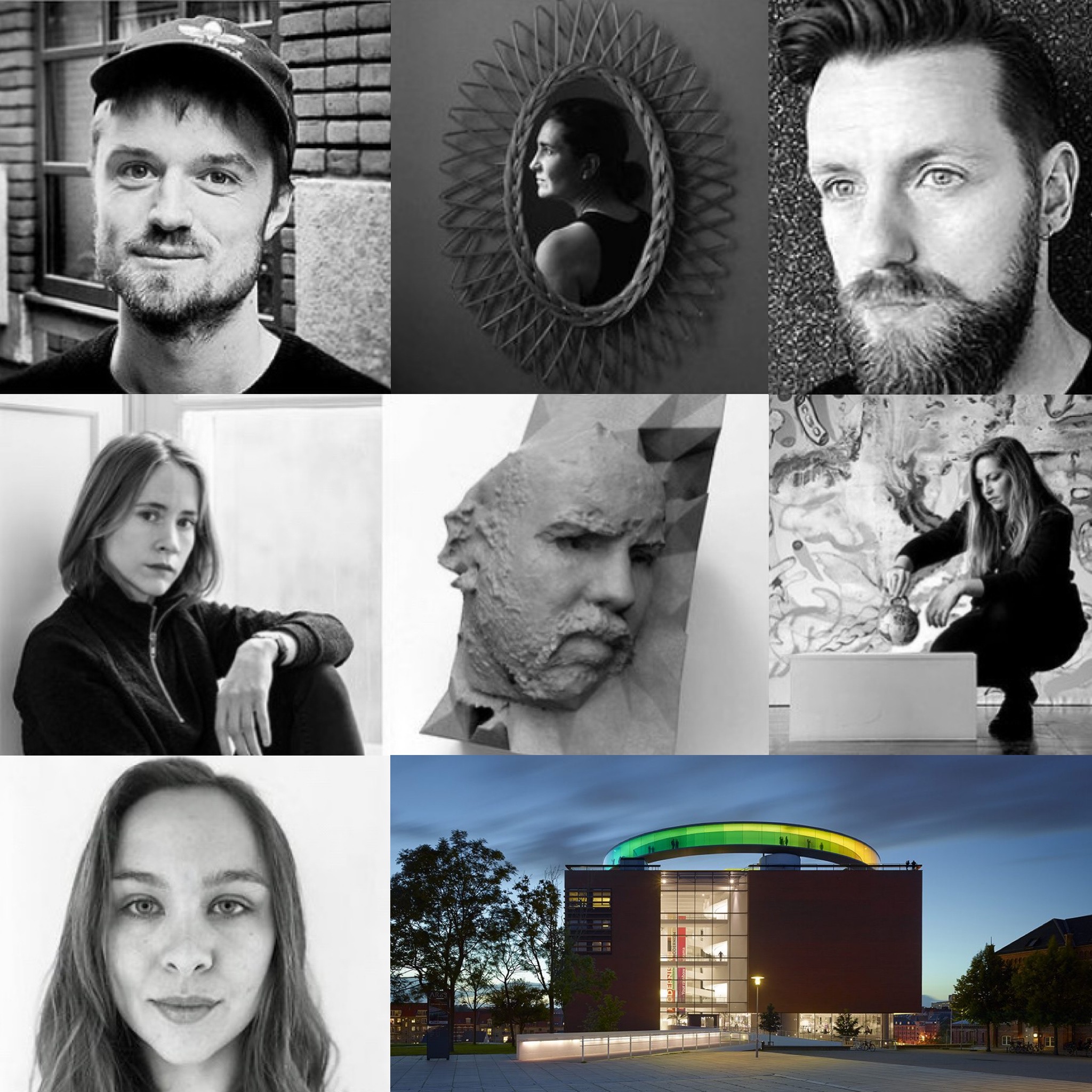 RIGHT NOW:
Nikolaj Kunsthal 40 år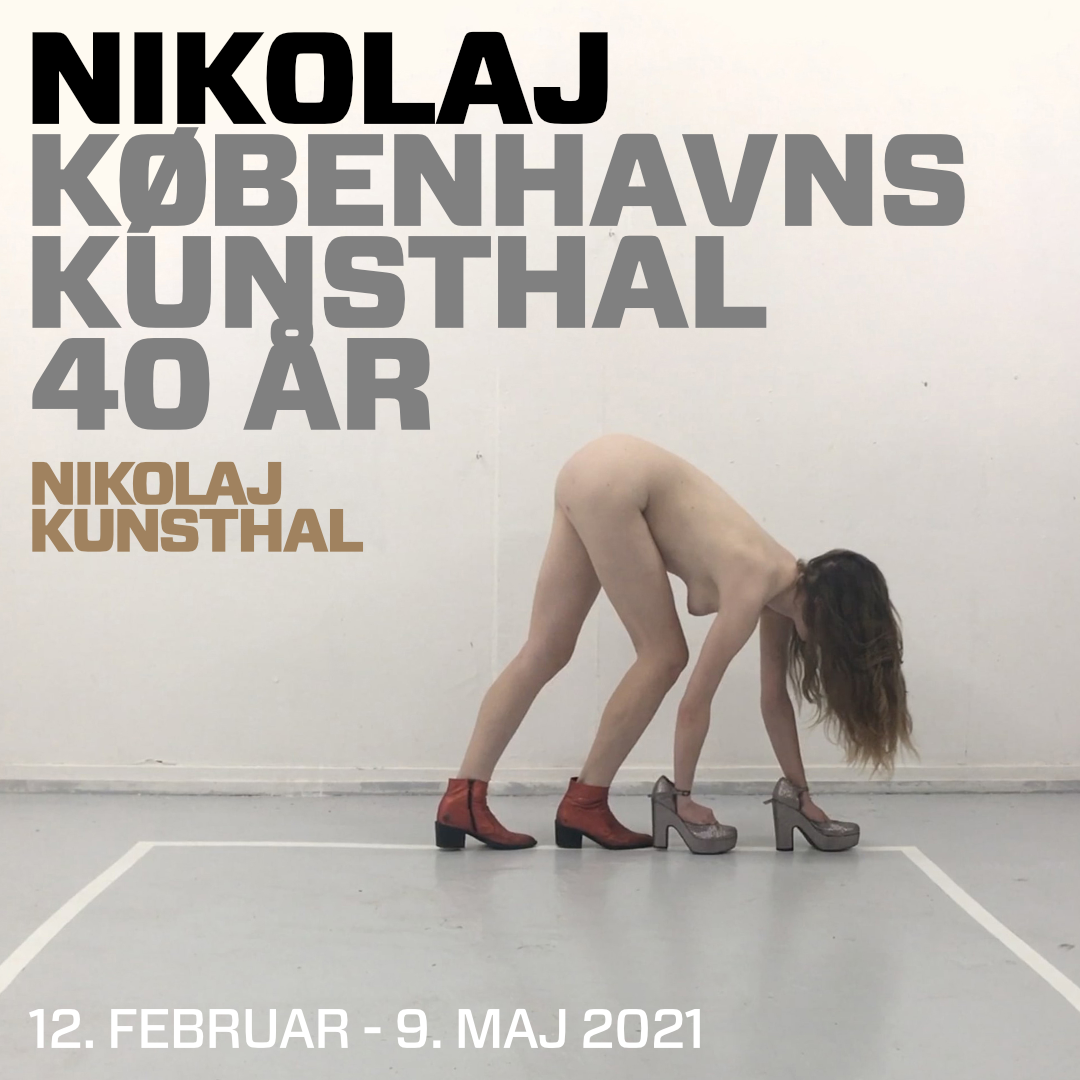 XR Work by Ida Kvetny 2021 "A homage to Peter Greenaway's 26 bathroom "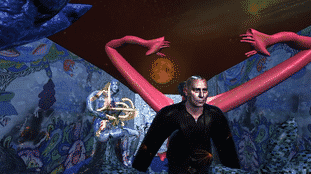 Taking part in this group show with a new XR project (12. februar - 9. maj 2021)
Marina Abramović og Charles Altas (SSS, 1990), Ditte Johanne Krogh Bertelsen, Connie Coleman og Alan Powell (Hot Pink, 1981), Anika Lori, Peter Greenaway (26 Bathrooms, 1987), Ida Kvetny, Tony Oursler (Evol, 1984), Michael Richardt, Ane Mette Ruge (R.E.M, 1989), Gudrun Hasle, Morten Skriver og Christian Skeel (Tears/Choices, 1989), Uffe Isolotto, Zbigniew Rybczyński (Tango, 1981), Filip Vest, Peter Fischli/David Weiss (Der Lauf der Dinge, 1987) samt Klara Lilja.

EXHIBITION DEN FRIE UDSTILLINGSBYGNING (19 Jan – 21 Feb) OUT OF SPACE!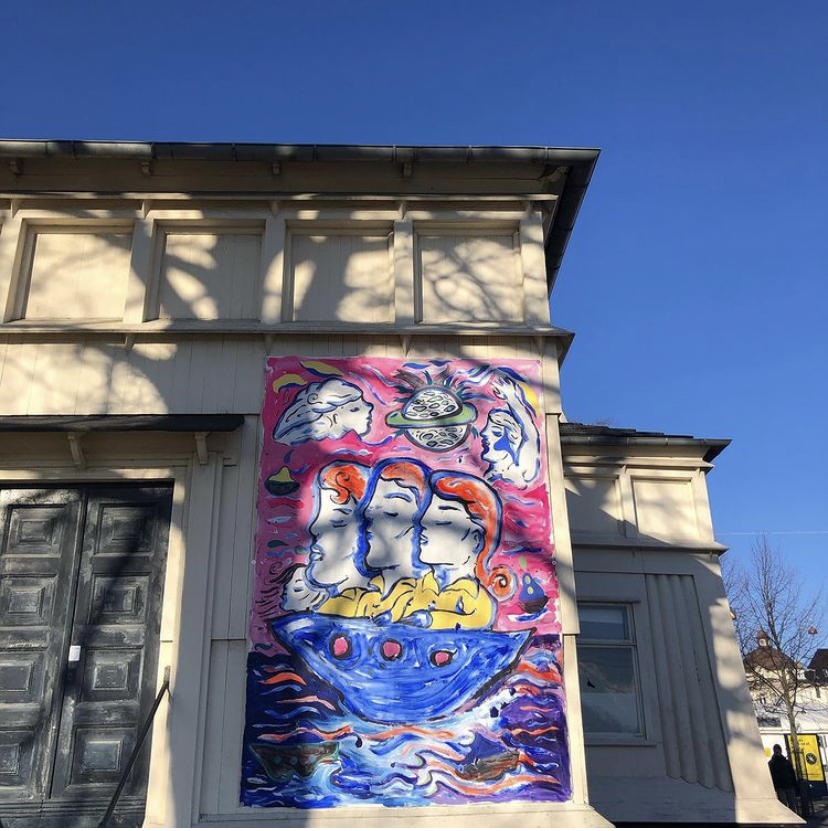 Participating in two new art publications: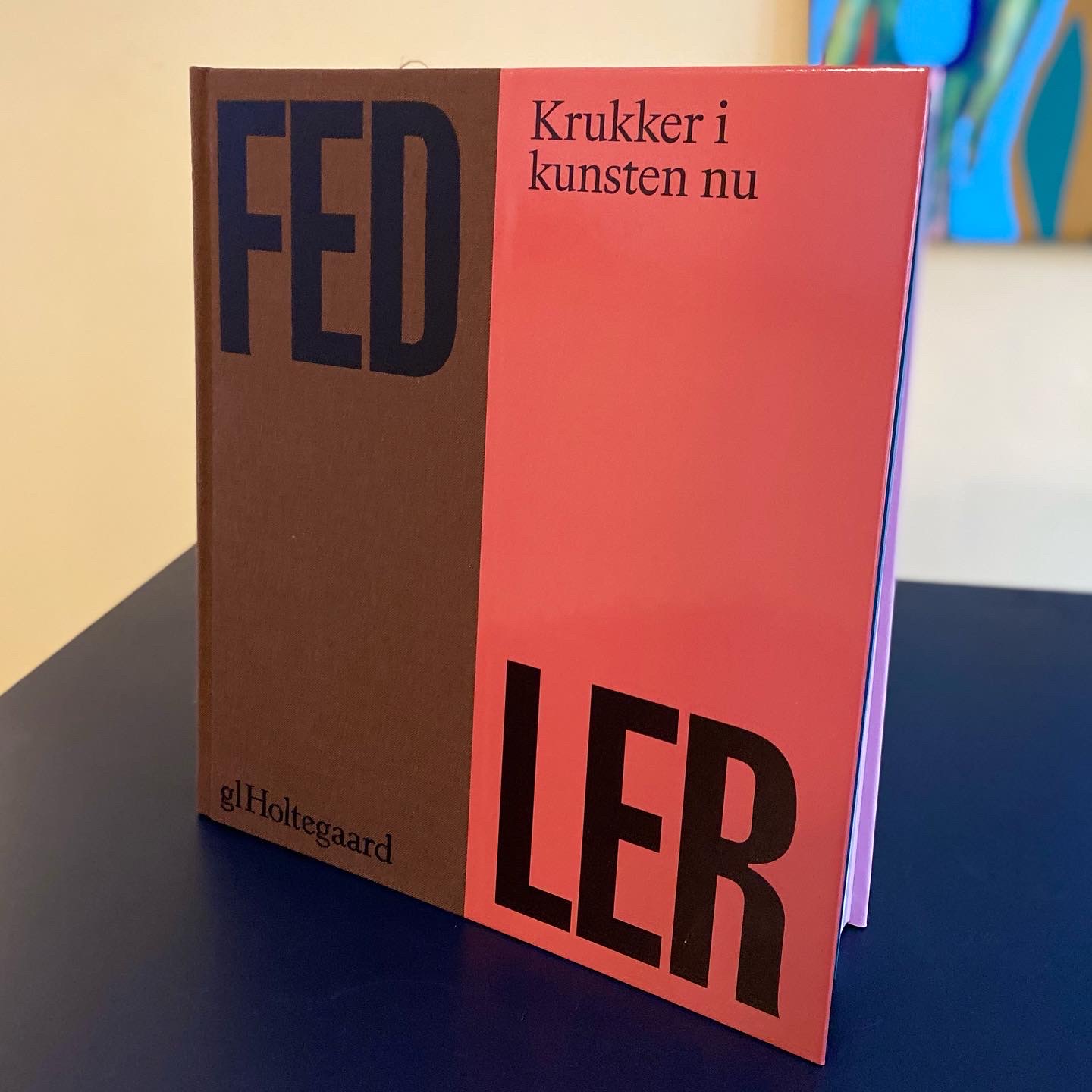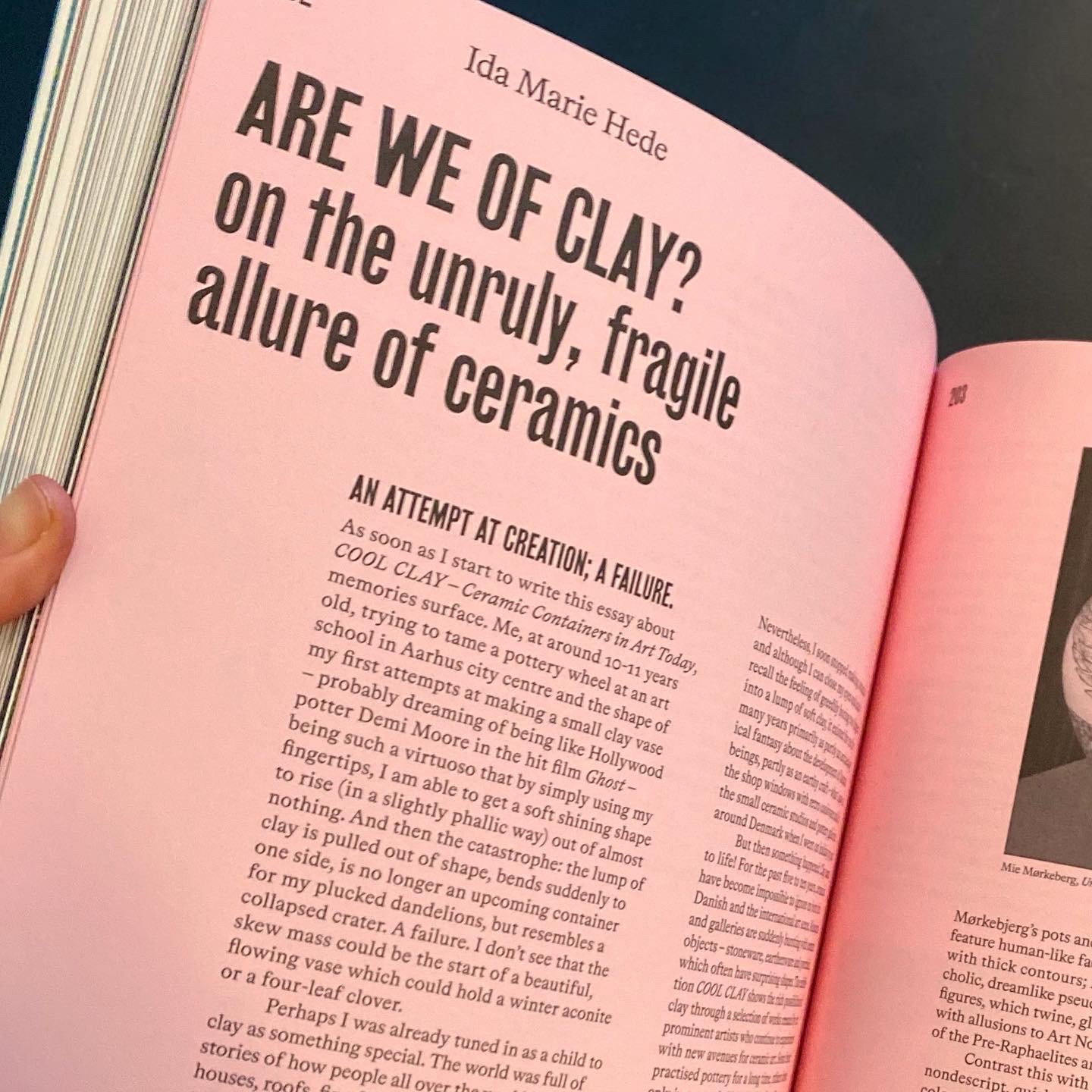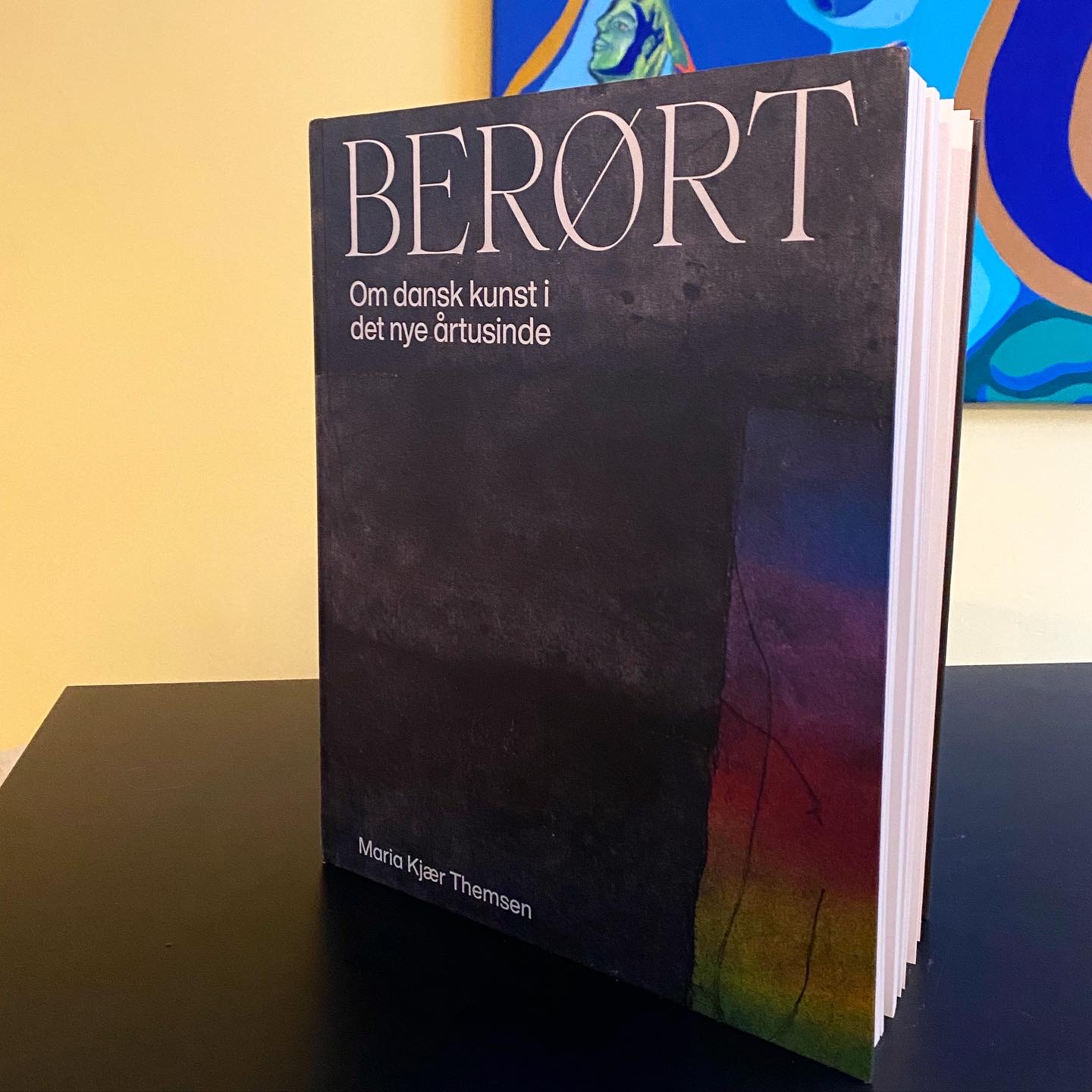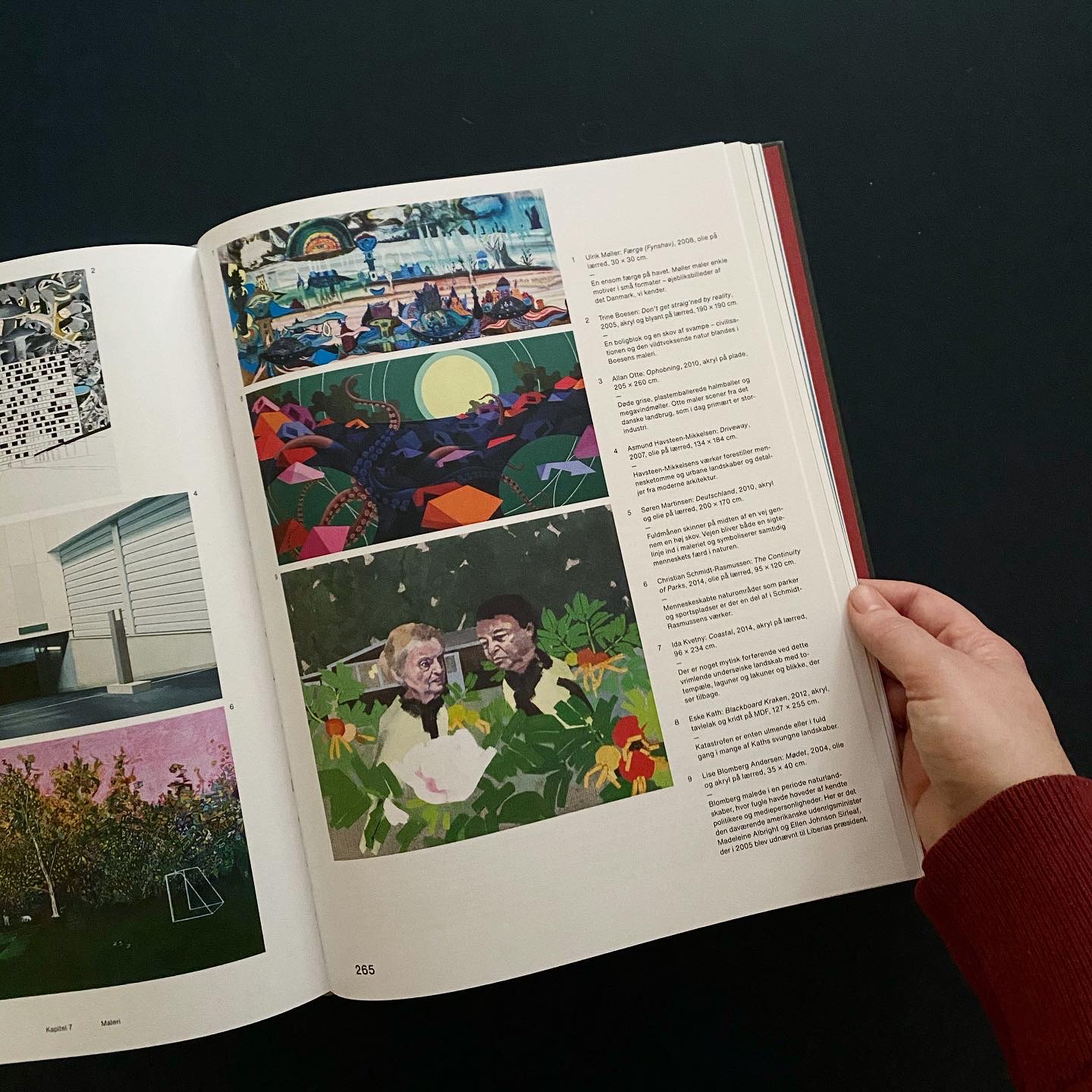 New digital (XR) artwork
EOS
EXHIBITED AT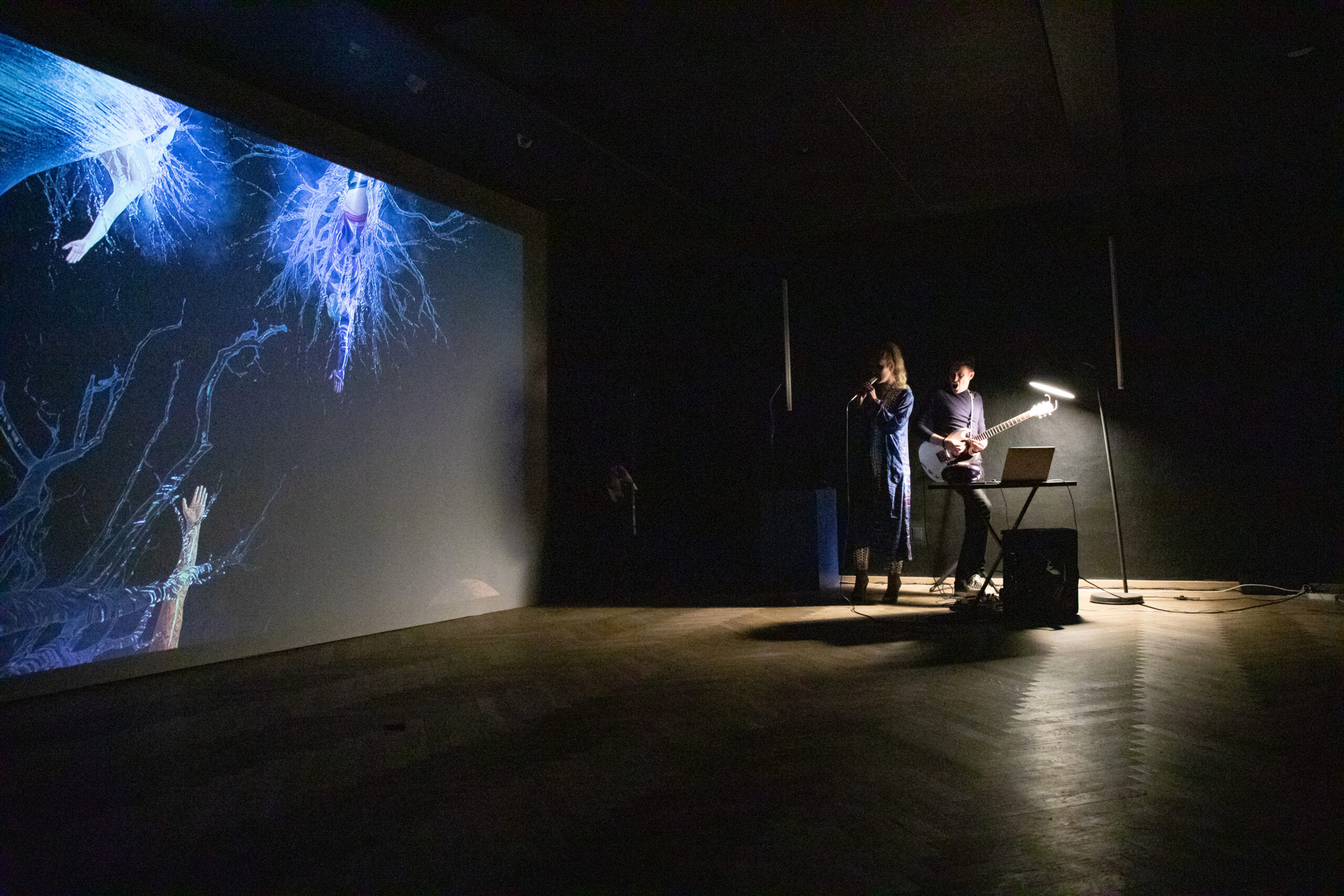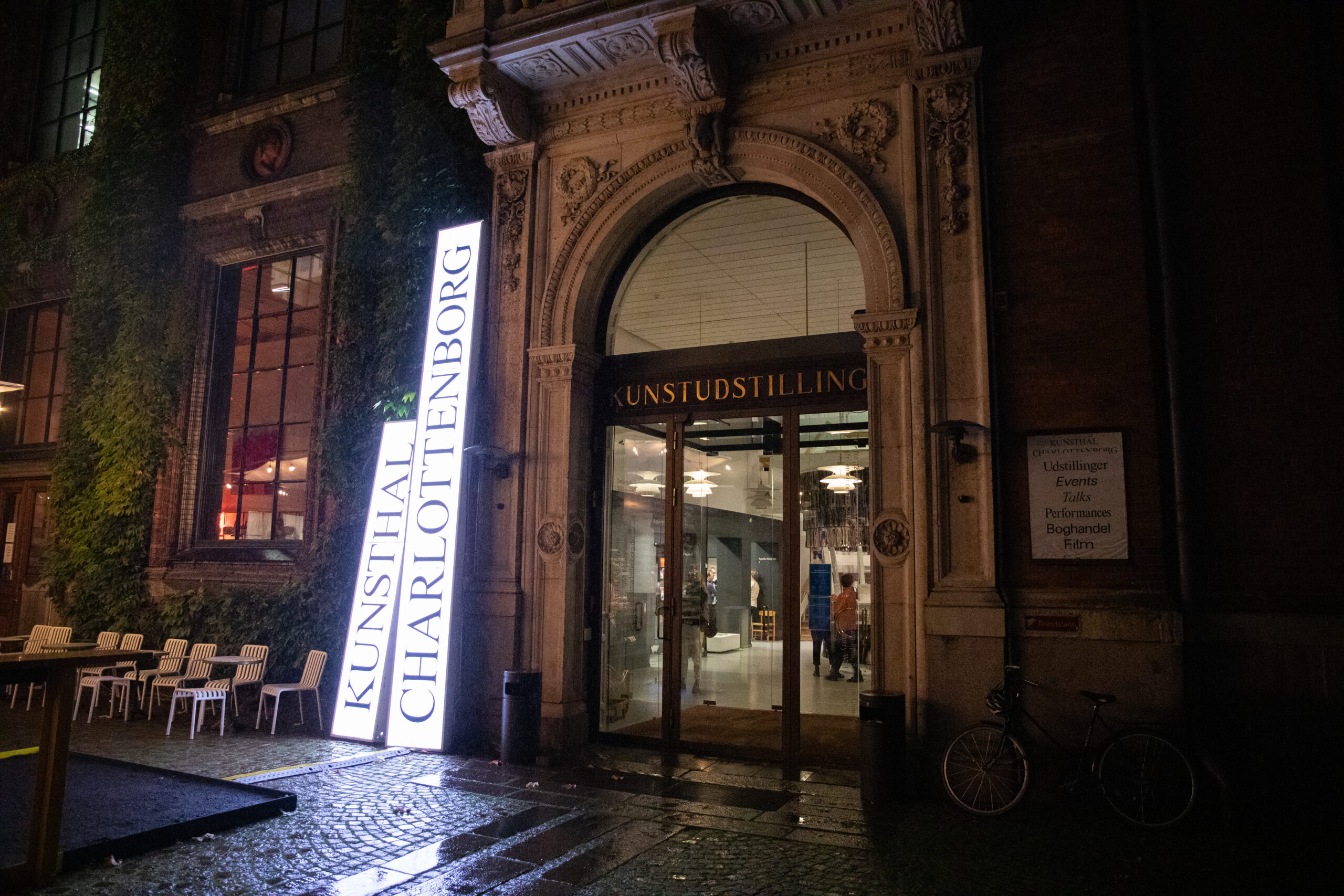 EVENT
Charlottenborg Live / Radar Contemporary
Live performance by Jeanett Albeck & Noah Rosins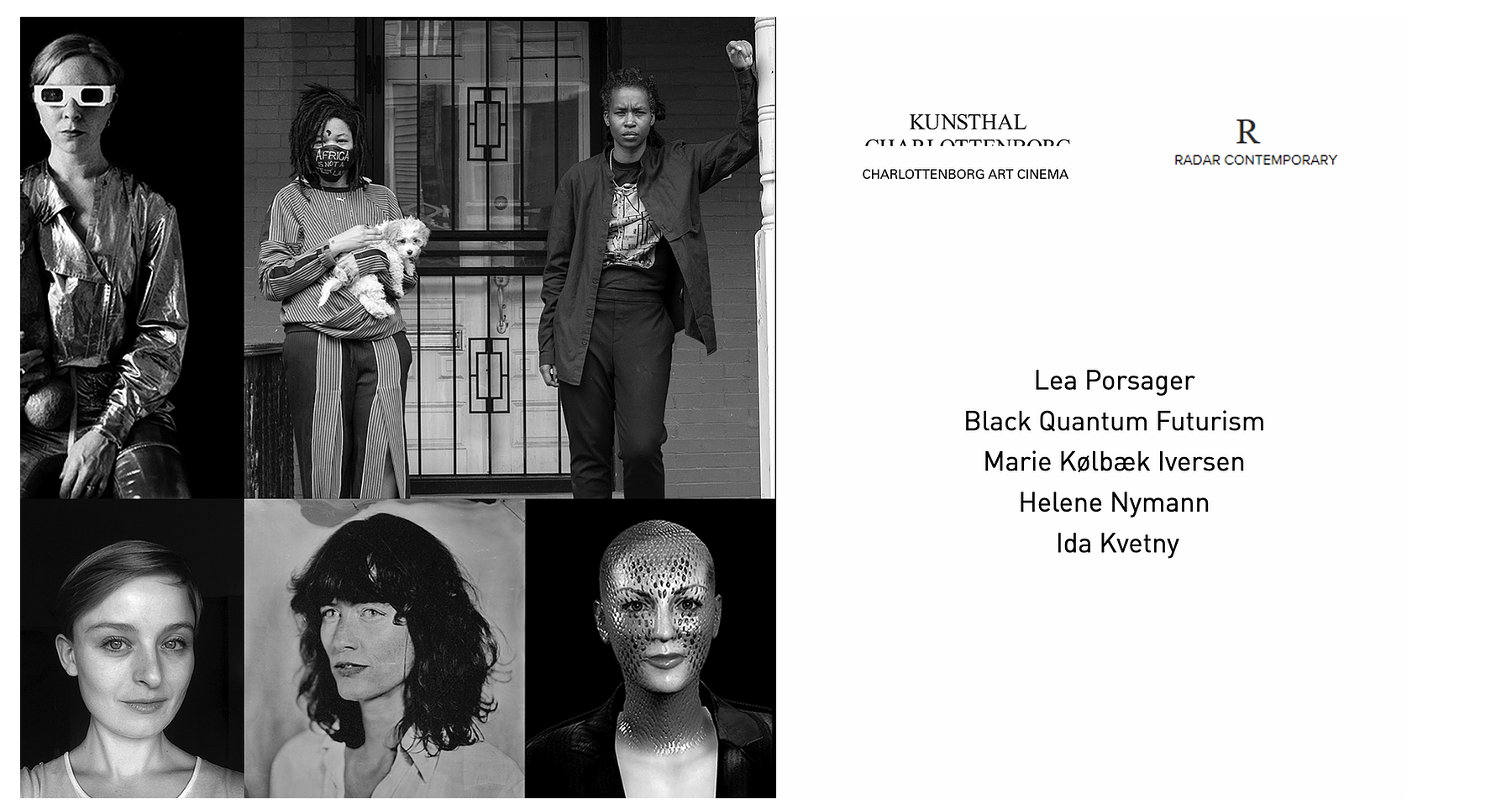 SEPTEMBER
Rader Channel presents first film in a line-up of artist portraits.
​
First up is Ida Kvetny
Classical art forms and new technology
Video by Johan May Nitschke
3D art by Ida Kvetny
Music from VR GAZE clip by Benedikte Damgaard & Emil Gryesten
Kindly supported by the Danish Agency for Culture and Places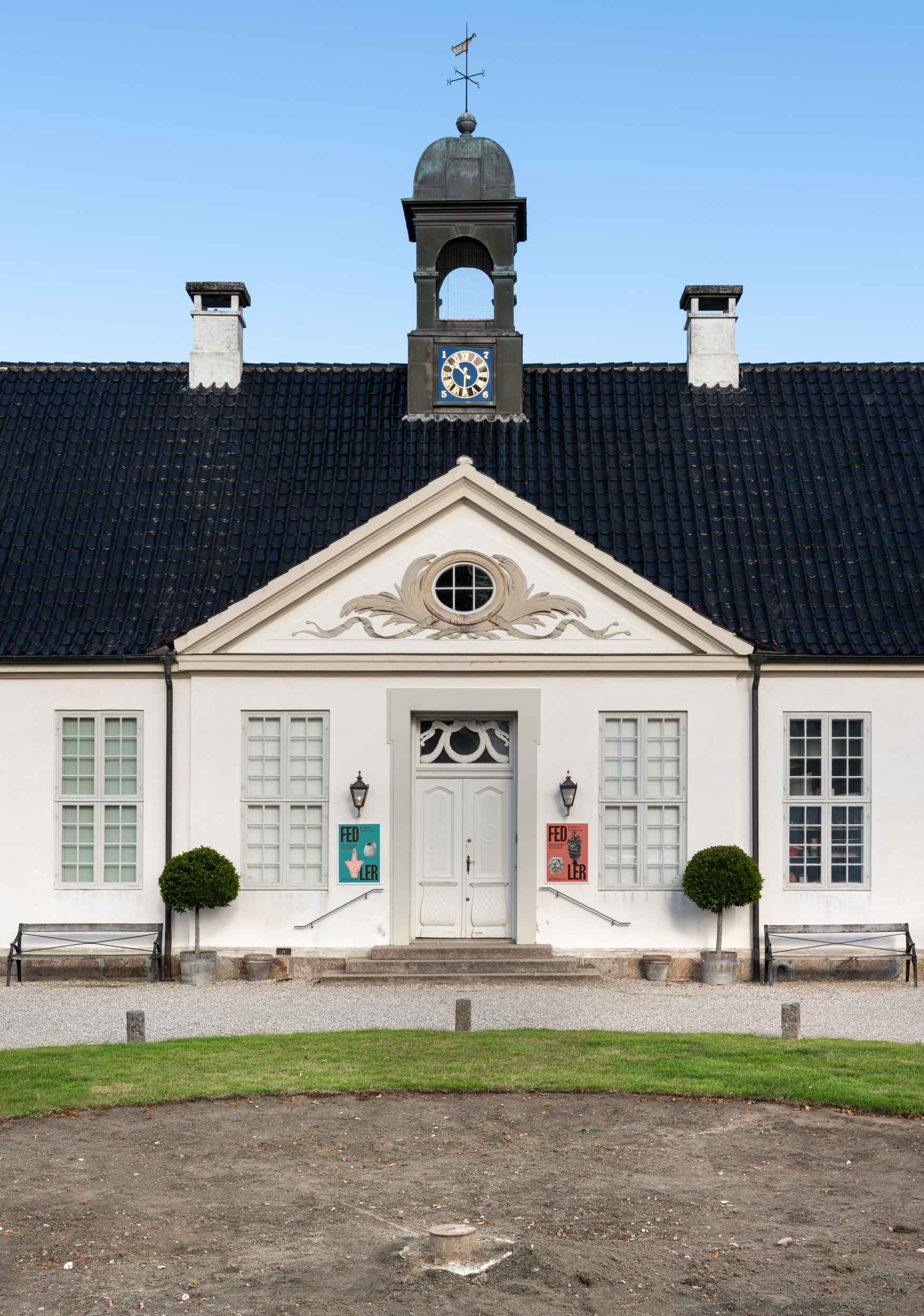 CO
OL CLAY – Ceramic Containers in Art Today
Right now at Gl.Holtegaard!
28 AUG 2020 – 10 JAN 2021
Ceramic: Clay in art is more popular than ever both in Denmark and internationally. COOL CLAY – Ceramic Containers in Art Today presents 20 Danish artists' reinterpretation of clay pots as works of art. Here the clay container exists as applied art, myth, body, sound instrument, canvas, and sculpture.
The staging of the exhibition – with tons of earth on the gallery floors and heavy textiles on the walls – arouses the senses – touch, sight, smell and hearing intensify the experience of the many works filling the galleries.
Medvirkende kunstnere:
Lisbeth Bank / Claus Carstensen / Cathrine Raben Davidsen / Rose Eken / Nour Fog / Ida Kvetny / Klara Lilja / Carl Mannov / Karl Monies / Mie Mørkeberg / Ursula Nistrup / Fie Norsker / Frederik Nystrup-Larsen / Frederik Næblerød / Knud Odde / Anna Samsøe / Andreas Schulenburg / Anna Stahn / Dan Stockholm / Anna Sørensen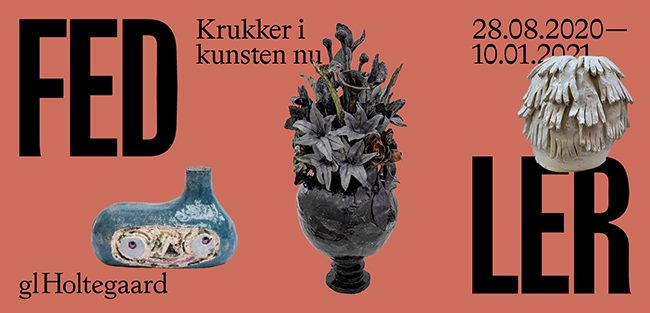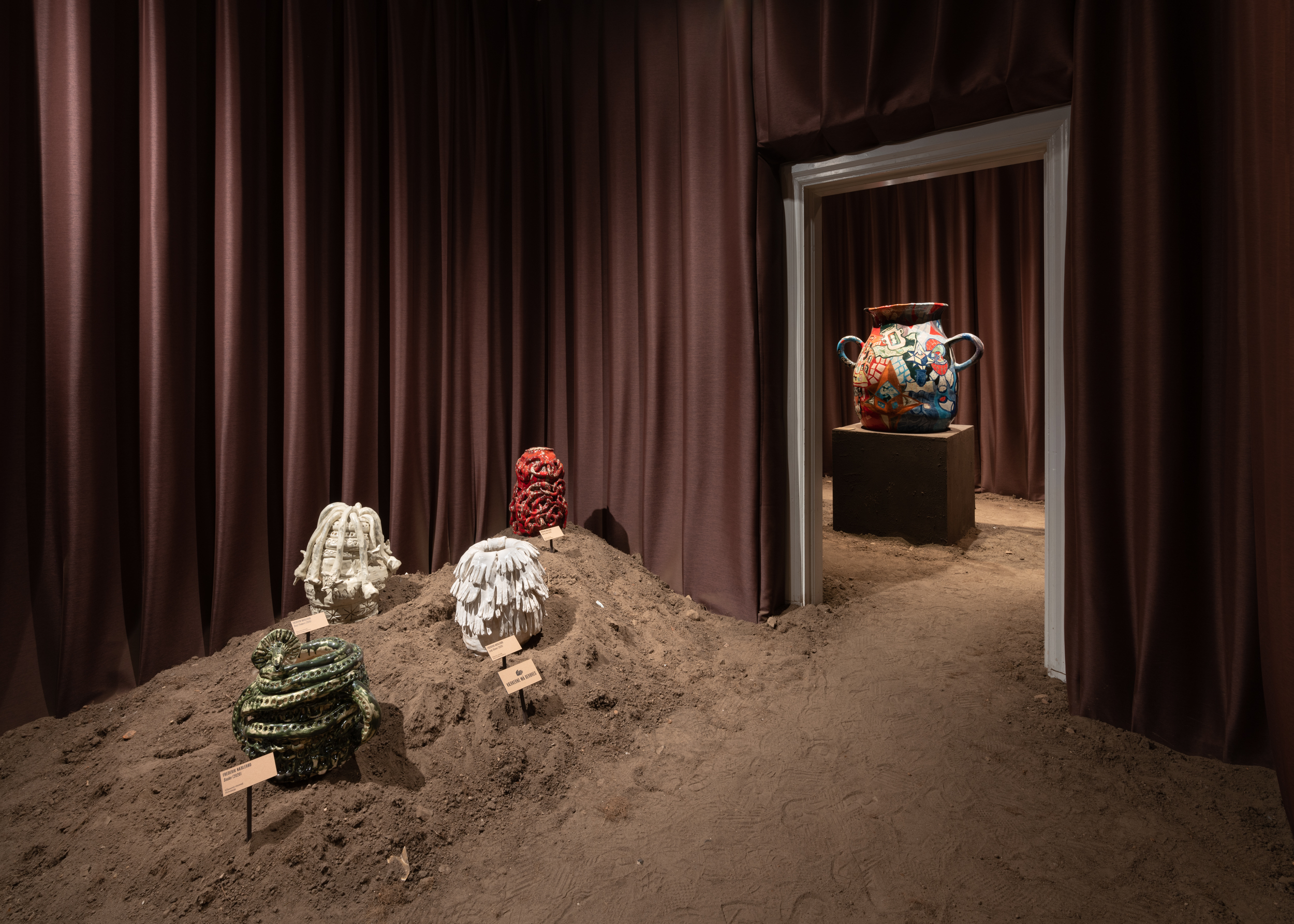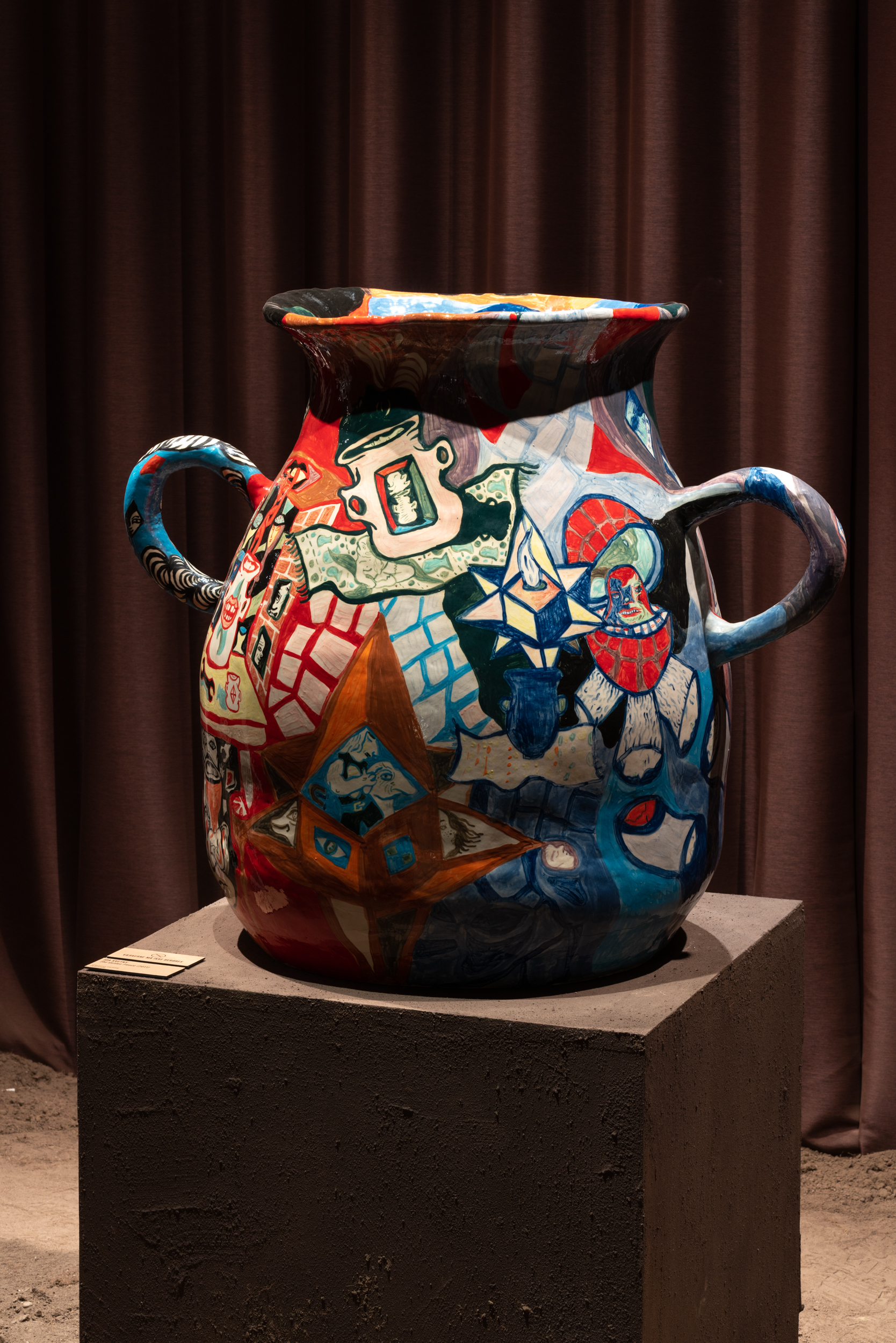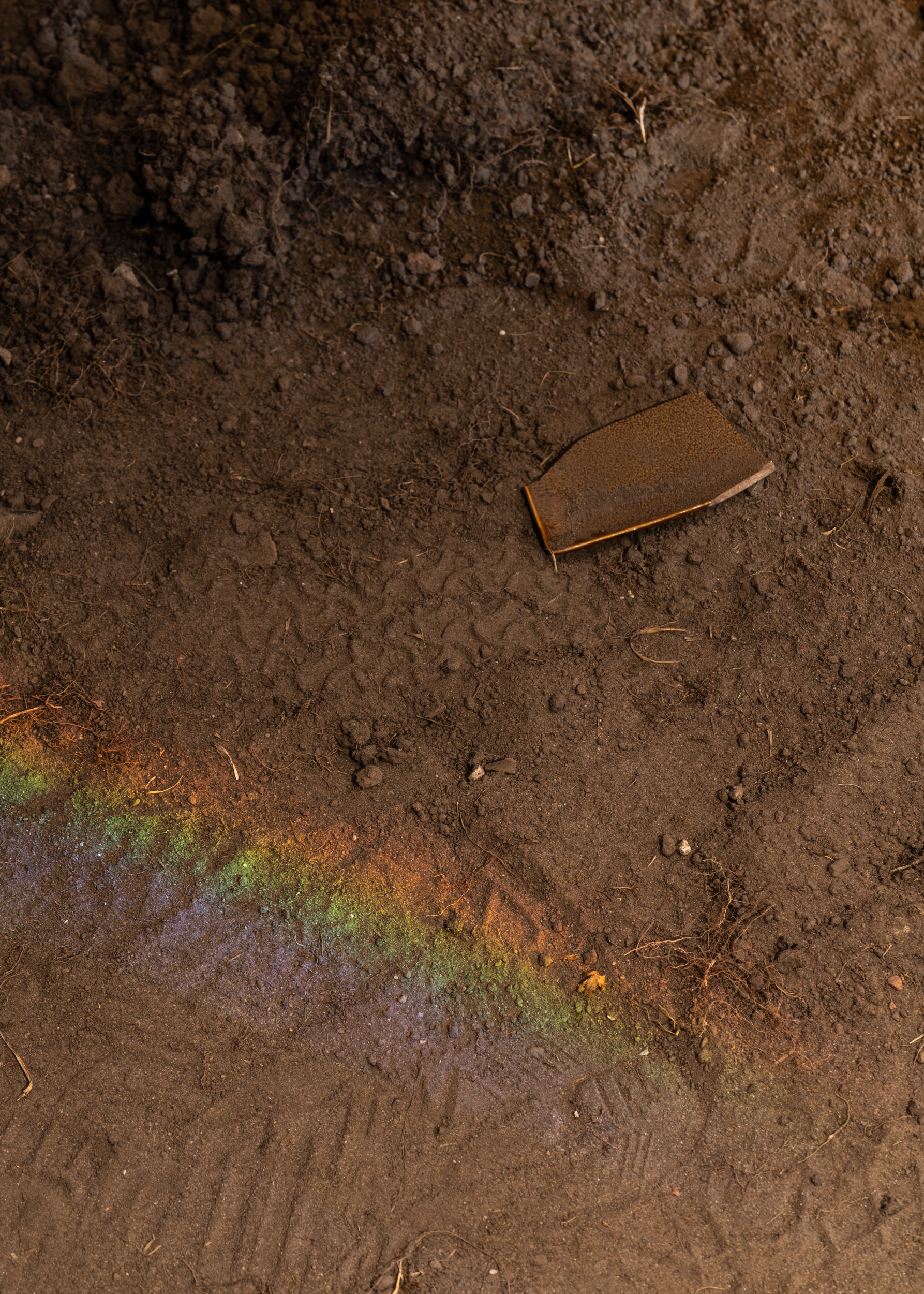 SULT / KULTURMØDET MORS
I just made a co-lab with composer and musician Jeanett Albeck for Kulturmødet Mors 2020
SULT is a remix of a song from from the theater play BRØGGER
Tekst Suzanne Brøgger
Musik Jeanett Albeck
Video Artwork Ida Kventny
Remix Mikkel Holtoug
THE LUMEN PRIZE 2020
I'm very honored and excited that my VR work Lithodendrum has been listed for the Lumen Prize 2020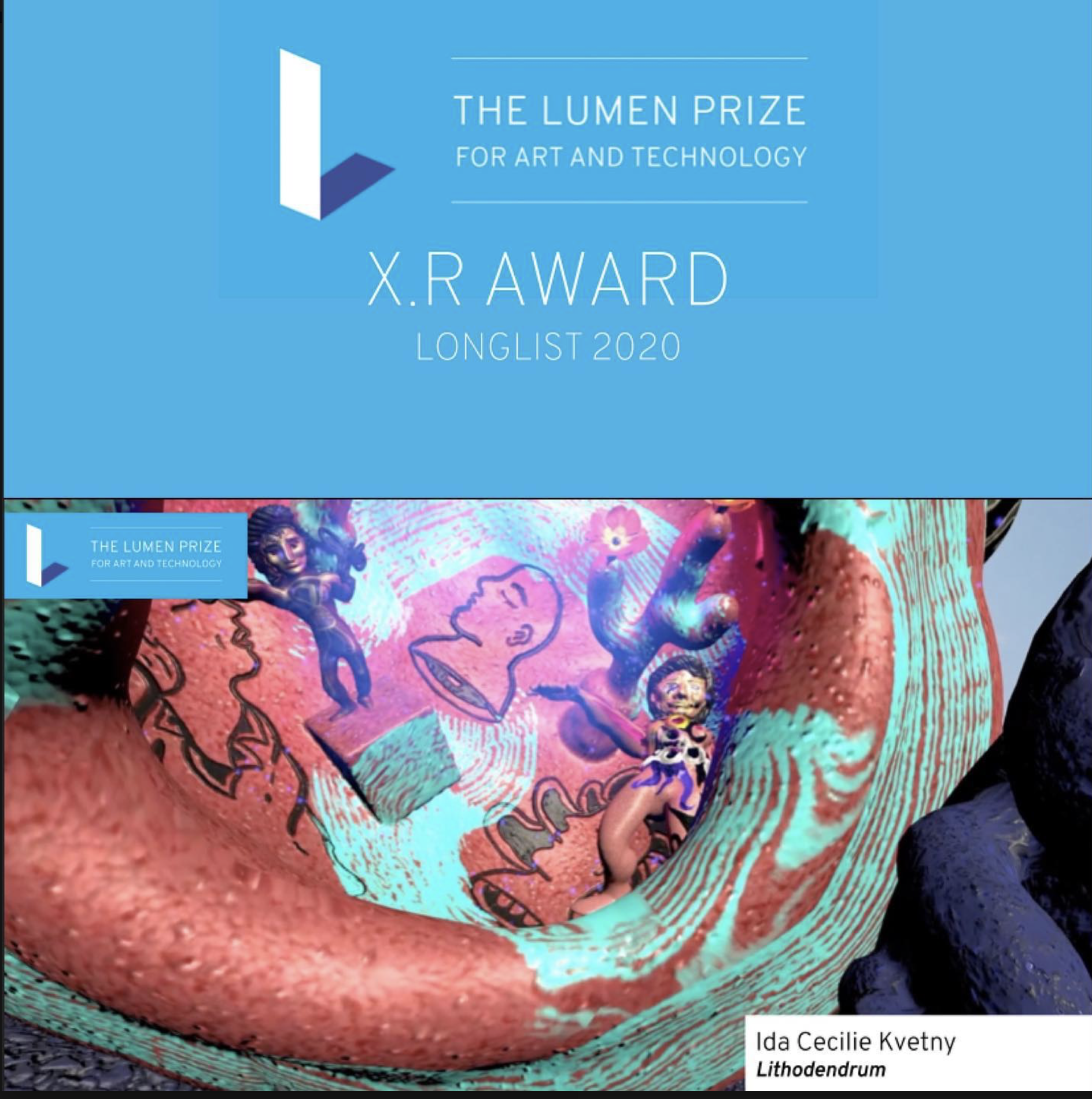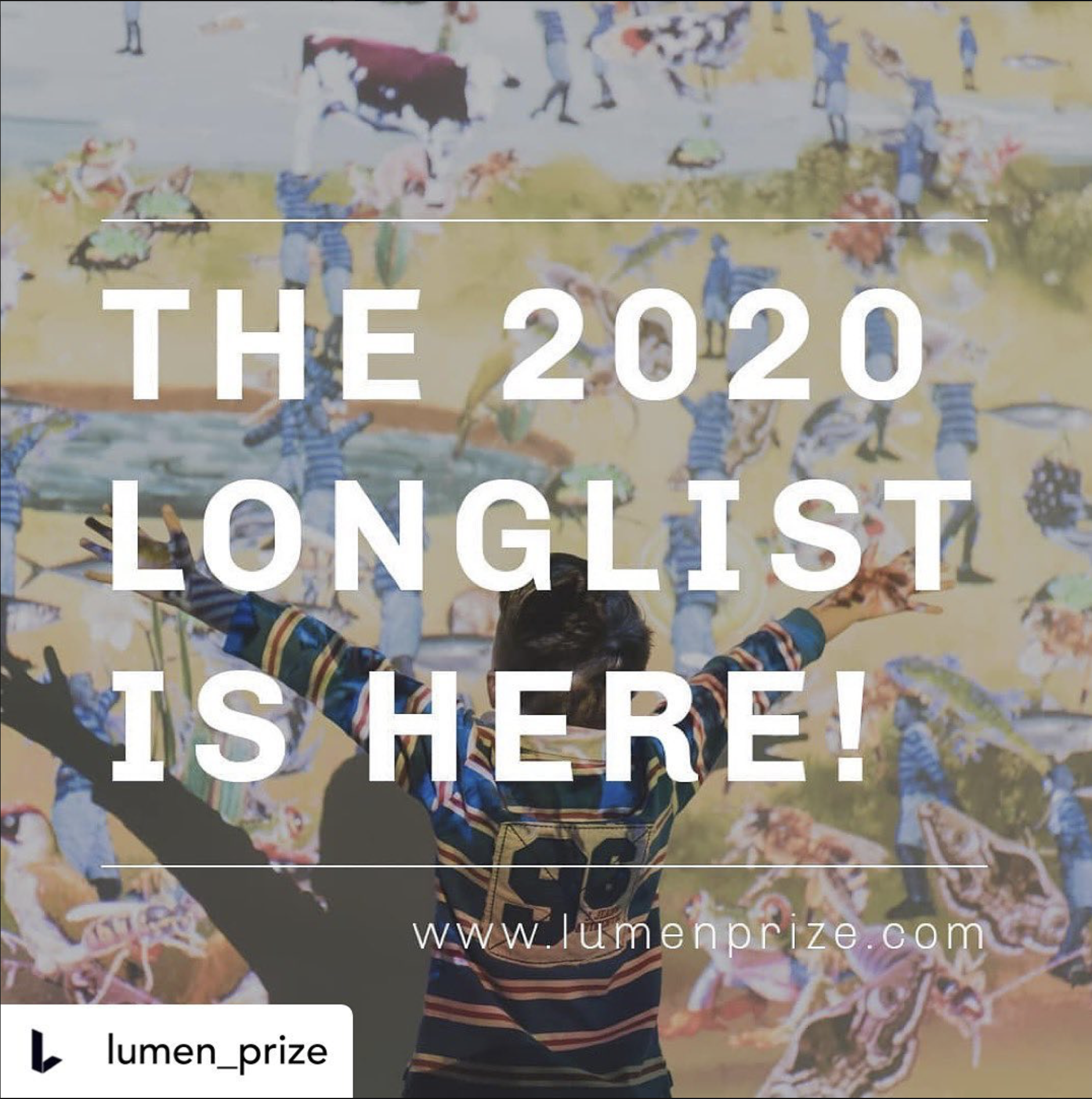 I'am very happy and proud to know that my new VR work Lithodendrum has been selected as 1 out of 2 works from 274 submitted from 36 countries selected to be part of VRHAM! 2020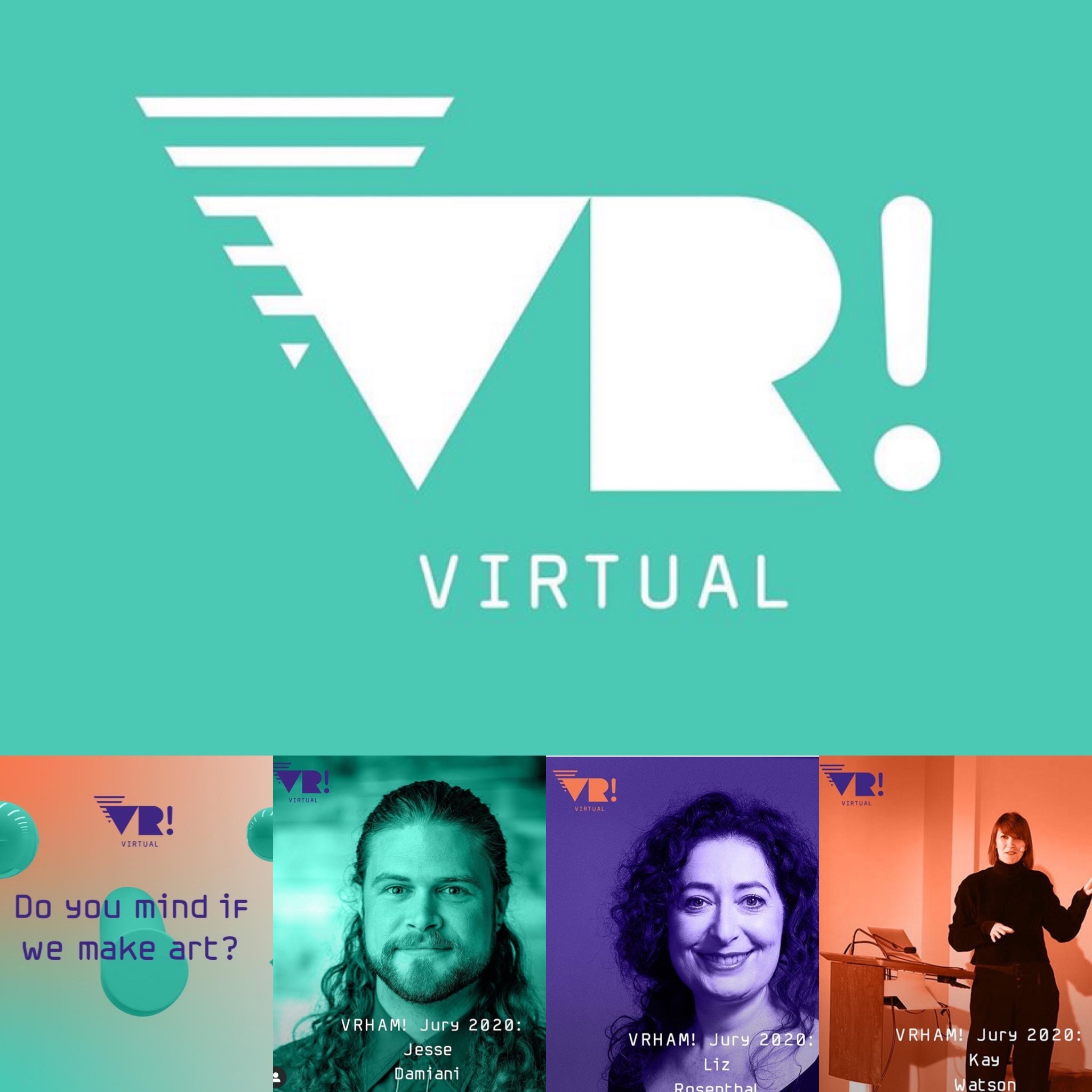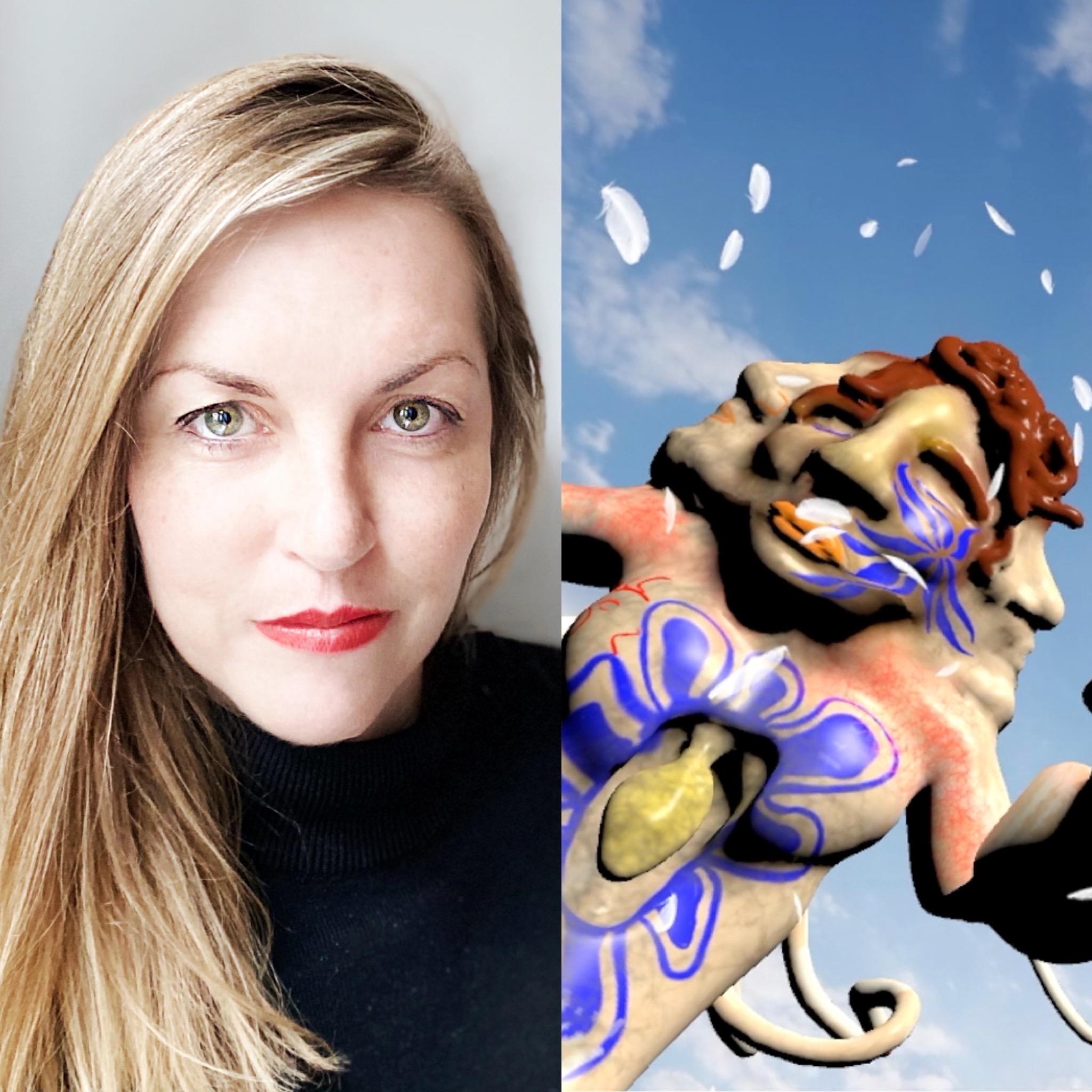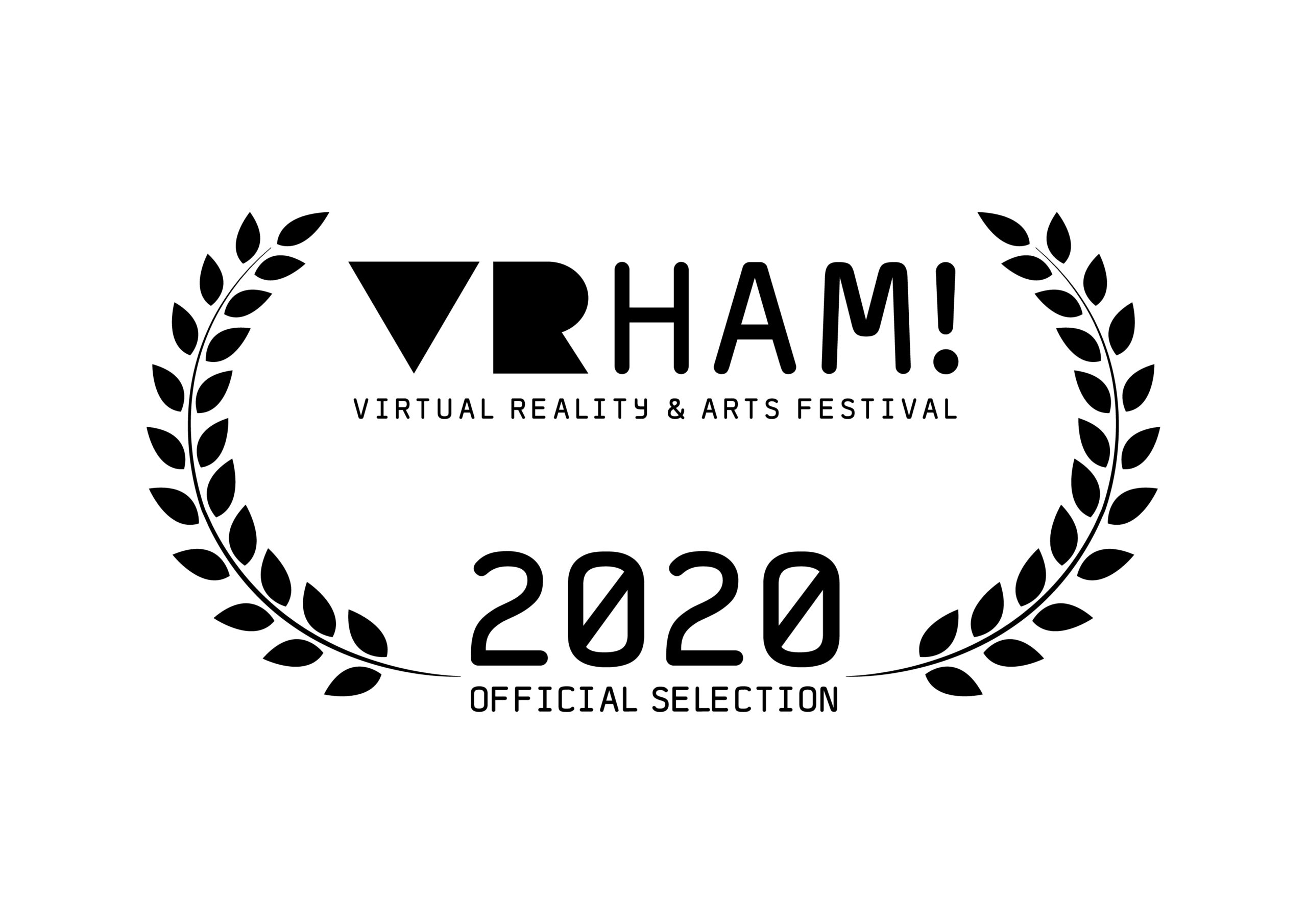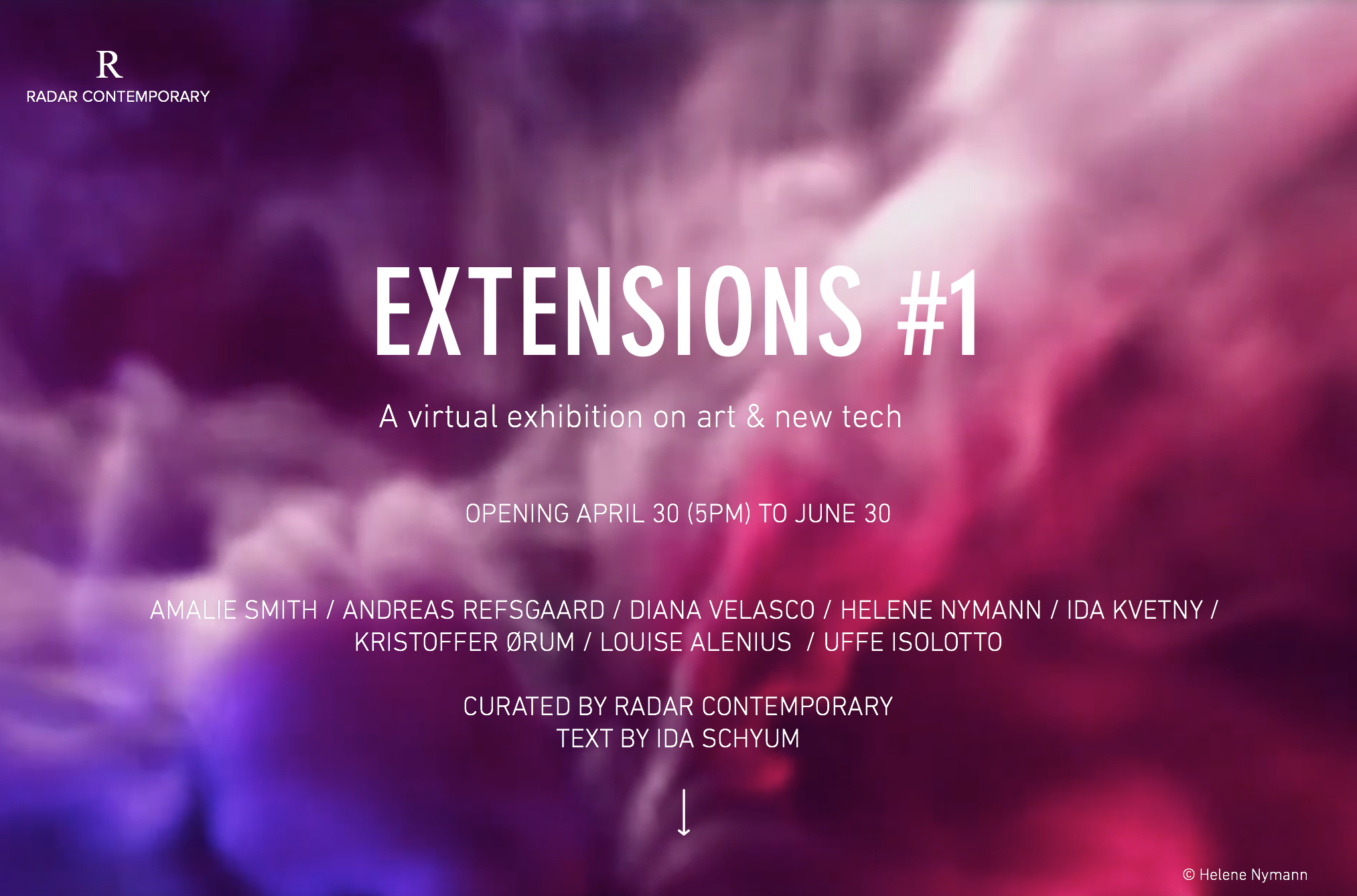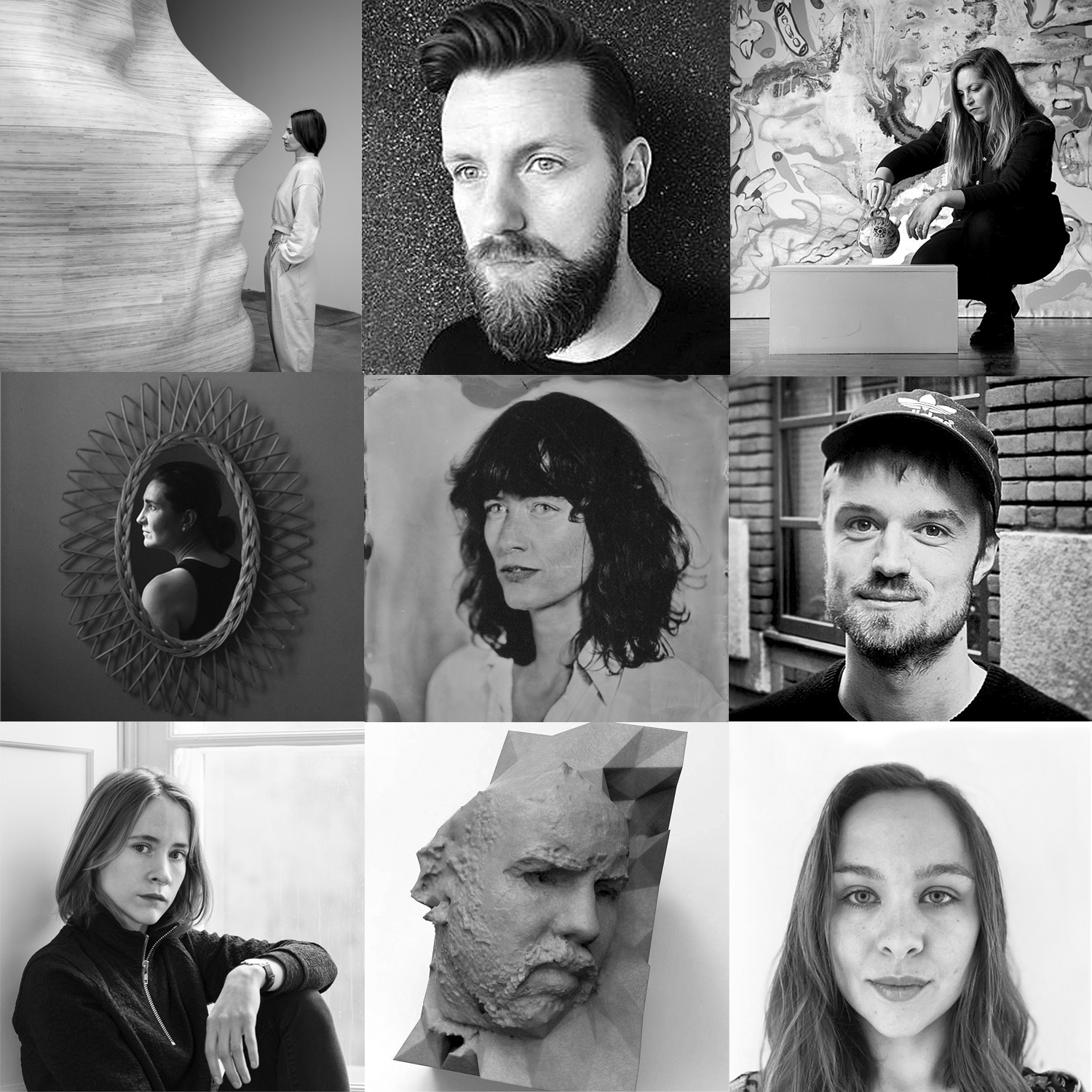 MARCH
So glad to see that my VR Art work
The Kvetny Galaxy III is a part of FIFA Interactive at THE INTERNATIONAL FESTIVAL OF FILMS ON ART – 38TH EDITION FROM MARCH 17 TO 29, 2020 Montréal, Canada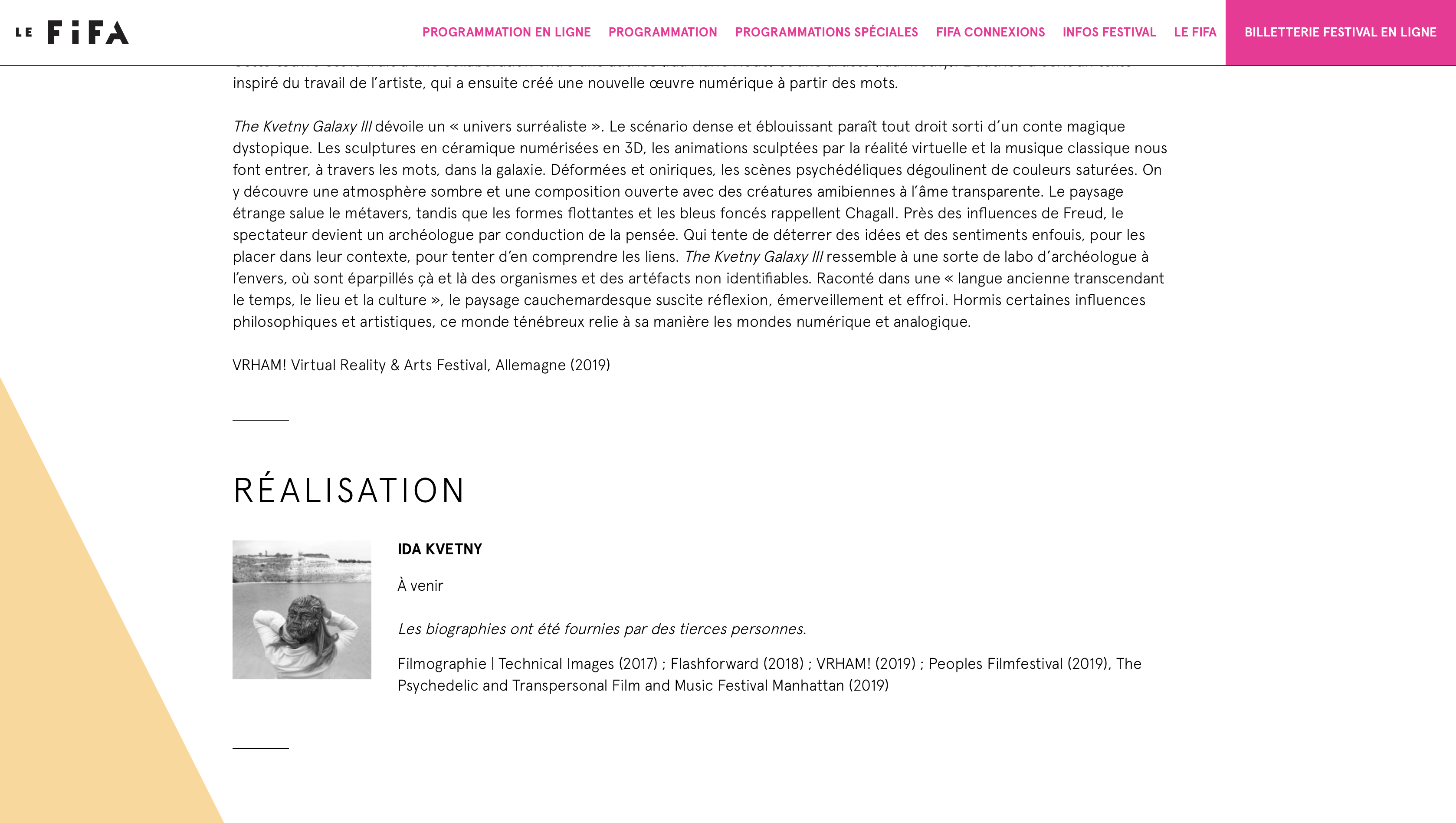 Looking forward to take part in this exhibition in August 2020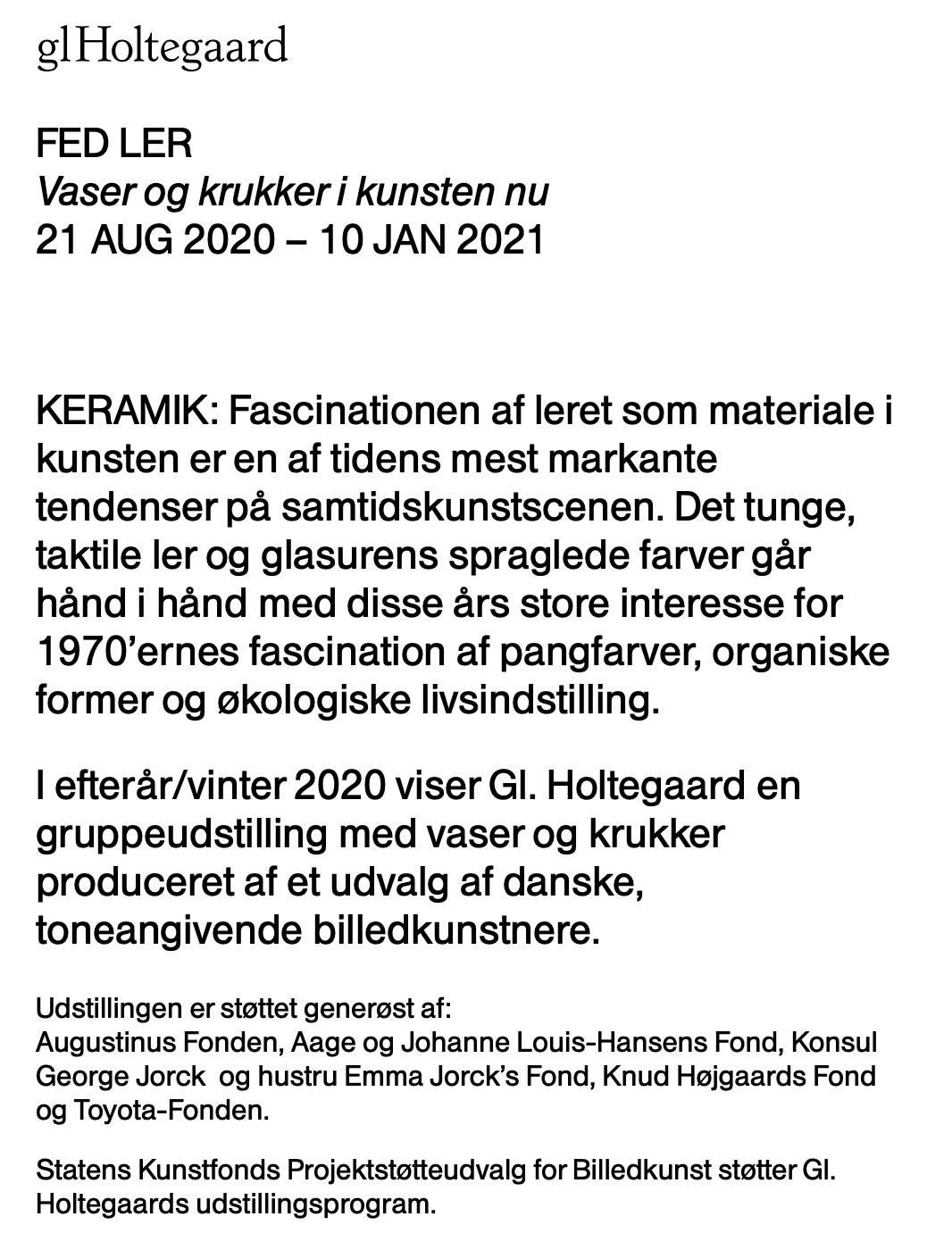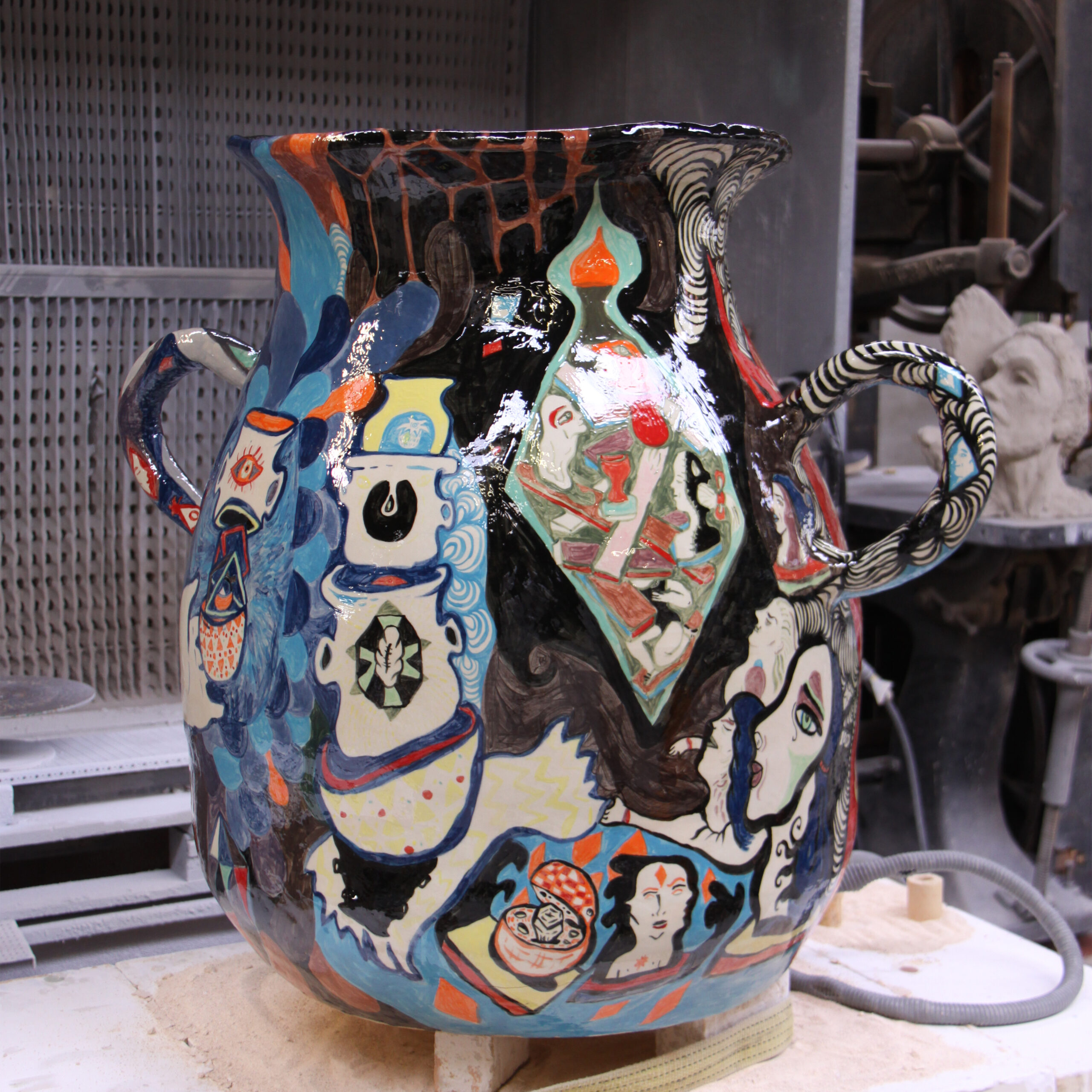 I am very happy and proud that my 2 VR art works are now to find on Radiance! a fantastic and ambitious space: " Radiance is a research platform and database for VR art. Its mission is to present artists working with VR from all over the world to create visibility and accessibility for VR art and for faster adoption of virtual technologies. The platform works closely with artists, institutions and independent curators to select the highest quality of virtual art for public institutional exhibitions ". Among many other pioneers into the field of VR / immersive art. Thanks to Tina Sauerländer @tinissima and the team behind Radiance! @radiance_vr www.radianceVR.co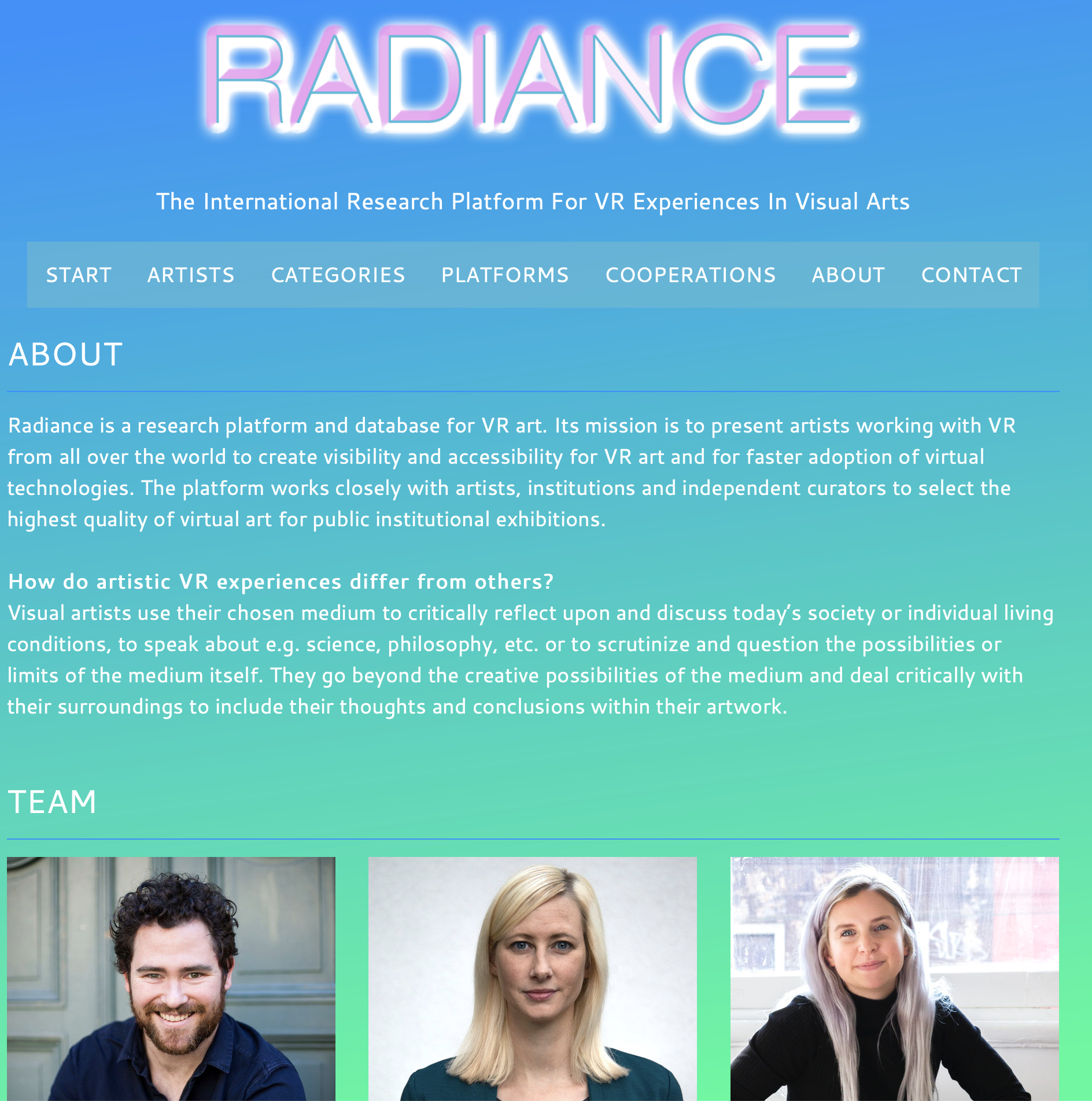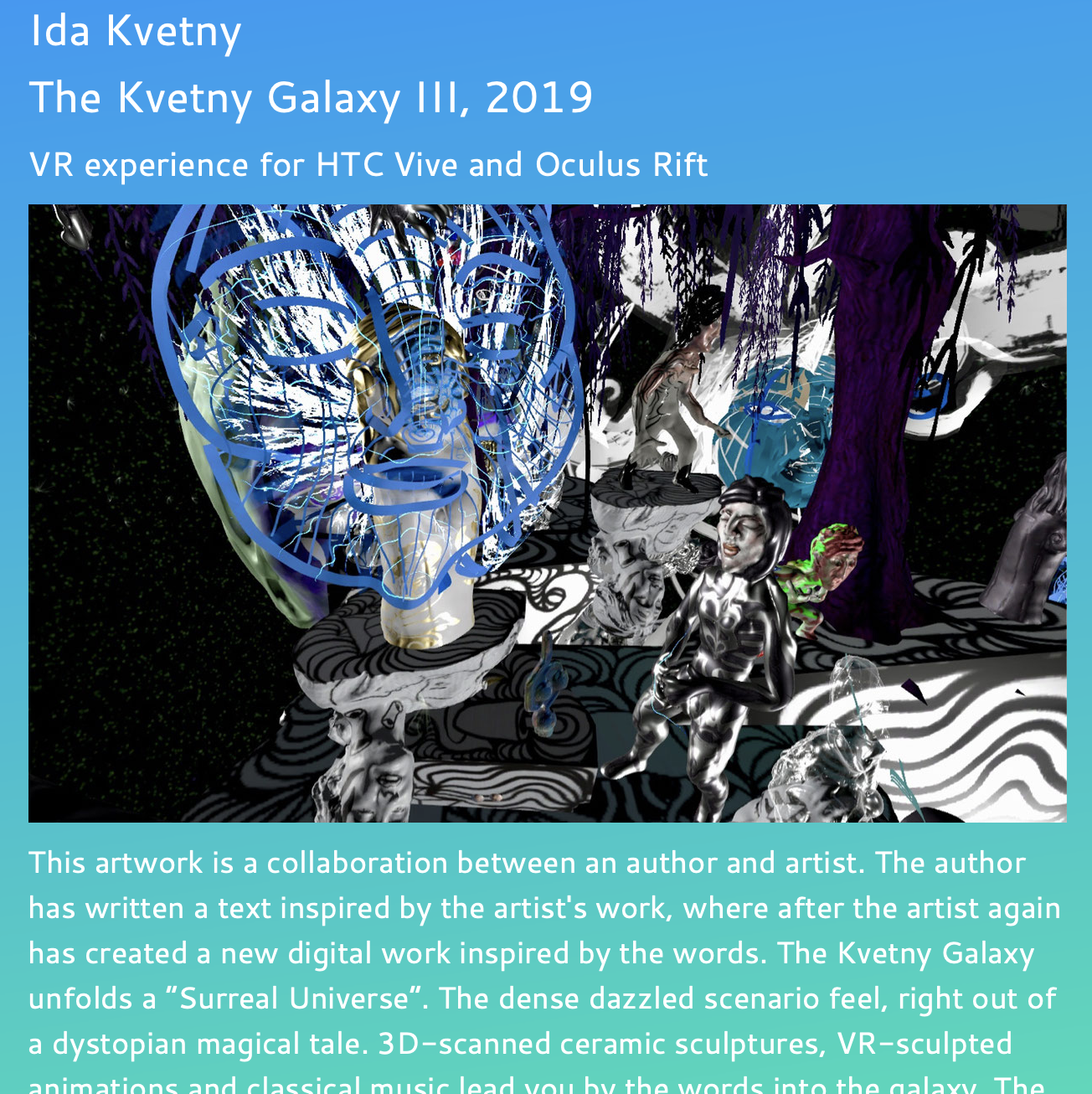 'AN INTERDISCIPLINARY VR-NETWORK GROUP'
– A Workshop about Interests and Needs
by Ida Kvetny and Uffe Isolotto
AUGUST 16th 9.30-14pm * ART HUB COPENHAGEN * HALMTORVET 27, 1700 CPH V
On this upcoming Friday, Art Hub Copenhagen would like to invite you to join us for a workshop-day of knowledge sharing about your respective interests in the VR-medium and its place in contemporary culture and the arts.
The aim of this event is to concretize the needs and interest areas of a "VR-Network Group". We will together formulate a statement of the participants and explore the potentials of forming future interdisciplinary work and collaborations in the VR-scene.
The day will entail a showing of new VR-works at Khora Contemporary, and Art Hub Copenhagen will facilitate the event, including a lunch and coffee break, where you will have time to network with fellow interested parties and possibly create new partnerships and collaborations.
Christian Lemmerzs Traum 2018
Jakob Steensen AQUAPHOBIA 2017
Nikita Shalenny The Bridge 2017
Ida Kvetny The Kvetny Galaxy III 2019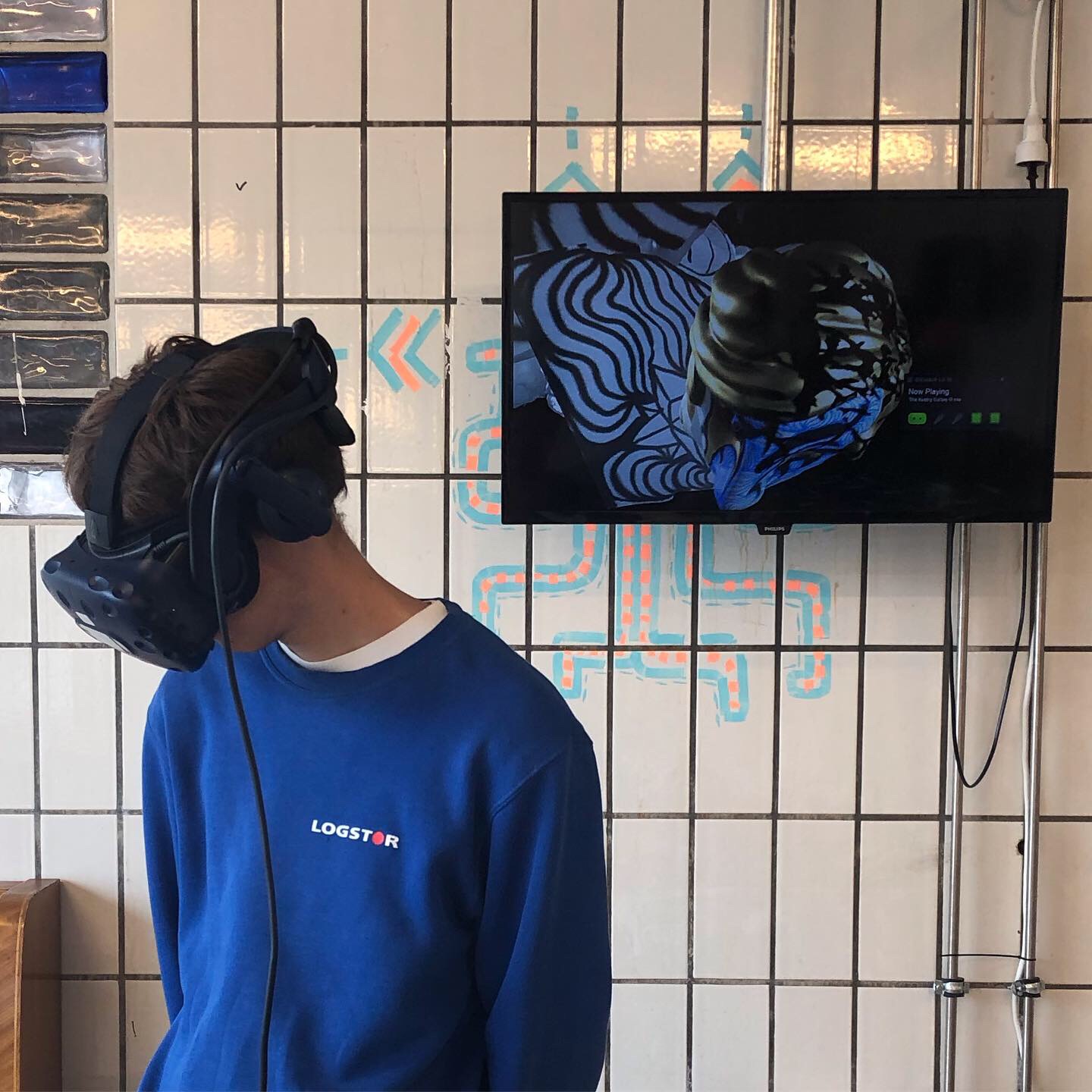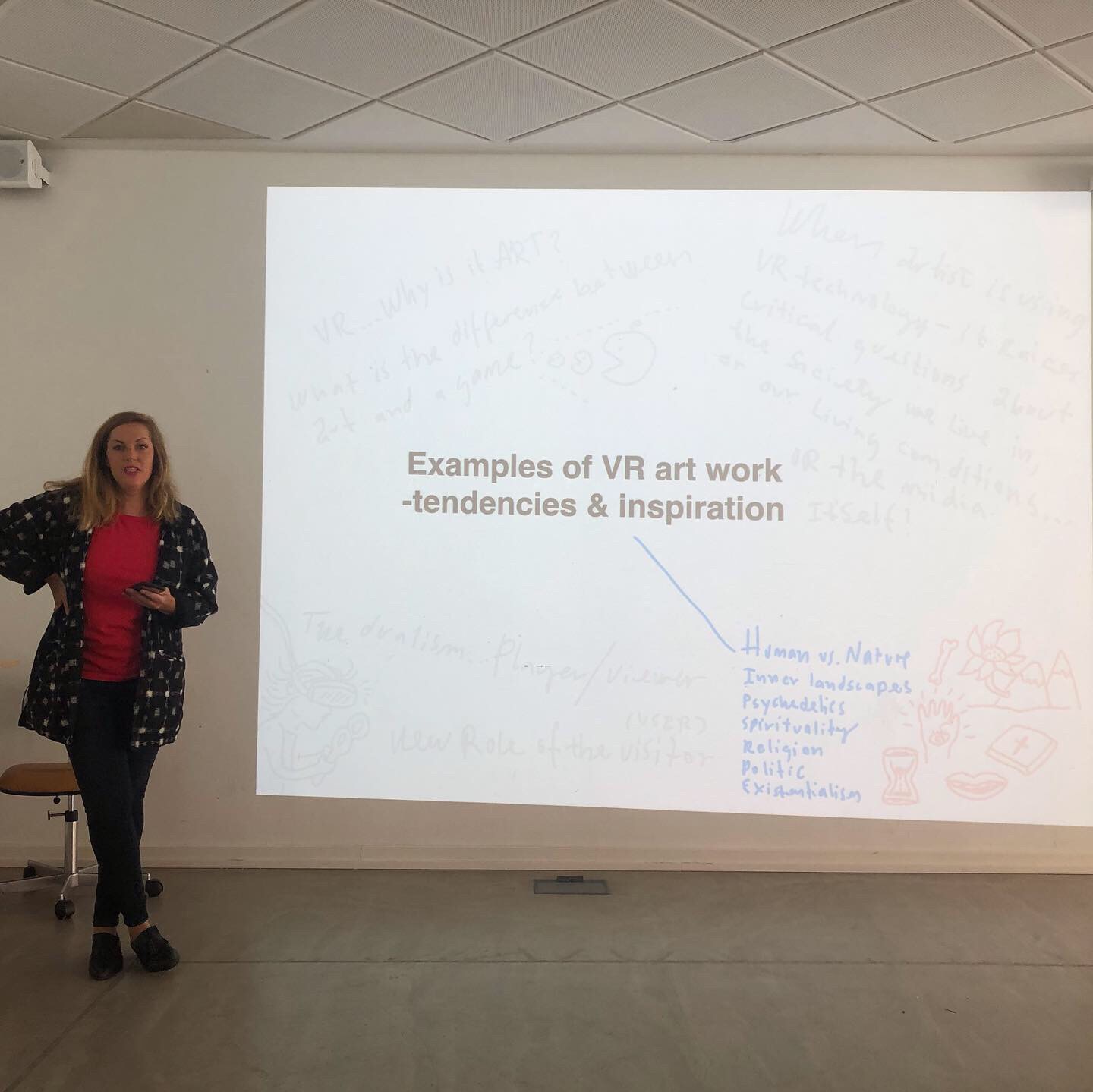 I was part of this great symposium about Ceramic, digital medias and 3d Printing.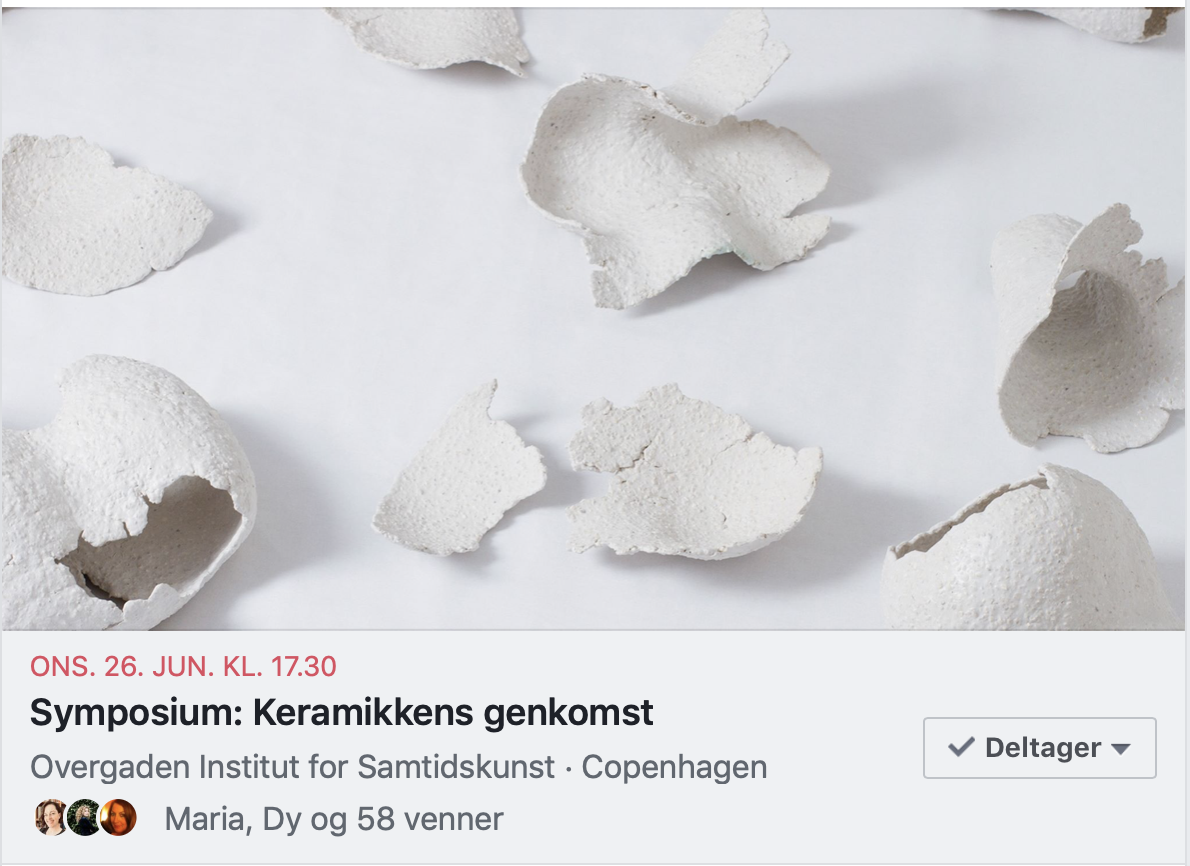 Symposium: The Return of The Ceramics: June 26th, 5:30-7pm

Is ceramic art experiencing a revival in contemporary art today and how does artists link the analogue handcraft with new digital technologies?

Join us for the symposium when our panel of experts discuss themes such as the sensuous qualities in ceramics, digital and 3D-created sculptures versus tradition and handcraft, kitsch, and the status and popularity of ceramics today.

Participants: Karen Harsbo, Nour Fog, Maj Kjærsig, Rose Eken, Louise Hindsgavl, and Ida Kvetny.

Moderator: Merete Jankowski.

Please note the symposium will be in Danish.
No registration required, free admittance.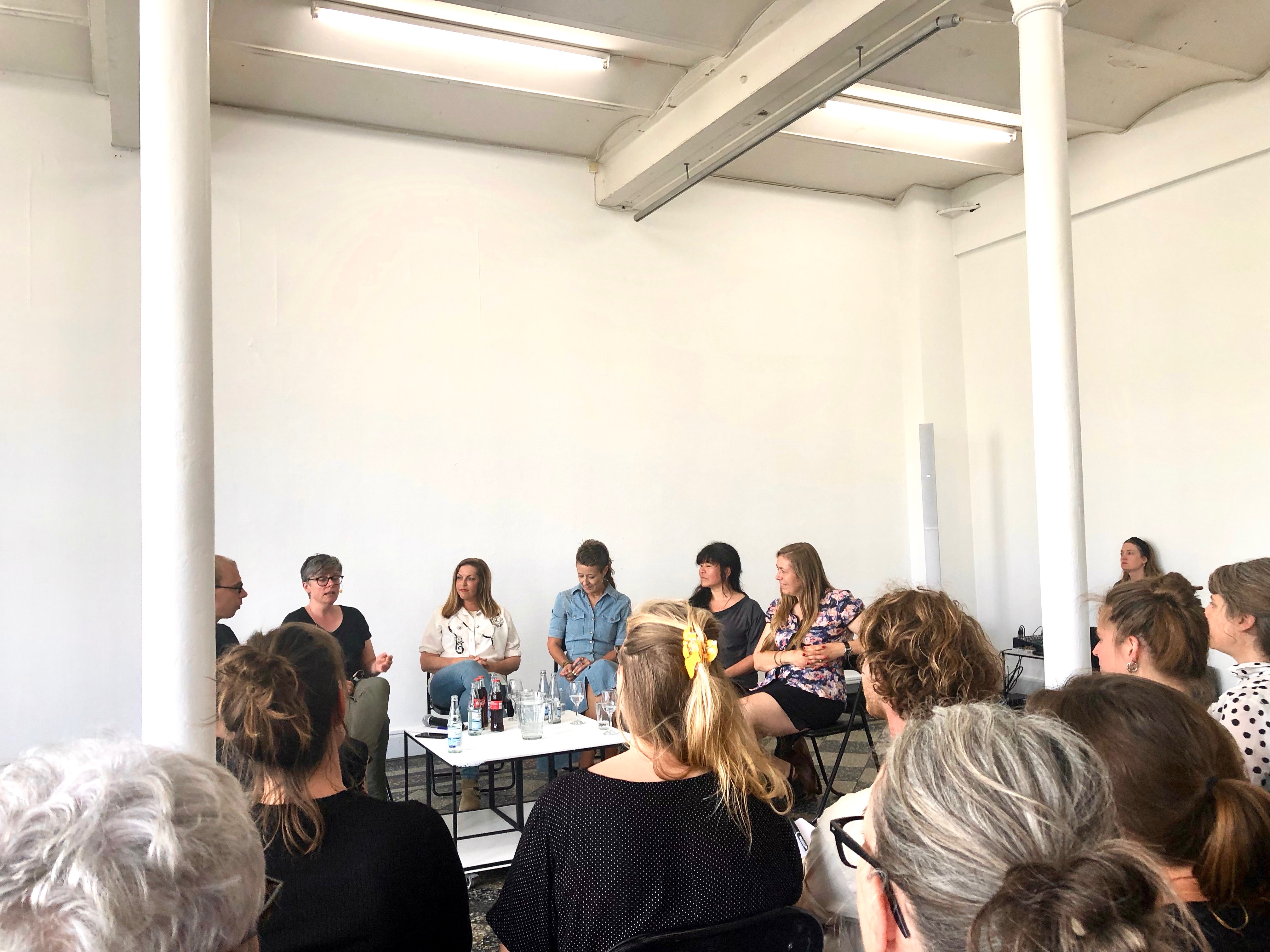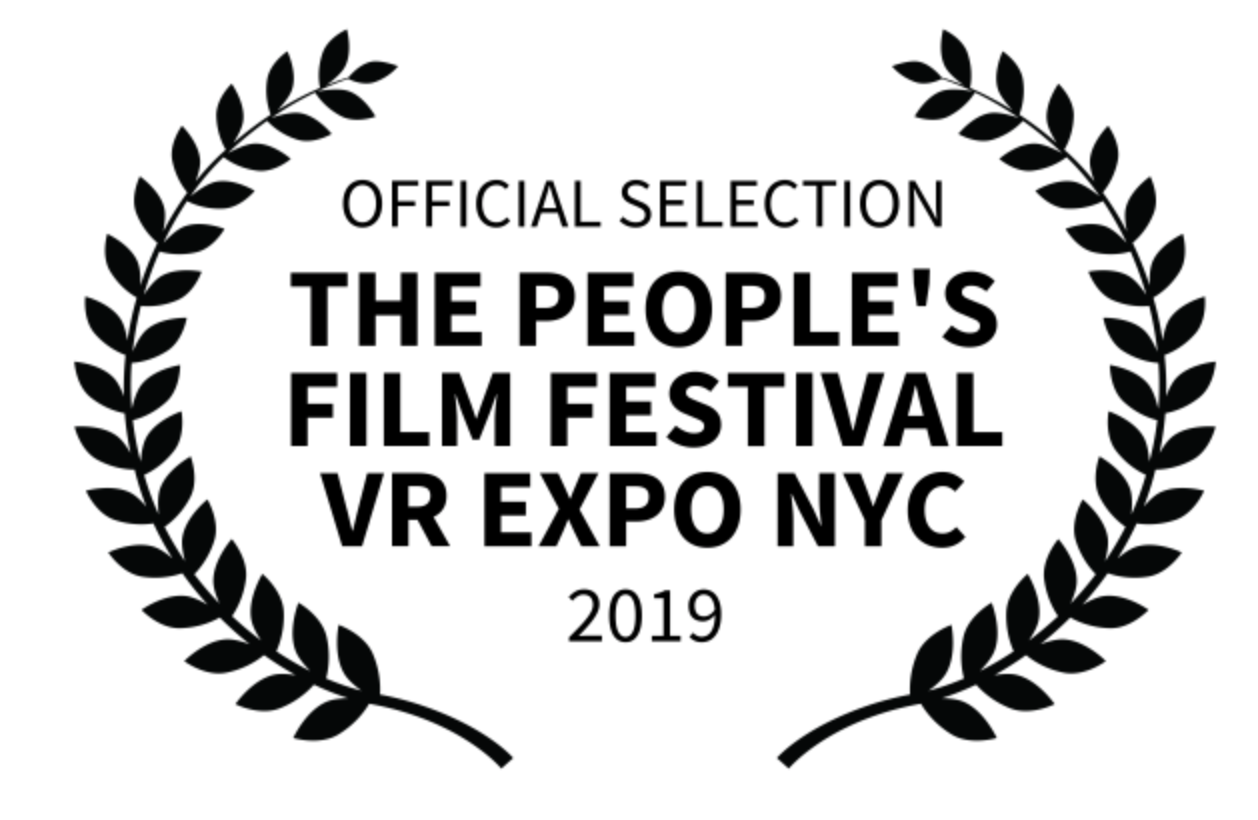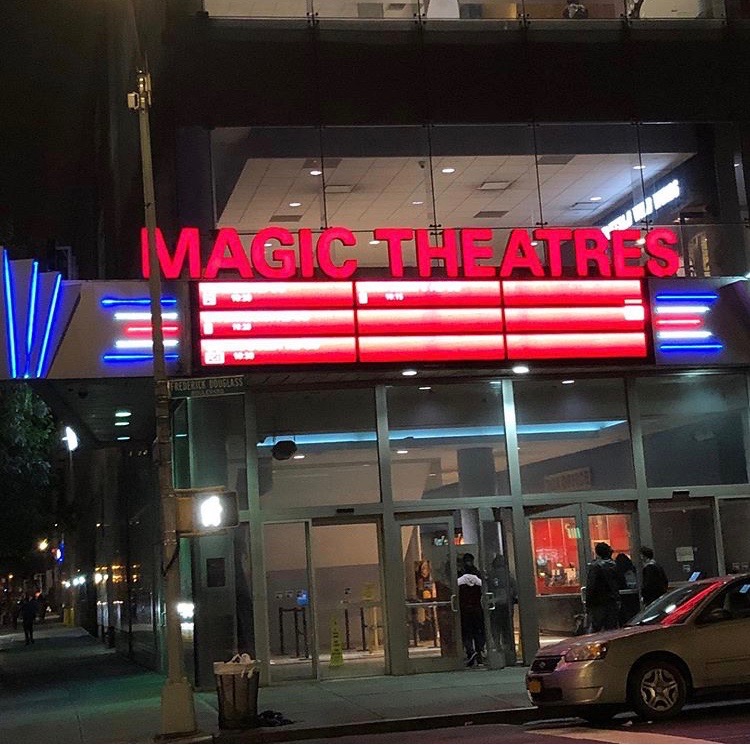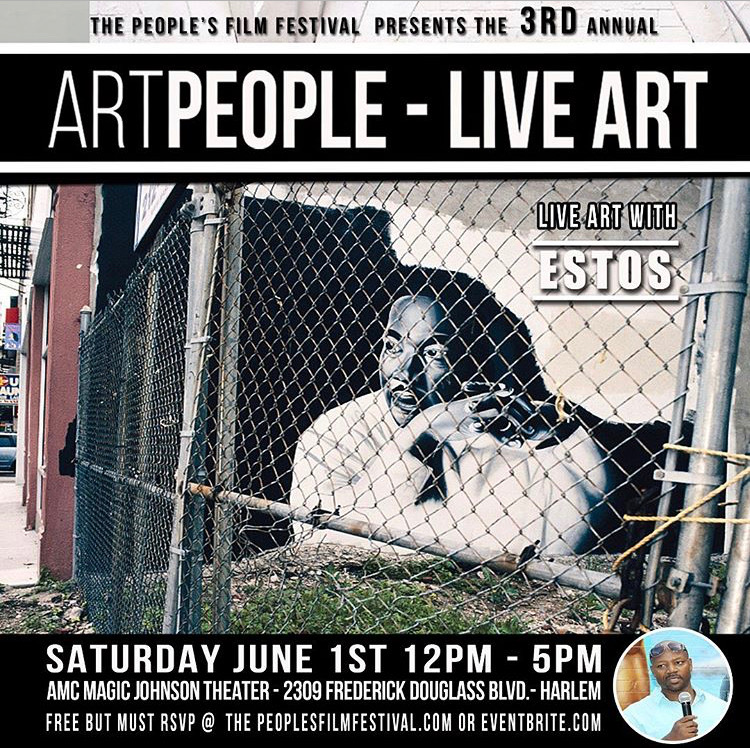 Solo Exhibiton GAZE-surrealism in the digital age 2019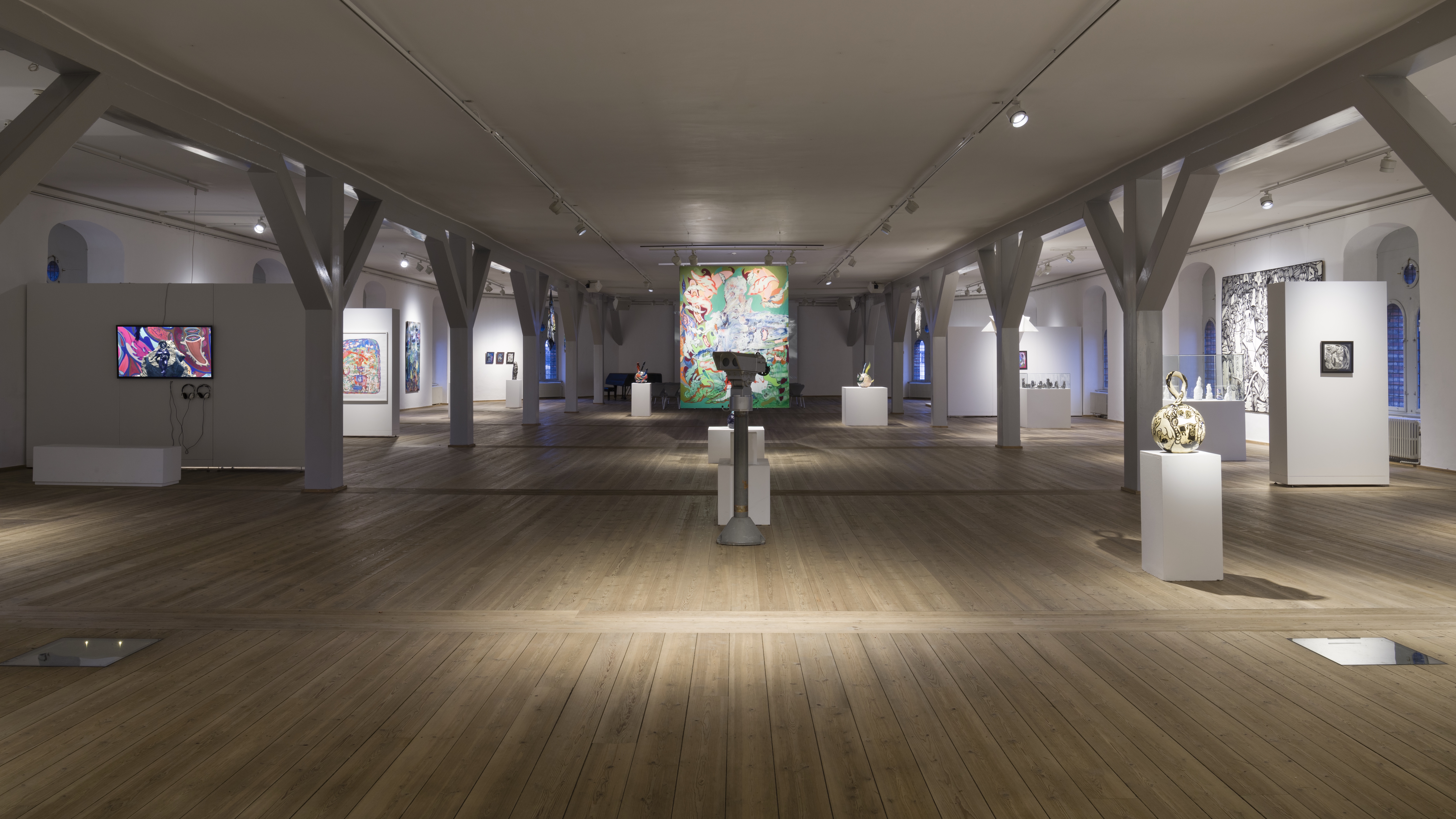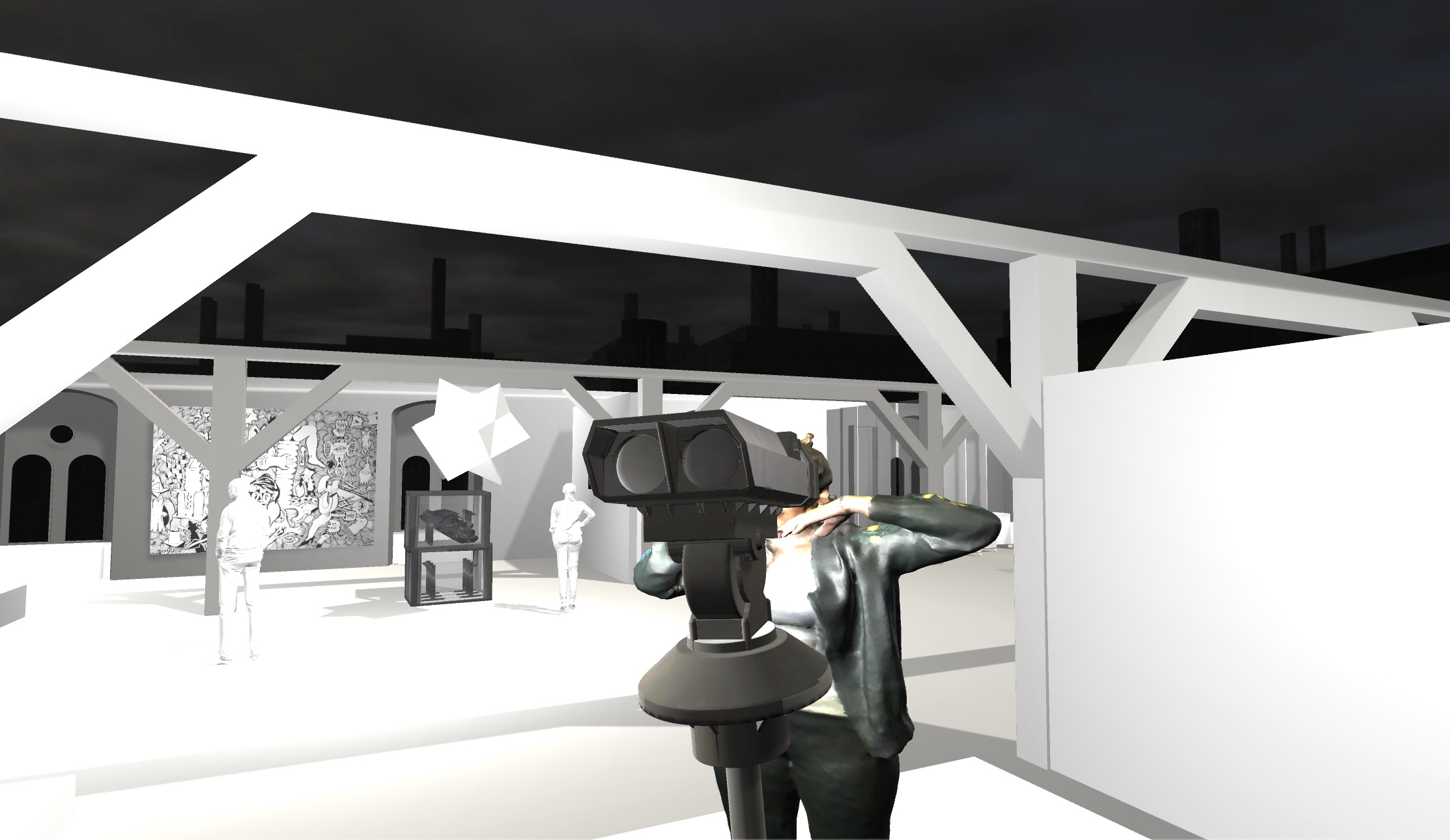 Will Be part of The Psychedelic and Transpersonal Film and Music Festival 2019 in NYC.
If you are in HOUSTON! My film The Kvetny Galaxy will be displayed: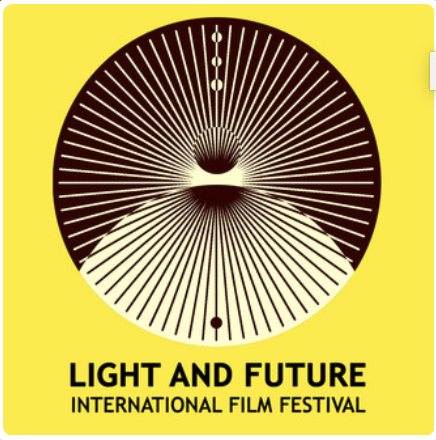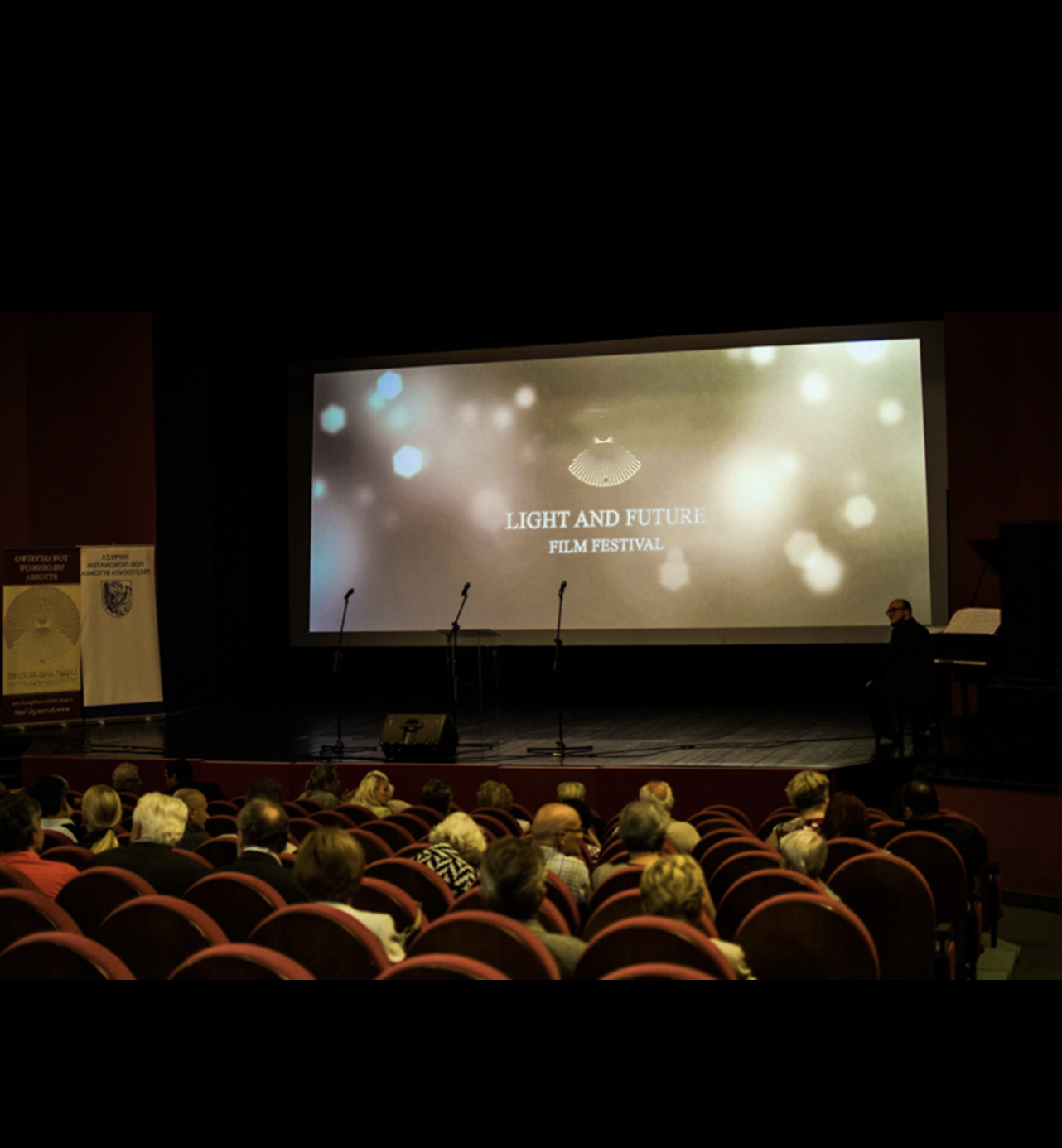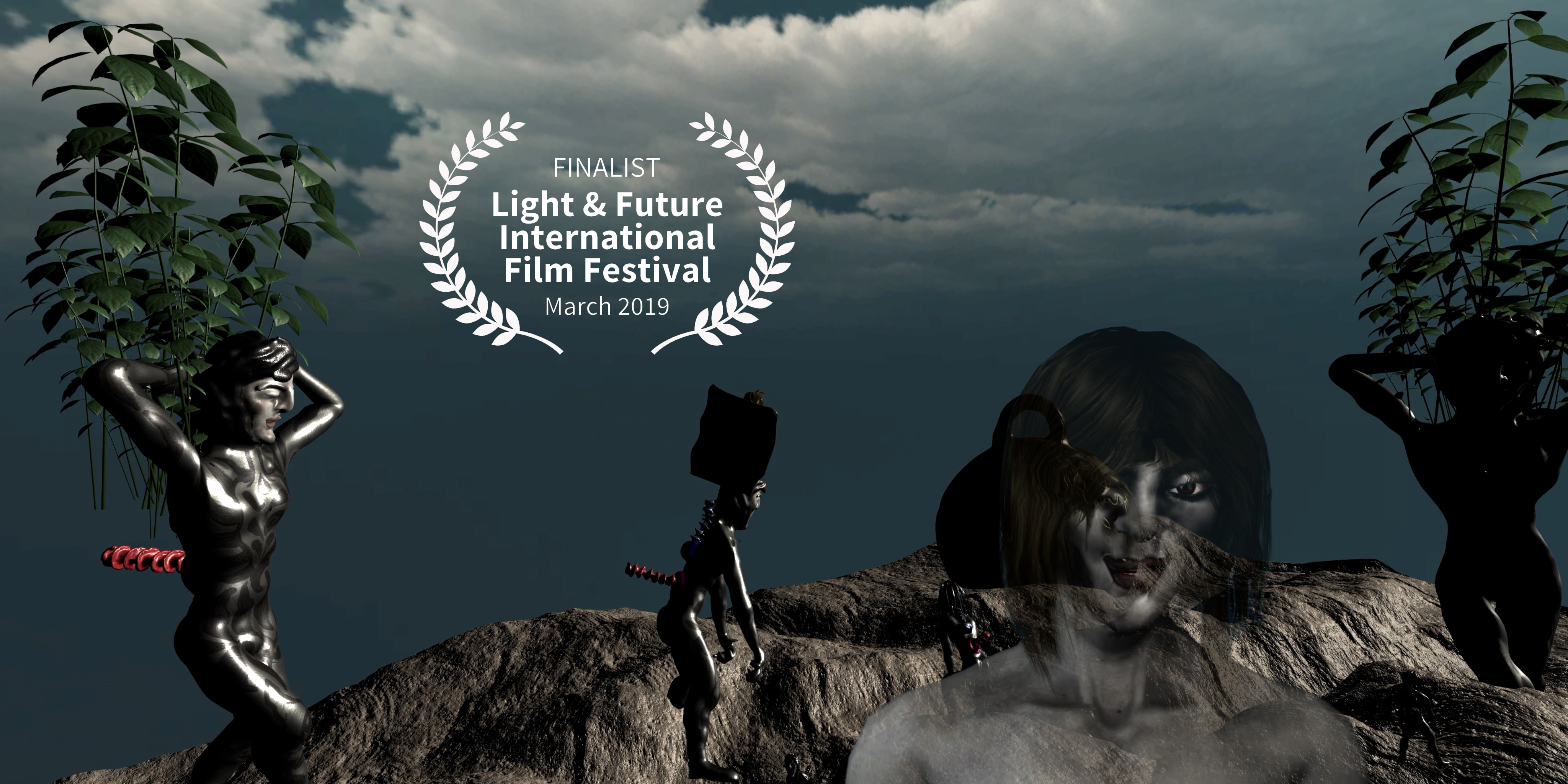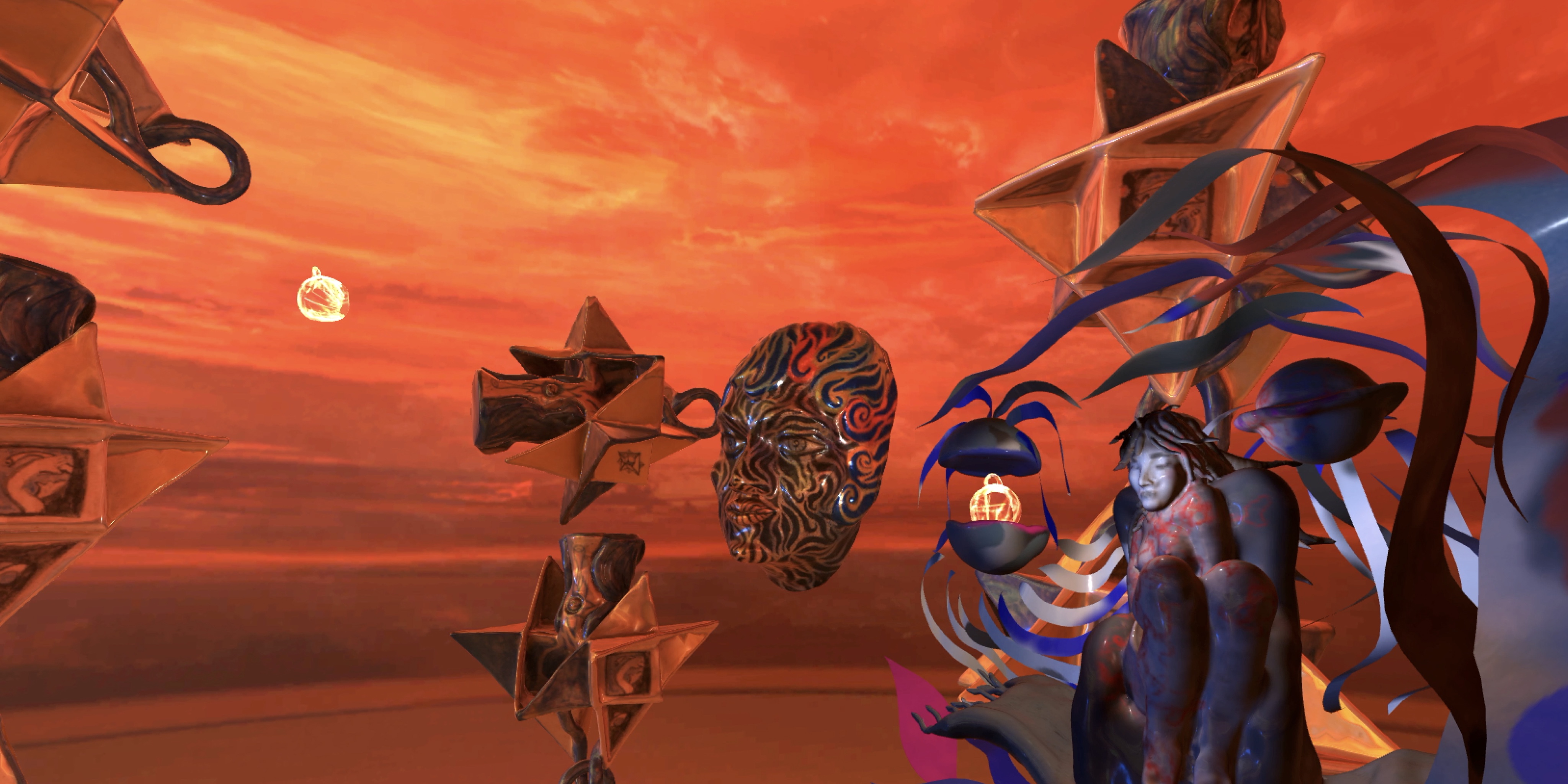 Site copyright Ida Kvetny 2022 www.idakvetny.com & www.kvetny.dk